Auto News
AutoGuide News Blog

The AutoGuide News Blog is your source for breaking stories from the auto industry. Delivering news immediately, the AutoGuide Blog is constantly updated with the latest information, photos and video from manufacturers, auto shows, the aftermarket and professional racing.
The Tweet heard round the world has claimed more than just one job. Chrysler has just announced in a followup to the firing of the social media representative who used the F-Bomb in an official Chrysler tweet, that it will not renew its contract with the individual's employer New Media Strategies.
Yesterday morning an unnamed New Media Strategies employee, using the official @ChryslerAutos Twitter account commented that,"I find it ironic that Detroit is known as the #motorcity and yet no one here knows how to f—ing drive."
The tweet was subsequently deleted, but not before it was retweeted numerous times around the world.
"Chrysler Group LLC will not renew its contract with New Media Strategies (NMS) for the remainder of 2011," reads a statement released by Chrysler today. "NMS has agreed to support us with an orderly transition until a new agency has been named. We thank them for the work they have provided to us and wish them the best as they move forward."
Pete Snyder, CEO for NMS, expressed regret for the, "unfortunate incident," stating that, "It certainly doesn't accurately reflect the overall high-quality work we have produced for Chrysler."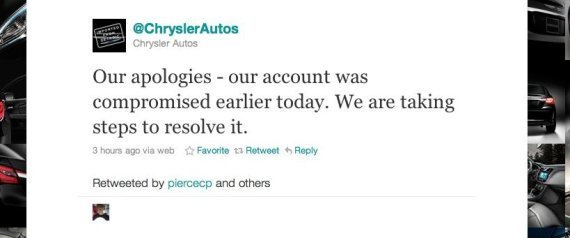 Chrysler's official Twitter handle, @ChryslerAutos, issued a swear-laden message regarding the state and sanity of the Motor City's motorists. The tweet was deleted, but not before it was picked up by thousands.
The tweet read, "I find it ironic that Detroit is known as the #motorcity and yet no one here knows how to f—ing drive."
It was probably the personal ventings of someone in charge of the Twitter account, but nonetheless, Chrysler responded by firing the person who wrote it. Chrysler's Twitter account is run by Virginia-based company New Media Strategies, and their employee made a gaffe that cost them their job, but not before the message was retweeted by thousands and picked up by several news sources.
To be fair, bad drivers aren't just limited to the Detroit area. In awkward corporate gaffes like this, however, we just need to ask: what would Eminem do?