1 View
Russo and Steele Suing Tri-Rentals for Tent Collapse at Arizona Auction
May 3rd, 2010 9:31 AM
Share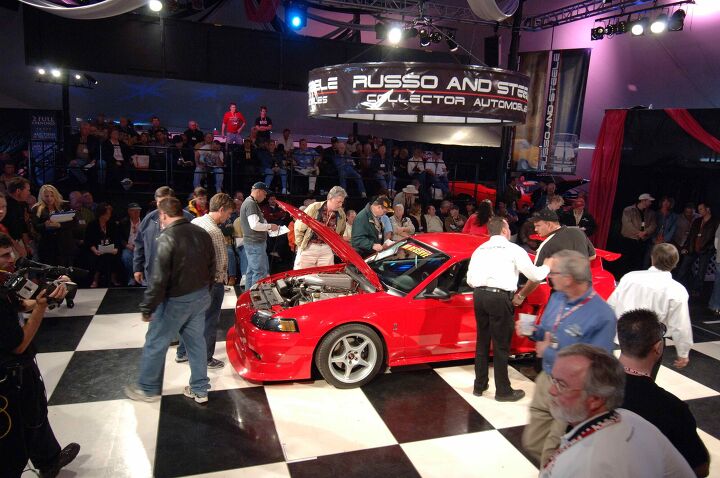 This past winter has been an interesting one. The effects of El Nino spared much of the Midwest and parts of the North Eastern United States and Canada, while down south cold temperatures and fierce storms wreaked havoc. At the prominent Arizona classic car auctions in January, high winds and rain did their best to put a damper on things. At Russo Steele, on January, 21st, two huge tents, holding several hundred collectible and special interest vehicles, collapsed, causing one of them to blow across a nearby freeway and the other to land on and damage a number of classic vehicles.
The company that supplied the tents, Tri-Rentals, said to the auction house that it had reinforced the tents due to the bad weather, but the damage was still extensive. The Scottsdale Fire Department closed the auction grounds for two days to clear up the mess and when they finally opened again, Russo Steele had to use semi-trailers, concrete blocks and other methods to protect the auction site. Perhaps in view of the lost revenue, it probably isn't surprising that the auction house is now suing Tri-Rentals. A statement was issued on Thursday, April 29th from Russo Steele, citing a lawsuit against the tent company that includes charges of gross negligence, negligence, fair dealing and breach of faith among other things. The statement did not mention the amount in damages, nor what else R-S is seeking from Tri-Rentals.
If the suit is successful, it might bring about new regulations and requirements for building and tent construction at future Scottsdale auctions.
[Source: Autoweek]
Published May 3rd, 2010 9:31 AM
Popular Articles
Latest Comparisons
Car Buying Tools