1 View
Top Three Viper Dealers Design New Special Edition Viper Models for 2010
June 8th, 2010 8:04 AM
Share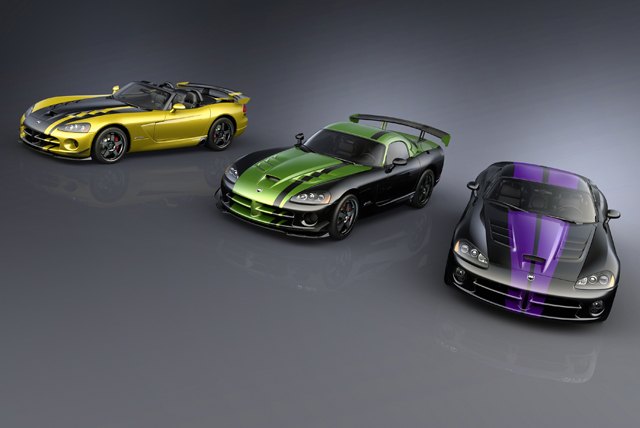 With a notable absence of anything new in the product line, Dodge is hard at work in the marketing department creating limited edition models. And while that might normally mean some rather dull custom models, there's never anything dull about a Viper.
To help celebrate the last year of the Viper, Dodge invited its three top Viper dealers to help design their own models, which will go on sale through the three dealers (and a select group of other dealers) this year. Up first is a Race Yellow Viper SRT10 ACR Roadster designed by Woodhouse Dodge in Blair, Neb. The team at Tomball Dodge in Tomball, Texas tailored the Reverse SRT10 ACR using black and Snakeskin Green paint. Finally, there's the SRT10 Coupe with Plum Crazy racing stripes, designed Roanoke Dodge in Roanoke, Ill.
In total just 50 of these special edition Vipers will be offered. To find a dealer near you hit the link below:
http://www.viperheadquarters.com/viper_nation/dealer_locator
Official release after the jump:
PRESS RELEASE
Dodge Announces Dealer Exclusive Program Offering Unique 2010 Viper SRT10s
06.07.2010 , Auburn Hills, Mich.
The 2010 model year just got even more exclusive for the Dodge Viper. The Dodge brand is unveiling three new unique 2010 Viper SRT10 vehicles as part of its "Dealer Exclusive Program."
Dealers who sold sufficient Viper volume to qualify were given the opportunity to create their own special editions that best meet the dreams of their most loyal customers. A total of 50 cars are being built under this program, and specific combinations were determined by each Dodge dealer who volunteered to participate.
Shown here (from left to right) are the Dodge Viper SRT10 ACR Roadster, developed specifically with Woodhouse Dodge in Blair, Neb., featuring a Race Yellow Clear Coat exterior with yellow driver's stripe; the "Reverse SRT10 ACR" developed with Tomball Dodge in Tomball, Texas, featuring the reverse color combination of the Snakeskin Green Special Edition introduced earlier this model year; and the Black SRT10 Coupe with Plum Crazy dual racing stripes developed with Roanoke Dodge in Roanoke, Ill.
To find all of the Dodge dealers who have 2010 Dodge Viper SRT10s on order including the various special-edition models, check out the new dealer locator function at the Viper Headquarters website: http://www.viperheadquarters.com/viper_nation/dealer_locator
With this being the last model year for the current-generation Dodge Viper, 2010 continues to be the most special year of production for the 600 horsepower V-10 powered "ultimate American sports car." Approximately 500 cars will make up the 2010 model year production run, and each one is more exclusive than ever before with more than 7,000 different possible appearance combinations.
Published June 8th, 2010 7:59 AM
Popular Articles
Latest Comparisons
Car Buying Tools