1 View
Porsche Panamera Already a Sales Success With 25,000 Units Made in Just 10 Months
July 29th, 2010 8:26 AM
Share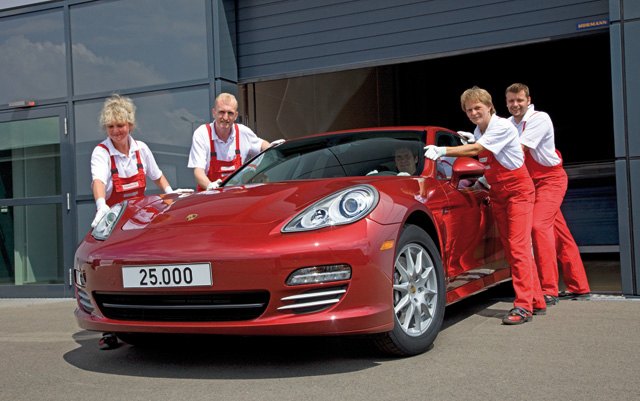 Designed not only to deliver 911-like driving dynamics in a 4-door package, but also to make Porsche execs rich richer, the new Panamera is doing just that. The German sports car maker has just announced that after just 10 months it has already build 25,000 Panamera models at its factory in Leipzig.
The 25,000th vehicle features ruby-red paint and is a standard Panamera model featuring a 300-hp V6 engine. Just recently released, the V6 Panamera and Panamera 4 will easily add a significant increase to the already impressive Panamera sales numbers.
Read AutoGuide's Panamera reviews at the links below
2010 Porsche Panamera Turbo First Drive
2010 Porsche Panamera S First Drive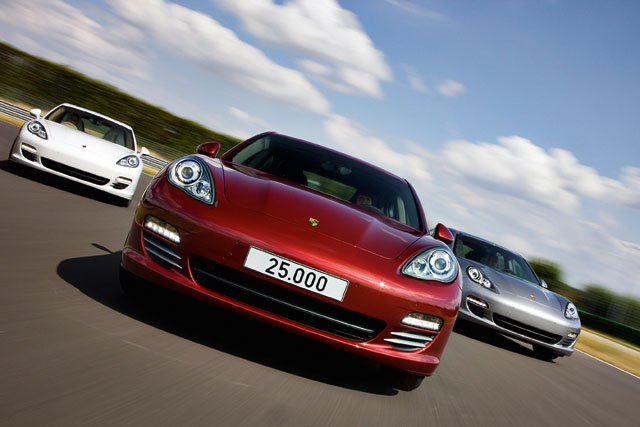 2011 Porsche Panamera, Panamera 4 First Drive
Official release after the jump:
PRESS RELEASE
Anniversary for the successful new Gran Turismo
25,000th Panamera built in the Leipzig Porsche factory
Stuttgart/Leipzig. The new fourth Porsche model series is enjoying such popularity that only ten months after the start of sales, the Leipzig factory of the Dr. Ing. h.c. F. Porsche AG, Stuttgart has already built the 25,000th Panamera. In addition to the Panamera, the new generation of the sporty, all-terrain vehicle – the Cayenne – is also being produced in the same facility in the State of Saxony.
The anniversary vehicle, a ruby-red Panamera with a particularly efficient 3.6-liter six-cylinder engine (300 hp), will be delivered to a customer in the USA. "The benchmark performance of our Panamera V6 models wins over our customers worldwide. Even in the USA, a country with a preference for V8 engines, they impress with their efficiency and sportiness. The 4-door combines these aspects with the comfort and exclusivity of the luxury class," says Porsche Executive Vice President Sales and Marketing Bernhard Maier.
The fourth series has been on the market since September 2009, with the 400-hp strong 8-cylinder variants of the Panamera S and Panamera 4S, as well as Panamera Turbo (500 hp). Since May 2010, the Panamera and Panamera 4 have supplemented the product range with their V6 engines.
Published July 29th, 2010 8:20 AM
Popular Articles
Latest Comparisons
Car Buying Tools