1 View
BMW, Audi First Automakers With Over 1 Million Facebook Fans
August 3rd, 2010 11:14 AM
Share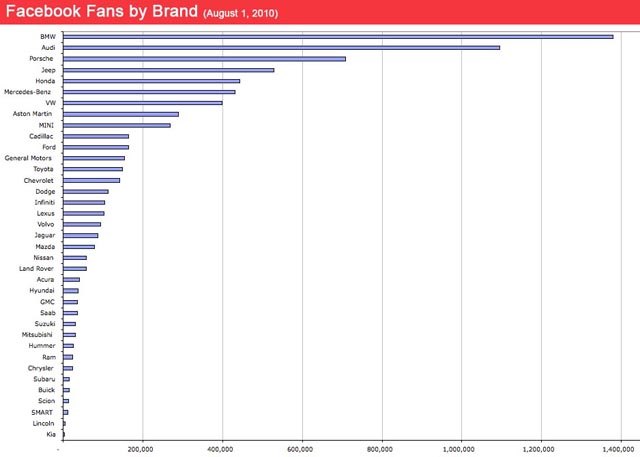 German rivals BMW and Audi are the first to break the 1 million mark when it comes to how many fans they have on Facebook, with all other automakers lagging significantly behind. The news comes after the latest tally of July numbers and a significant push by both BMW and Audi to promote their respective Facebook pages. In total BMW has almost 1.4 million fans, while Audi has just surpassed the 1 million mark. July represented big jumps for BMW and Audi, with 49 and 44 percent increases in Facebook fans respectively.
In third spot sits Porsche with 674, 278 members, up just 5 percent from the previous month.
Niche market brands also saw some impressive growth in July with Scion, Smart and Mitsubishi all posting gains of 40 percent or more, although total numbers for each brand remain quite small.
It's also important to note that Toyota managed a substantial gain, with Facebook fans climbing 38 percent in July in response to a marketing effort with television ads that encouraged owners to tell their Toyota story on the company's Facebook page.
The only brand to see a decrease in fans in the month of July was Infiniti, with the folks at TheAutoMarketingBlog suggesting the reason for the drop might be the cross-promotion of Infiiniti's Cirque du Soleil partnership, which visitors may see as either confusing or regard as spam.
Don't forget to become a "fan" of AutoGuide.com and we'll be sure to keep you updated on the biggest news in the auto industry,
[Source: TheAutoMarketingBlog]
Published August 3rd, 2010 11:10 AM
Popular Articles
Latest Comparisons
Car Buying Tools