1 View
Toyota Asks, What is the Plural of Prius? [Video]
January 26th, 2011 8:36 AM
Share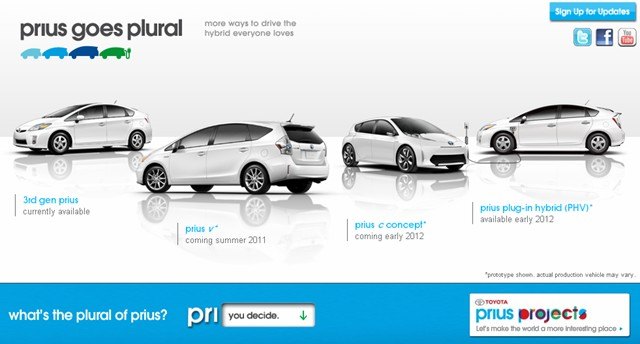 It's time to put on your thinking caps, because Toyota wants you to do some serious thinking. In the automaker's newest marketing campaign, they want you to tell them what the plural of Prius should be.
This campaign comes after the introduction of the new Prius V at the Detroit Auto Show, and the announcement of the Prius C Concept, that is set to take the Prius further down-market with improved fuel economy – not to mention great looks. When added to the current Prius and the Prius Plug-In Hybrid, the family of hybrids is about to total four.
The commercial is fun to watch and puts us in mind of the retro "School House Rocks" educational shorts that would distract us from Saturday morning cartoons in the '70s and '80s. Toyota has a head-scratcher on their hands. Now that the Prius line has expanded, what do you call more than one of these cars? The grammatical implications of this debate could be huge, so Toyota wants you to weigh in on what it should be. Should it be Prii, Prium, Priuses, Prien, or is it just Prius?
Vote for your pick here, and watch the commercial after the jump – you won't be able to get the song out of your head for the rest of the day.


Published January 26th, 2011 8:36 AM
Popular Articles
Latest Comparisons
Car Buying Tools