1 View
2012 Mercedes B-Class Photo Leaked
August 24th, 2011 10:00 AM
Share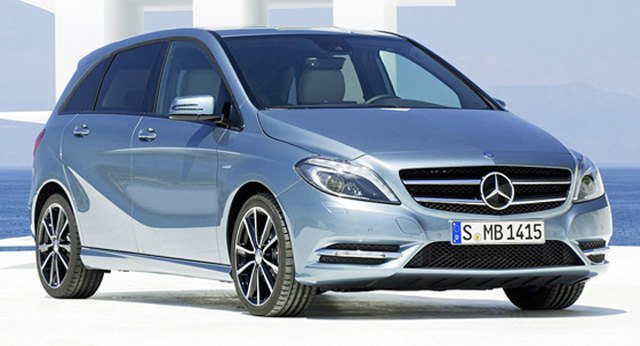 A single photo of the next-generation Mercedes-Benz B-Class has leaked onto the net, showing a compact MPV remarkably similar to the current model.
Mercedes has already announced the new B-Class will be offered with either a 122-hp 1.6-liter or a 156-hp gasoline engine. Diesel options will include a 1.8-liter B180 CDI with 109-hp and 184 lb-ft of torque, while a B200 CDI will make 136-hp and 221 lb-ft. A six-speed manual is standard with an optional 7-speed dual-clutch automatic.
Like the current model, the new B-Class features a sandwhich floor, with open space below the passenger compartment that can be used for a future "alternative drive" (read electric) version.
Mercedes had said the new B-Class would change its shape dramatically from the current model, although that's certainly not obvious from the photo. Surprisingly, however, when compared to the current B-Class the new 2012 model has a roof height that is roughly 2-inches lower, while the seat height has been lowered 3.5-inches so drivers will feel less like they're behind the wheel of a bus. Inside, look for improved functionality with rear seats than can be moved forward or back by as much as 5.5-inches,
Mercedes will reveal the all-new B-Class at the Frankfurt Auto Show this September. Also expected at that showing is the new A-Class, which should provide a little more excitement.
GALLERY: 2012 Mercedes B-Class Interior Images
Published August 24th, 2011 10:00 AM
Popular Articles
Latest Comparisons
Car Buying Tools