1 View
Customers Improve Ford Dash Displays With Virtual Simulator
August 19th, 2011 11:45 AM
Share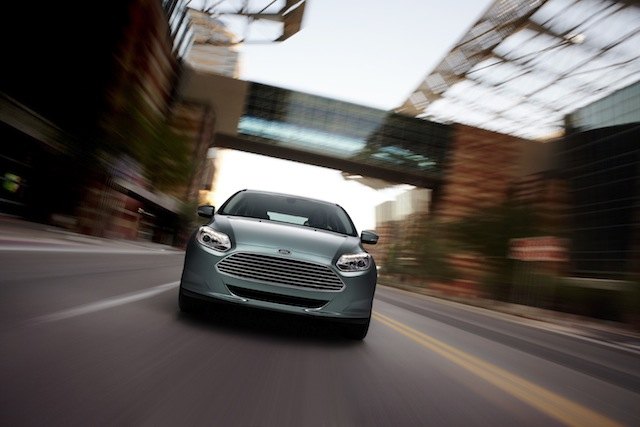 For the next generation of Ford's in-dash displays, the company is actually putting some thought into them—and focus groups are using a high-tech virtual simulator to determine what works in relaying information to drivers and passengers alike.

The driving simulator is carefully designed to match the interior of a Ford Focus Electric, with two 4.2-inch color LCD screens on both sides of the speedometer. Once the occupant gets in (and 30 drivers have already), the simulator takes him on a diverse 11-mile drive—across winding hills, city streets, country roads, stretches of flat nothingness, and Grandma's house.
"These screens are an integral part of Focus Electric and we thought the best way to make sure they would do their job is to have people come in and try them out for themselves," said Paul Aldighieri, an engineer with Ford. "The only true way to get a feel for what the screens are telling the driver is by actually getting behind the wheel."
The simulator gauges how drivers react to all of the information that pertains to the Focus Electric: battery charge, remaining range, and whether you could be driving even more efficiently. It's a lot of information to display, especially while someone's driving and doing the 100 other things one normally does while driving (applying makeup, eating cheeseburgers, flipping off tailgaters, sexting) so engineers have to determine what's effective and what's not. Butterflies to display eco-friendliness, for example, are more welcoming than circuitboard graphics.
The system is integrated into MyFord Touch, which offers information about range, destinations and charge points. It's all controlled through five buttons on the steering wheel, which will also bring up the ability to customize information to individual drivers (which Ford calls "MyView"). When the Ford Focus Electric finally comes out, it'll be key for consumers to know that, well, circuits are too nerdy for environmentalists!
Published August 19th, 2011 11:45 AM
Popular Articles
Latest Comparisons
Car Buying Tools