6 Views
New Mazda MX-5 Miata Patent Drawings Leaked
August 17th, 2011 8:30 AM
Share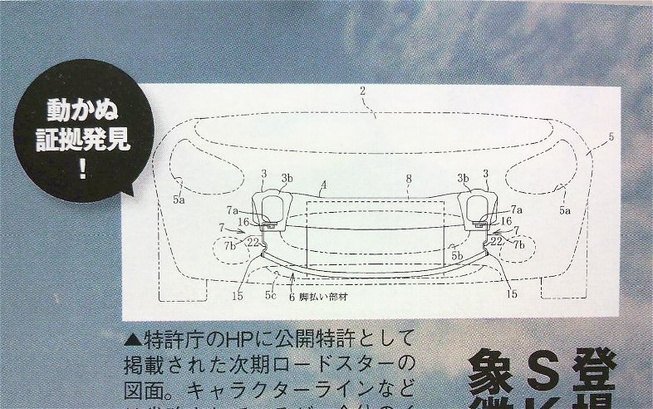 One of the most famous sports cars in the world ( as voted on by the people's wallets) is the Mazda Miata. The next one will no doubt continue with this sales success, and with this leaked patent drawing, we can get a glimpse of what we'll be seeing on the twisties.
Any change from its simple 2-seater RWD template is subject to the ire of the masses, so this next Miata has been speculated on with the fervor only dedicated fans can muster. Will it sport a rotary? Will it have a turbocharger, standard? Will it weigh less than 1700 lbs? Will Mazda bring back headrest speakers? While some of those things aren't clear, the patent drawing leaked by a Japanese publication—intercepted on their way to the Tokyo Patent Office—shows us the most accurate view of its front end yet.
Mazda is ditching the "Nagare" styling theme (read: silly grins) on the rest of its lineup and going retro—all the way back to 1989, when big-haired women blasted " Like A Prayer" in their "hairdresser's cars." It gets vaguely Kabuki-esque stretched headlights that frame a big oval intake, which isn't too much of a stretch from past and current Miatas. Sadly, pop-up headlights are still sequestered (by various governments, anyway) in the realm of lawn darts and asbestos, and won't be making a comeback.
The next Miata will bow out as a concept car next year, before Mazda plans to debut the production version at the 2013 Geneva Motor Show. Expect plenty more fun, bizarre speculation (and plenty of loud opinions) for the next year and a half!
[Source: Motor Trend]
Published August 17th, 2011 8:30 AM
Popular Articles
Latest Comparisons
Car Buying Tools