6 Views
Cost2Drive App Estimates Fuel Costs For Road Trips
September 22nd, 2011 4:30 PM
Share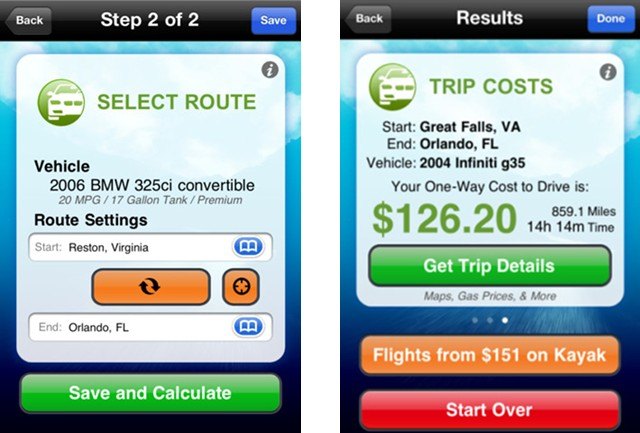 Ever wonder how much that road trip is going to cost you in gas? Before you pack up the car, download the Cost2Drive app to see if you've got enough cash for gas to make it to your destination.
Cost2Drive will estimate how much it will cost to fuel up on a road trip. All you have to do is enter a starting address, ending address, and the make, model, and year of your vehicle, and Cost2Drive will do the rest. This super smart app calculates how much money you'll need to fuel up based on the distance between the starting and ending points, the highway fuel economy estimate for your vehicle, the size of your vehicle's gas tank and what type of fuel it uses. It even sources gas prices along your route and factors them into your total cost.
If your travelling budget is a little on the tight side, Cost2Drive will show you the gas stations that have the lowest fuel prices along your route, and how often you should stop to fill up. Although Cost2Drive only estimates for one-way trips, it's easy enough to either double that amount or figure out your return trip home.
If you're eco-conscious, Cost2Drive can help you out there, too. It also offers displays the carbon footprint for your selected trip and it has an option to purchase carbon offsets in order to make your trip as green as possible.
Let's just say that after you plug in all the information and the time, money and distance estimates are a little too much for you to handle. In that case, Cost2Drive also offers the Kayak trip planning service, which will show you the lowest airfare to your chosen destination. You can compare flying vs. driving and weight the pros and cons for each method of transportation.
The Cost2Drive app costs $1.99 in the iTunes App Store, or you can use the free service on the Cost2Drive website.
[Source: Cnet]
Published September 22nd, 2011 4:30 PM
Popular Articles
Latest Comparisons
Car Buying Tools