1 View
Survey Shows That Dads Taking on More Kidpooling Responsibilies
September 20th, 2011 6:00 PM
Share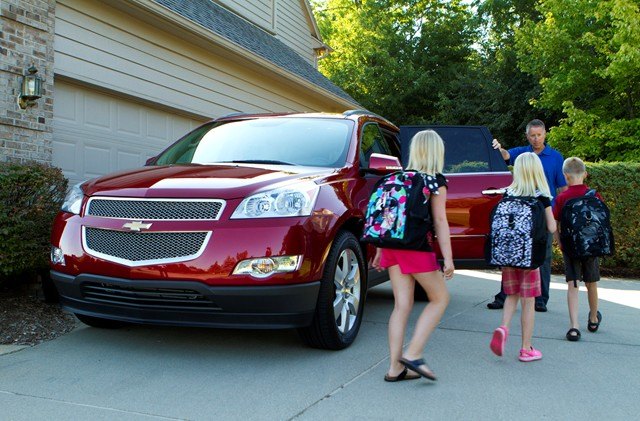 It looks like mom can put her feet up and enjoy a quiet house for a couple of minutes – dads are getting more involved in kid carpooling duties, although they are more likely to drop the kids off at school in a utility vehicle rather than a minivan.
A new survey by Chevrolet shows that men are taking a much more active roll when it comes to dropping off and picking up the kids from school. The survey takes its results from an online survey conducted by Harris Interactive. The results show that 80 percent of American fathers with children aged 17 or younger enjoy an active daily family life and more than 70 percent drive their kids to school, daycare or extracurricular activities.
"According to recent Census data, there are 154,000 stay-at-home dads and more than 25 million dads who have kids under 17. The trend is shifting and men are becoming more involved with family-driving duties. We're seeing the rise of the 'Dadmobile,'" said James Bell, head of General Motors Consumer Affairs.
But according to these fathers, they'd much rather pull dad-duty in a utility vehicle. Moms still love their minivans (58 percent really dig them, thanks to features such as sliding doors), but dads think minivans aren't manly enough. The survey also asked dads how cool their family vehicles were, and they came up with a 6.4 rating on a 10-point scale.
The dads surveyed in the poll went with SUVs and crossovers as their preferred family vehicle, citing they could accomplish all their daily activities in them, whether it be work or personal. Dads want to do everything in their vehicles – from holiday travel (94 percent) to work commutes (63 percent) to household do-it-yourself projects (54 percent). Less than one quarter of those surveyed said they prefer a minivan for these tasks.
The study showed that on the top of fathers' family vehicle must-have list is a safe, fuel-efficient vehicle. And since they are "kidpooling," passenger capacity is pretty important to nearly 40 percent of fathers, along with functionality, ample cargo space and comfort. The survey also noted that two of the most stressful things dads had to deal with regarding travel are high fuel prices and traffic jams.
So who performs most of the school drop off and pick up duties in your household? Leave us your two cents in the comments section below.
Published September 20th, 2011 6:00 PM
Popular Articles
Latest Comparisons
Car Buying Tools