1 View
Audi R4 Reportedly Back in Product Plan, Gas and Hybrid Versions Coming
October 26th, 2011 3:00 PM
Share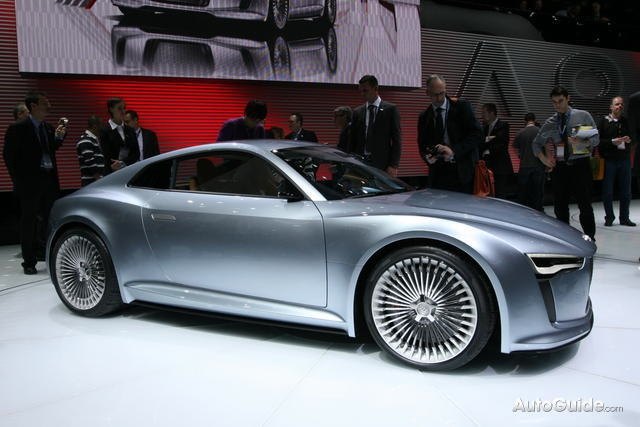 In a seemingly never ending quest to fill every single automotive niche, no matter how big or small, Audi AG has given the strongest indications yet that it's R4, a smaller counterpart to the R8 mid-engined supercar, is slated for production after all. ( Previous reports had indicated the project was axed).

The latest rumors circulating indicate that not only is the R4 destined to become a reality, but also that it will take many cues from the e-tron Spyder and be conceived from the outset as a convertible, though a coupe version is likely to join it.
As for driveline options, the R4 will come with a conventional internal combustion engine, probably a version of Audi's 2.5-liter in-line five, though a hybrid is also expected.
Of course, being an Audi, a version of the quattro AWD system is a given, though one inside source at Audi says that in the R4's case, certainly for the hybrid model, there won't be a conventional link between the rear and front wheels, instead a torque vectoring system will be employed to harmonize traction between the gas engine powered back tires and the electric motor activated fronts.
As for chassis construction, there are rumors that the car could use a scaled down version of the R8's aluminum space frame, though sharing a platform with VW and Porsche's possible up and coming mid-engined small cars seems more likely.
Nevertheless, if and when it does arrive, the R4 promises to offer a good deal of driving thrills, with a high level of efficiency, especially in Hybrid form (the e-tron Spyder can operate at a distance of up to 37 miles on pure electric power).
As for pricing, nothing has really been suggested, though one source says the car could sell for around £50,000 (roughly $80,000), which would put it very much in Porsche 911 territory.
GALLERY: Audi E-Tron Concept
Published October 26th, 2011 3:00 PM
Popular Articles
Latest Comparisons
Car Buying Tools