1 View
DeLorean EV Really Is 'Back To The Future'
October 18th, 2011 5:45 PM
Share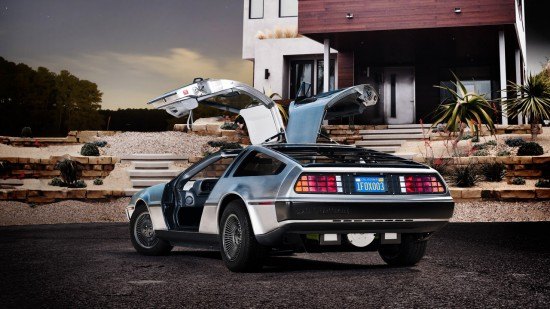 When Marty McFly met up with Doctor Emmet Brown at the Twin Pines Mall in the wee hours of Saturday, October 26 1985, he was stunned at the Doc's latest invention, a timing traveling DeLorean DMC-12.
He was equally stunned at the choice of fuel. "Wait a minute Doc, are you telling me this sucker is nuclear?"
"No, no, no," replied the Doc, "this sucker's electrical."
While Back to the Future might have become a cult sci-fi classic, the idea of an electric DMC-12 is now very much a reality thanks to the efforts of the revitalized DeLorean Motor Company.
Last month, DMC owner Stephen Wynne, showcased such a vehicle to a enthusiastic crowd, at the company's Humble, Texas headquarters near Houston.
Wynne said that his engineering team have spent four years working on the EV DeLorean and plans to bring the car to market in 2013, for a price of around $90-$100,000. He also said that the car is capable of generating the equivalent of 260 hp and reaching a top speed of 125 mph from it's Epic electric powertrain.
The unveiling came as a bit of a surprise for members of the DeLorean Owner's Association, who had gathered at DMC HQ for their annual get together.
"We've been talking about it for some time but we have stopped giving people completion dates because things weren't going to plan," Wynne said. "So we quieted down on what we're doing."
Besides the EV another DeLorean, equipped with a supercharged motor that essentially doubles the output of the car's original 2.9-liter P-R-V 130 hp V6 engine also shocked and wowed onlookers.
Other announcements included a new lightweight underbody structure for a car that visually, has remained unchanged since 1981.
Yet despite the car's commercial failure, Back to the Future fame and subsequent status as an '80s icon have kept the DeLorean flame alive for three decades. In 1995, Stephen Wynne acquired the remaining inventory of parts and cars which had been sent to Ohio when the Belfast factory was shuttered in 1983. Beginning as a parts, service and restoration operation, the 'new' DeLorean Motor Company has now expanded to building entire cars, using original parts and tooling.
"So far we've built 41 of them," says Leif Montin, who has been around DeLoreans for more than 30 years, starting in 1979 when he went to Belfast and served as plant manager.
"It was a tragedy when [DMC] folded, and it wasn't necessary," Montin said. "John DeLorean made some disastrous decisions that made the company fail. Fortunately, Stephen Wynne picked it up and did a marvelous job. We build better cars today than what the factory did then. It's amazing, really; a 30 year-old car that's as popular today as it was then. Thanks to the job [the new DMC does] the DeLorean will live forever."
[Source: DMC]
Published October 18th, 2011 5:45 PM
Popular Articles
Latest Comparisons
Car Buying Tools