1 View
Eight Car Pile Up At The Nurburgring
October 4th, 2011 1:30 PM
Share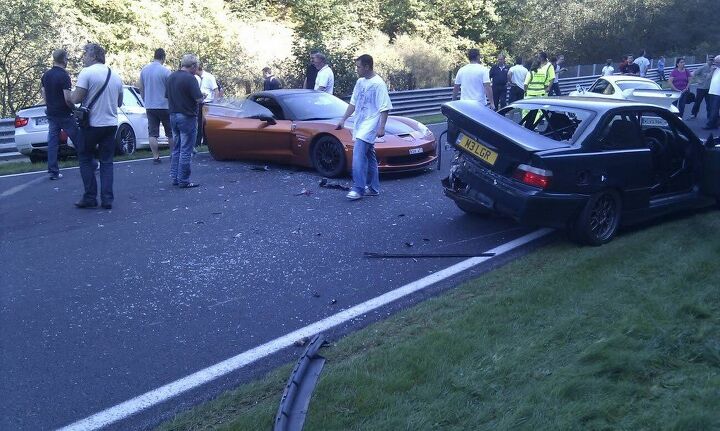 British racing driver Jackie Stewart called the Nurburgring Nordschleife (Northern loop) the "Green Hell," and this past week, the track lived up to its nick name due to an eight car pile up that included a rented
Chevrolet
Corvette, a
BMW
M3 "Ring Taxi", two rare Vauxhall VX220's an E36, E30 and E92 BMW 3-series, an old
Porsche
911.
The accident took place on a public lapping day at the "Bergwerk" section, where a construction company was doing some repair work, which is not a great idea especially when novices are out on the track. According to reports, four cars were racing as they approached the construction zone, which according to some was not clearly marked.
These four cars slammed on their brakes upon seeing the construction zone and the carnage ensued. This chain of accidents took out eight cars in total and sent one man to the hospital with serious injuries.
This accident caused around $200,000 worth of damage to cars and property. Usually all damages to the track are paid by those involved in the accidents, but there could be a strong case made against the track for its untimely construction on a open lapping day and then not marking the construction zone clearly. We reckon this story is far from over. We'll keep you posted on this developing story.
[Source: GT Spirit]
Published October 4th, 2011 1:30 PM
Popular Articles
Latest Comparisons
Car Buying Tools