1 View
Group Lotus Fields Works Karting Effort
October 14th, 2011 7:00 PM
Share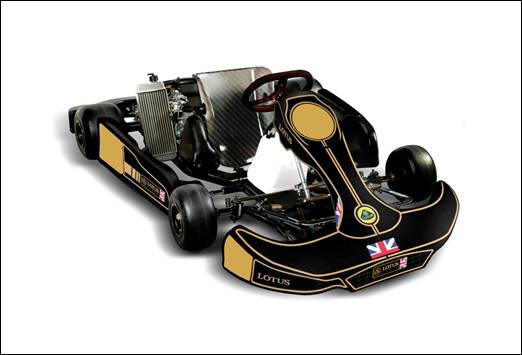 As part of a plan to spot future motor racing talent, Group Lotus has been the first car manufacturer to truly feature a presence in that most grassroots form of racing, karts.
For decades, some of the most notable stars of Formula 1, including former Lotus driver Ayrton Senna and more, recently the likes of Jenson Button, Lewis Hamilton and Sebastian Vettel, all began their careers in karts, so the idea seems logical.
However, Group Lotus isn't just interested in spotting future world champs, it's also embracing karting in a big way because it also allows for the potential to work with talented youngsters who show a real aptitude for innovative design and engineering.
Under the guise of the 'Lotus Racing Karts' banner, the company, in conjunction with Jefra Racing, will operated a full factory effort in the 2012 CIK-FIA World Karting Championship and to boot, the team's machines will sport the unmistakable black and gold livery, made famous by Lotus Formula 1 racers during the 1970s and much of the 1980s.
The team will be headed by Fran Jerancic, and headquartered at Jefra's home base in Italy, just outside Treviso, while the karts themselves will be sourced from seasoned manufacturer Wildkart.
"Our entry into karting is exciting on many levels," declared Miodrag Kotur, who currently serves as Director of Operations for Lotus Motorsport. "Not only are we nurturing talent and widening our motorsports programme, we also have an opportunity to join forces with two world-class specialists."
Further announcements regarding Lotus Racing Karts, will be made on February 14th during next year's Autosport Show at Britain's National Exhibition Centre near Birmingham, West Midlands.
Published October 14th, 2011 7:00 PM
Popular Articles
Latest Comparisons
Car Buying Tools