1 View
Ultra Rare MG SV-R Heading to Auction [Automotive History Lesson]
October 23rd, 2011 2:00 PM
Share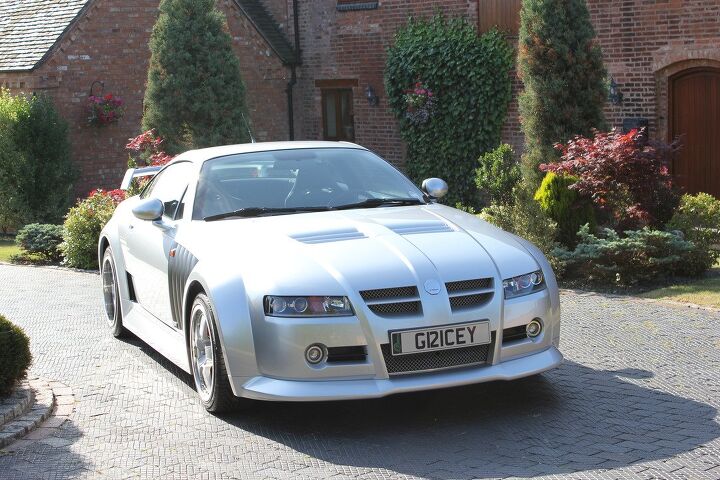 The MG SV-R is a car most people in North America (or anywhere else for that matter) haven't even heard of. But it did exist for a short time, and we're glad it did. So how did it come about?
The project started when MG Rover, wanted a halo car for their brand, to raise the company's profile and keep it in business. So what MG did was look for a suitable car to form the basis for their new sports car (this would save them tons in development money), and mold it into something unique.
What they got was the underpinnings of the Qvale Mangusta, a car that started out in life as the De Tomaso Bigua. With the underpinnings secured, MG went all out and hired automotive designer Peter Stevens.
Steven's is most well known for penning the iconic McLaren F1 supercar, and he soon got to work to clothe the chassis he was given. The end result might not be to everyone's taste, but it is most certainly interesting.
To power their new sports car, MG made a deal with Ford to get both the 4.6-liter V8 from the Mustang, and a 5.0-liter V8 crate motor. They also got some supercharged 4.6-liter V8s from Ford SVT division. The motors were then sent to Sean Hyland Motorsports in Woodstock, Ontario in Canada to tune them to MG's specifications. As a result, the base 4.6-liter engine was good for 320 hp, while the 5.0-liter and the supercharged 4.6-liter V8s were good for 385 hp. At launch time, there was talk of much more power to come, but nothing came of it.
Power was fed to the rear wheels via a Tremec 5-speed manual gearbox, and when launched properly would sprint from 0-60 mph in 4.9 seconds, and onto a top speed of 175 mph. So while not the quickest or fastest sports car ever made, it's certainly respectable.
Despite having a high profile client like Rowan Atkinson (Mr. Bean, Johnny English), who ordered a dark green example, MG struggled to sell their latest sports car in big numbers. All in all, just 82 examples are believed to have been produced between 2003 and 2005, of which 42 were the more powerful SV-R versions.
The car pictured above is believed to be the very last complete SV-R ever produced by MG. This car was once the star of the 2005 Italian Motor Show. Sadly the MG Rover group soon went into administration and this car stay locked up for three years, before the cars current owner bought it and registered it in 2008. Since then it has covered just 800 miles. In a way, this silver on black example is almost like new and comes with such original goodies as an MG Racing car cover, an SV-R collector's DVD, hardback book, an MG jacket, T-shirt and key ring. All these items are also described as brand new.
If you are intrigued by this left-hand drive example (which makes it rarer than rare), you can bid on it at the Silverstone Auctions on November 4, 2011. This car is part of the Walter Hayes sale, which includes many other tasty collector cars.
This MG SV-R is expected to fetch around $55,000, a bargain for what could very possibly be a desirable future classic.
GALLERY: MG SV-R
Published October 23rd, 2011 2:00 PM
Popular Articles
Latest Comparisons
Car Buying Tools