1 View
Bugatti Veyron Lake Crash May Be Insurance Fraud [VIDEO]
November 30th, 2011 7:00 PM
Share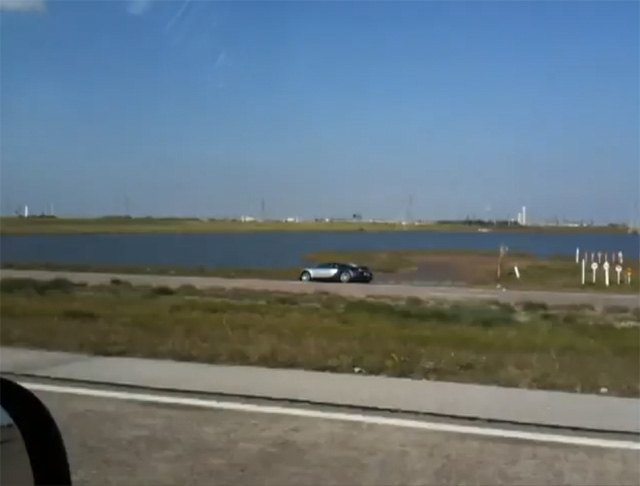 There was always something funny about the Bugatti Veyron that crashed into a Texas lagoon, conveniently captured on video and shared on the Internet for the world to see.
The driver, Andy House, claimed he had to swerve to avoid a pelican on the road while trying to pick up his cell phone that dropped. To make it even more suspicious, the exotic was left idling in the water for 15 minutes until it died – ensuring that it would be a totaled vehicle by the time any authorities got to it.
And House's explanation for not turning off the engine? He claimed he was being bitten by mosquitoes and didn't want to return to the car to turn off the engine. While we live in a country where everyone is innocent until proven guilty, the details laid out in House's scenario seems to really go against him. His insurance company paid out $2 million for the car, even though House only secured a $1 million interest-free loan for the vehicle.
There are also claims going around that House tried to pay a confidential informant to steal the Bugatti and set it on fire in order to claim the insurance on it, essentially doubling the initial investment from the loaner. The insurance company is now firing back, claiming fraud. A federal judge has declared that the claim must go before a jury. They're also stating that House violated the terms of the policy, claiming that he put over 1,200 miles on the vehicle in the three weeks he owned it.
We don't know about you, but we're pretty sure that mosquitoes would be the last of our worries if we were trying to save our million dollar (and change) investment. Besides, no one ever saw a pelican of any sort in any of the videos. Good luck with this one Mr. House.
Check out the video of the Veyron nose-diving into the lake after the break, if you haven't done so already.
[Source: Autoblog]
{ "id": "12967192", "alt": "", "title": "", "video_link": "https://www.youtube.com/embed/4NJmB1F2mdE", "youtube_video_id": "4NJmB1F2mdE" }
{ "width": 634, "height": 357, "showRelated": true }
Published November 30th, 2011 7:00 PM
Popular Articles
Latest Comparisons
Car Buying Tools