1 View
Honda Civic GX Natural Gas Wins "2012 Green Car of the Year" Award
December 29th, 2011 5:17 PM
Share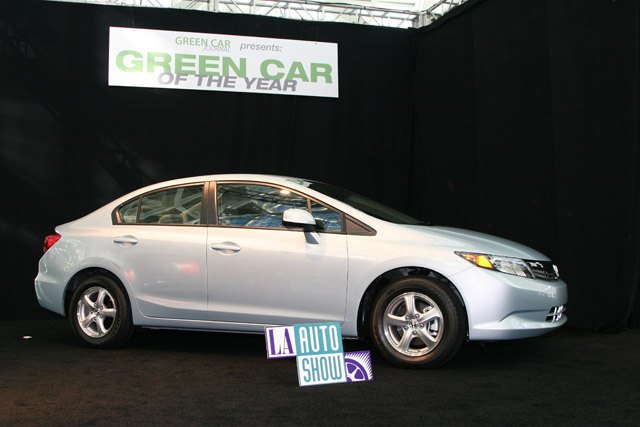 The 2011 Green Car of the Year award isn't going to an electric car or a hybrid. The winner is the Honda Civic GX, a car that has an internal combustion engine, but that doesn't burn any gasoline at all. That's because it's powered by natural gas.
The Civic beat out the Ford Focus Electric, the Mitsubishi i, the Toyota Prius v and the 2012 Volkswagen Passat TDI.
The car is rated at 27-mpg city, 38-mpg highway and a 31-mpg average. Honda claims the cost to operate the car is roughly 30 percent less than a conventional gasoline engine.
While fueling stations for such cars are rare, they're likely to become much more popular – especially in Southern California. The reason is that the Civic GX is allowed to operate in the high occupancy vehicle (HOV) lanes – something the Prius is no longer able to boast.
Along with staff from the Green Car Journal, this year's judging panel for the 2012 Green Car of the Year award included Carl Pope, Sierra Club chairman; Frances Beinecke, Natural Resources Defense Council president; as well as Jay Leno and Carroll Shelby.
The winner of the 2011 Green Car of the Year award was the Chevrolet Volt.
Published November 17th, 2011 12:59 PM
Popular Articles
Latest Comparisons
Car Buying Tools