1 View
Lexus GS-F Rumored Again as BMW M5 Rival
November 21st, 2011 9:31 PM
Share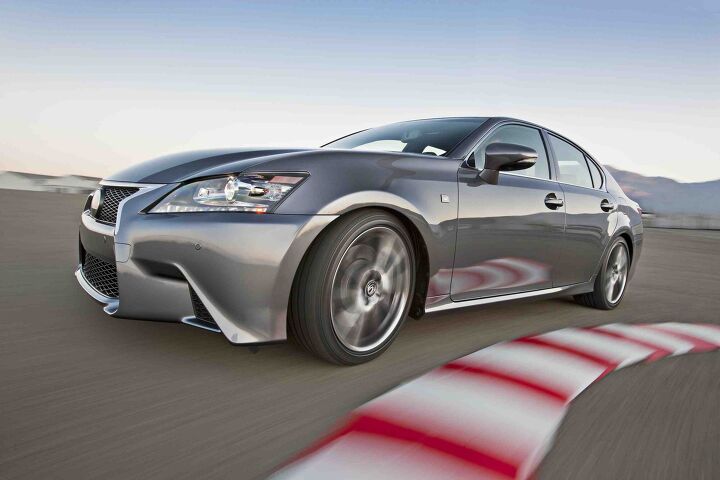 If buzz at the LA Auto Show last week was anything to go by, a high-performance Lexus GS is on its way. During inside discussions at the west coast auto show, enthusiasm about building a GS based M5 beater was very much in evidence.
And it's likely that such a machine wouldn't just be fast, but actually enjoyable to drive as well, building on the foundation of the new GS model's already very competent and dynamic chassis. It's all part of Lexus' plan to move away from the somewhat staid, gilded-washing-machine persona it's created over the last two decades.
In terms of engines, there are many believe that such a super sedan would need a super car engine, in this case a variation of the LFA's 4.8-liter V10, though Lexus has continued to deny such rumors. Instead, given that BMW and even Mercedes are moving away from V10s and V12s and toward twin turbo V8s in an effort to add a bit of fuel economy along with performance, there's every indication Lexus might do the same.
Nonetheless in a perhaps interesting move, Lexus is also adamant about not offering diesels on the GS even in Europe, despite the fact most rivals sell them there. Instead, Lexus is focusing on hybrids, it's European vice president, Andy Pfeiffenberger stating that, "if you're looking for diesel, I suppose you'll be buying another brand."
So does that mean that a V10 really could be a possibility in the GS after all? At this point, it's simply too early to really say.
[Source: Autocar]
Published November 21st, 2011 9:31 PM
Popular Articles
Latest Comparisons
Car Buying Tools