1 View
Subaru, Lexus Earn Top Honors in 13th Annual ALG Residual Value Awards
November 19th, 2011 10:58 AM
Share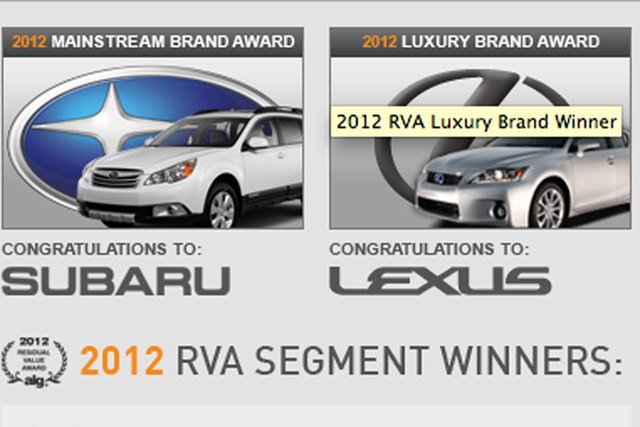 TrueCar, Inc. subsidiary, ALG, has announced the top spots for this year's 13th Annual Residual Value Awards for mainstream and luxury brands with Subaru and Lexus taking honors respectively. According to historic data, vehicles from Japan have won 11 out of the overall 21 ALG awards, which is more than half of the honors. For Subaru, this will be its third consecutive Mainstream Brand Residual Value Award. For Lexus, this is its return to glory after last receiving the Luxury Brand Residual Value Award in 2007.
"The consistently high quality of Subaru products, and the brand's ability to remain progressive and practical in their redesigns, continue to draw fiercely loyal customers," said ALG rep Raj Sundaram. "With high sales, Subaru consistently has low incentives and fleet sales, which have enhanced the brand's used value and helped it hold on to the top spot among mainstream brands again this year." For Lexus, Sundaram continues, "Lexus has fully bounced back from its recent challenges, proving that it is one of the strongest brands. The brand is extending its reach with exciting and affordable new models like the CT 200h, while continuing to provide great luxury and value across the lineup. Lexus' reputation for value and customer service is also key to its dominance among luxury brands."
The judging and nomination process is based on educated projections of the current 2012 vehicle offerings' segment competition, historical vehicle performance and industry trends. Those vehicles expected to retain the highest percentage of its original value within their category after a three-year period are awarded. According to Sundaram, "Residual value is a great indicator of brand strength which in turn contributes to greater sales and profitability. We have seen a strong focus this year on producing high-quality products with great pricing and packaging delivering real value for vehicle buyers."
Taking home the most segment awards is Audi, with an award for A6 for the Luxury Car category, A5 for the Luxury Sports Car category, and the Q7 for the Luxury Fullsize Utility Vehicle category. Range Rover brought home top Luxury Compact Utility for the debut of its Range Rover Evoque and a seventh consecutive award for the Luxury Midsize Utility Category was awarded to its Range Rover Sport. Domestic automakers have strong results for its trucks as well. The Jeep Wrangler wins the Compact Utility Vehicle Segment and the GMC Acadia is awarded best of the Fullsize Utility category. Toyota finished off the truck segment for awards given to its pickup trucks. Toyota Tacoma wins the Midsize Pickup category and the Tundra earns honors for the Fullsize Pickup category.
Passenger cars awarded include the Hyundai Elantra for the Mid-compact Car category, Mazdaspeed 3 for the Sporty Car category, Mercedes-Benz C-Class for Near Luxury Car category and Nissan Maxima for Full Size Car.
Get the full rundown of all the awards here and shop for your next car at AutoGuide's extensive new car section here.
Published November 19th, 2011 9:30 AM
Popular Articles
Latest Comparisons
Car Buying Tools