1 View
The Philips GoPure Automotive Clean Air System Lets You Breathe Easy
November 10th, 2011 3:30 PM
Share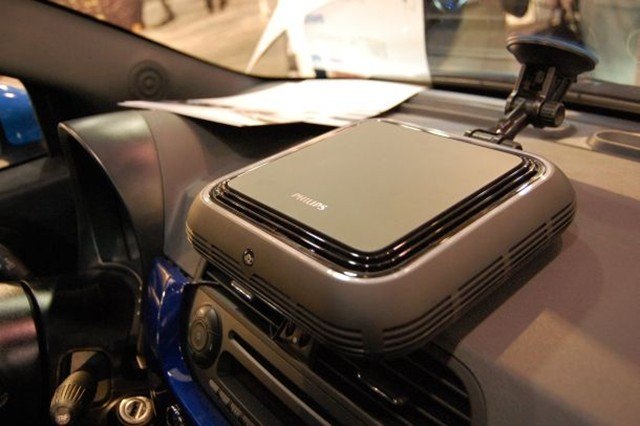 If you can't figure out where that funky smell is coming from in your car, take a deep breath and install the Philips GoPure Automotive Clean Air System.
The portable Philips GoPure Automotive Clean Air System is ideal for drivers with allergies and small kids, as well as those with really stinky cars (we're looking at the smokers out there). This system uses a three-stage filtration process. The first takes care of large airborn particles that are floating around your car. The second is a HEPA filter that captures finer particulates (dust, pollen and bacteria), while the third features three HESA filters that get rid of the stink. Air is circulated through a two-speed fan, and your car can smell as fresh as a daisy in about 10 minutes when you've got the system cranked up to high.
The GoPure system can be held in place on the dash with a suction cup, and can also be secured under or behind a seat as well. It gets its juice from a 12V plug that automatically turns on and off with your vehicle's ignition. To let you know what the current air quality in your car is, you're alerted by sensors and LED indicators. It also comes with a filter replacement indicator that will let you know when it's time to change the HESA and HEPA filters.
The Philips GoPure Automotive Clean Air System costs about $249.99. You can find out more about it on Philips' website.
[Source: Cnet]
Published November 10th, 2011 3:30 PM
Popular Articles
Latest Comparisons
Car Buying Tools