1 View
2014 Mazda MX-5 to Have 1.3L Turbo
December 4th, 2011 1:00 PM
Share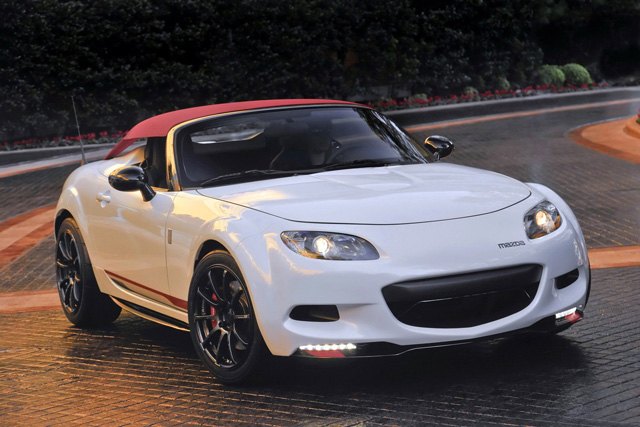 A while back, we reported that the next-generation Mazda MX-5 would be going on a major diet and could be powered by a 1.5-liter turbocharged powerplant rather than the 1.8L or 2.0L naturally aspirated motor used today. Now reports are coming in that the new MX-5 will likely sport a 1.3L turbocharged four-cylinder, with Mazda's SkyActive technology.
Scheduled to be released sometime in 2014, the 1.3L turbocharged motor will feature variable cam phasing, lighter, low-friction reciprocating parts and possibly a new exhaust manifold to achieve better exhaust gas evacuation. Mazda is also looking to lighten the load in the transmission as well as reducing the friction in order to make each shift short and snappy on the manual. For the automatic fanatics, Mazda will probably offer a paddle-shift, torque-converter auto with a lock-up clutch.
The next generation MX-5 has been confirmed to be built on a new rear-wheel-drive SkyActive platform called the S-platform, and Mazda engineers continue to work towards their goal of making the sports car weigh in at a scant 1,765-lbs or so.
[Source: Autocar]
Published December 4th, 2011 1:00 PM
Popular Articles
Latest Comparisons
Car Buying Tools