1 View
Ferrari 212 Inter Ghia Cabriolet Found In Michigan Garage
December 20th, 2011 7:15 PM
Share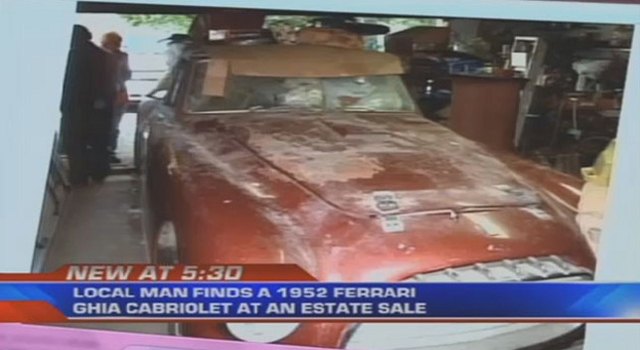 Rifling through boxes at an estate sale paid off for Bobby Goins after he recently found a 1952 Ferrari 212 Inter Ghia Cabriolet tucked away and forgotten.
The car, which was barely visible except the emblem, had been sitting in a garage for 40 years. Pickers find forgotten cars frequently, but unless it's really notable they don't make it to the media. Last September we brought you a story about a 1955 Mercedes-Benz 300SL Gullwing being found in California, but this latest find beats the Benz.
According to information from FerrariChat.com, Goins only knew it was a Ferrari, but had no idea what model it was or its value. He soon found out exactly what he had, but there was one catch: it had a Corvette engine. The could have compromised the value from a restoration perspective, but against all odds, the original engine was located in Wisconsin.
Though the amount he paid for the car wasn't disclosed, Goins sold the car for $150,000 to someone who plans to fully restore it and set it on display at the 2013 Pebble Beach Concours d'Elegance.
[Source: FerrariChat]
Published December 20th, 2011 7:15 PM
Popular Articles
Latest Comparisons
Car Buying Tools