1 View
GM Crossovers Get Innovative New Airbag, Lane Departure Technology
December 10th, 2011 9:00 AM
Share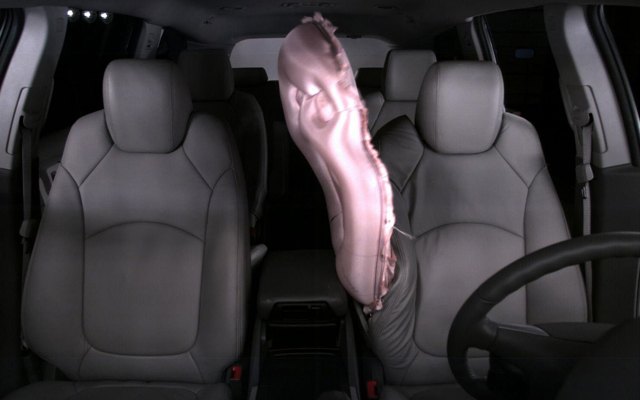 General Motors is targeting a safety issue with new equipment that until now has been unaddressed.
They plan to release a front-seat center-airbag (pictured above) that deploys between the driver and passenger seats. The new feature is supposed to improve safety in the event of far-side impact crashes, which statistics show to be responsible for 11 percent of all crash-related deaths.
When such a crash occurs, the bag deploys in 26 milliseconds using a combination of pressurized argon and pyrotechnic gas. It forms a hard barrier between the passenger and driver sides of the vehicle, protecting against the possibility of two people damaging each other during a collision. The bag is also angled away from the passenger seat to keep the driver from smashing against the center console and is sturdy enough to help protect against a poll during such a crash.
GM developed the device in partnership with Takata, which stays rigidly inflated for several minutes after impact. Expect to see it in the 2013 Buick Enclave as standard equipment and as an option in the GMC Acadia and Chevrolet Traverse. According to MotorTrend, GM chose the crossovers because they are the most likely to carry extra passengers. Despite being an option, the new airbags should appear on about 90 percent of these models.
The safety blitz isn't stopping there, though, GM is also offering a low-cost safety system that offers both front crash detection and lane departure warning systems for only $295. That's a bargain compared to the thousands it costs for similar features on Mercedes or BMW cars.
The difference is that GM's technology takes advantage of a high-definition camera capable of processing 14 images per second through the car's computer. In doing so, it recognizes pedestrians, motorcycles, cars and trucks while calculating your risk of hitting them. That risk is determined by how quickly the object in question is moving. The camera is mounted on the passenger side of the rear-view mirror, behind the windshield.
The system can be toggled to chirp at near, medium or far settings and can even be shut off completely. It also remembers what distance you set it to last when restarted. The notification system combines a red warning light on the dashboard with a series of eight beeps through the front stereo speakers. The system activates if the driver fails to signal a lane change and lower warning tones come from on the speakers on the corresponding side.
There might be plans in the future for GM to employ more safety features like high beam assist and traffic signal recognition but those features are more expensive because they use radar instead of the camera.
Expect the camera-based features to appear first on the 2012 GMC Acadia and Chevrolet Equinox.
[Source: MotorTrend]
Published December 10th, 2011 9:00 AM
Popular Articles
Latest Comparisons
Car Buying Tools