1 View
Devon GTX To Be Auctioned At Barrett-Jackson
January 16th, 2012 2:15 PM
Share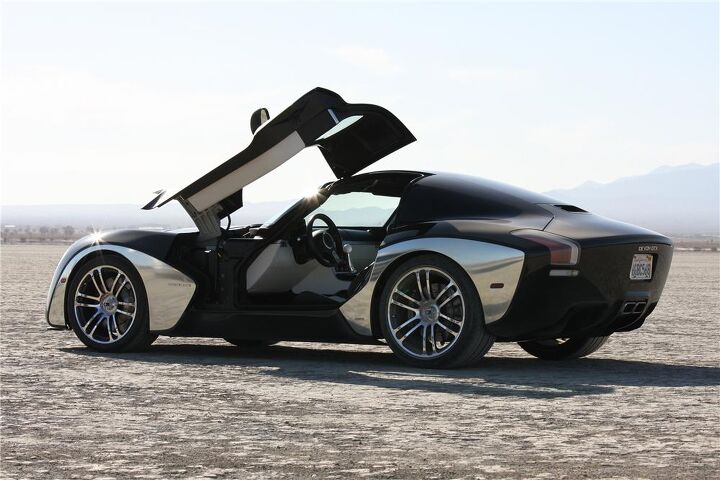 It was a good idea, if only it had worked. A few years back, a man by the name of Scott Devon decided that the world needed a new American supercar. So he appointed a Swede (Daniel Paulin) to design his dream car.
Being a start-up company, Devon did not have the money to develop his own platform or design his own engines. So what he did instead was to take a perfectly good Dodge Viper, and give it some new clothes.
Actually, he did more than that as this was no mere body-kit. The car had a custom, coachbuilt body and a completely unique interior. Oh and he tweaked the Viper's 8.4-liter, V10 motor to produce a modest 650-hp.
The end result looked very impressive, and it also worked. Thanks to its aerodynamics package, the GTX was very capable around a race track. It in fact set the fastest lap-time for a production car at both Willow Springs and the Laguna Seca Raceway. We use the 'production car' term loosely here, read on to find out why.
Devon wanted to put the GTX into limited production, but their plans got cut short when Dodge announced the stoppage on Viper production in 2010. This would hurt Devon's supply if anyone wanted one. Another reason the project didn't work was because the order books remained empty. We reckon the $500,000 asking price had something to do with that.
In the end, just two cars were produced, and now one of those can be in your collection. Lot # 1296 at this month's Barrett-Jackson Collector Car Auction in Scottsdale, AZ., is a beautiful black Devon GTX.
We will have to wait and see what it fetches at the auction, but if you've been looking for something very rare and unique, this might be the car for you.
GALLERY: Devon GTX
Published January 16th, 2012 2:15 PM
Popular Articles
Latest Comparisons
Car Buying Tools