1 View
First Honda Fit EV Delivered to City of Torrance, California
January 21st, 2012 5:00 PM
Share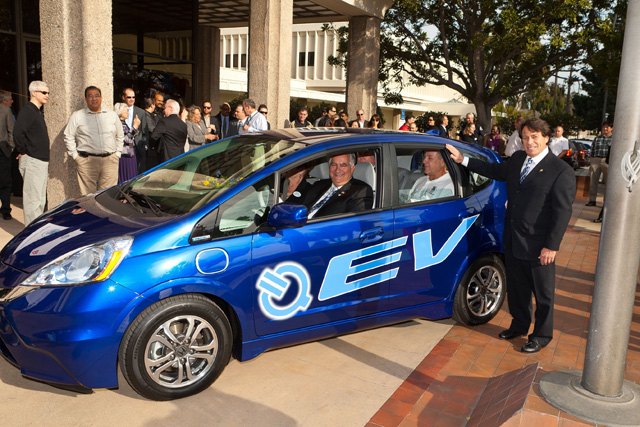 Honda took the first major step in its Honda Electric Vehicle Demonstration Program by delivering the first 2013 Fit EV to the city of Torrance, California.
The program will set up the retail market launch of the Fit EV to customers in California and Oregon starting this summer. Over the past year, the city of Torrance and Honda has been working together to gather input from local residents about potential recharging station locations and held numerous public awareness events with the Fit EV. The city of Torrance will also receive a Honda plug-in hybrid for additional testing at a later date.
"This is an exciting day as we take another important step toward Honda's comprehensive vision for reducing CO2 emissions while at the same time advancing our relationship with the city of Torrance," said Steve Center, vice president of the Environmental Business Development Office at American Honda. "Honda has a long history with electric vehicles starting with the introduction of our first battery-electric car, the EV Plus, nearly 15 years ago. With Honda's extensive experience and the real-world feedback from the city of Torrance, we will be even more prepared for the further customer adoption of electric vehicles."
The Honda Fit EV will have a 123 city-mile per charge (76-mile range combined adjusted city/highway), powered by a 20-kWh lithium-ion battery and 92 kW coaxial electric motor. The Fit EV can be fully recharged in as little as three hours when connected to a 240-volt circuit.
Honda will also be testing the Fit EV with Google and Stanford University in order to receive real-world feedback on the new electric vehicle.
Published January 21st, 2012 5:00 PM
Popular Articles
Latest Comparisons
Car Buying Tools