1 View
Nissan Leaf Battery Packs Could Get Second Life as Household Energy Storage Units
January 20th, 2012 4:15 PM
Share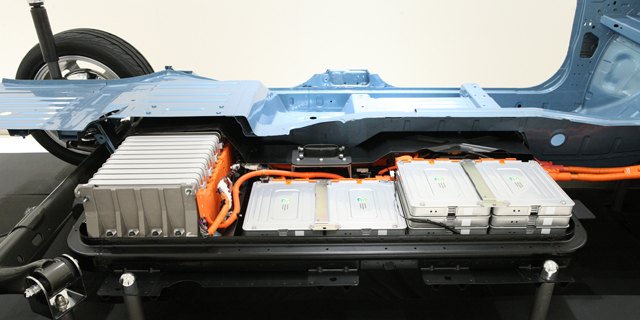 The Nissan Leaf just got a little greener. Nissan is exploring ways on how to reuse the electric car's lithium-ion battery packs once it can no longer power the emissions-free car.
Partnering with ABB (a power and technology group), 4R Energy and Sumitomo Corporation of America, Nissan is looking for second-life storage applications for lithium-ion battery packs that can be used for commercial and residential purposes. The automaker is testing to see if these reclaimed battery packs can be used as back-up or energy storage systems that can store power from the grid during times of low usage. When the grid is operating at peak demand, the reclaimed batteries would feed the stored electricity back into the grid. The plan is to develop a LEAF battery storage prototype that can store at least 50 kilowatt hours (kWh) – this would be enough energy to power 30 homes for one hour.
It's interesting to note that after a lithium-ion battery pack has powered an electric car for 10 years, it still has 70 percent capacity remaining. That means it's viable to power something like a smart-grid community energy management system or for battery energy storage after it can no longer be used in an EV.
"It's important to Nissan that we manage the complete lifecycle of the electric vehicle battery pack, even beyond its use in a Nissan car," said Ken Srebnik, senior manager, NNA Corporate Planning. "Innovations in energy storage systems are becoming more viable as the electric grid gets smarter, and Nissan is proud to work with ABB, 4R Energy and Sumitomo to help bring these possibilities to market."
Published January 20th, 2012 4:15 PM
Popular Articles
Latest Comparisons
Car Buying Tools