15 Views
RWB Inspired Toyota GT 86 Foreshadows New Tuning Trend
January 8th, 2012 4:00 PM
Share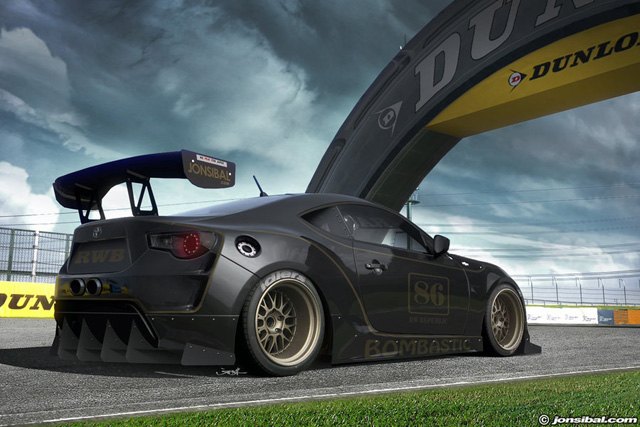 Toyota's upcoming GT 86 hasn't even gotten in the hands of the consumers yet, and already some interesting tuning options are being dreamed up. We'll be receiving Scion's FR-S as America's offering from Toyota, and already impressed with how it performs stock (read our review here), we can't even imagine what the aftermarket will be able to do with it.
But for now, we have to satisfy our hunger by seeing what talented artists like Jon Sibal can come up with. And what an awesome render/concept he did – combining the style of RWB's Porsches, onto the new style Toyota GT 86. You see, before RWB wrenched away on Porsches making some of the widest, baddest creations on this planet, they tinkered on Toyota's AE 86 with a similar style but under the Rough World name. And while now they focus on Porsches, wouldn't it be interesting if they jumped back into the Toyota game with the advent of the GT 86?
Sibal surely hopes so, as his rendering reveals a GT 86 with some Rough World flavor to it. We can't wait to see what race teams end up doing to Toyota's new sports car and the tuners in America do to Scion's FR-S.
[Source: Jon Sibal]
Published January 8th, 2012 4:00 PM
Popular Articles
Latest Comparisons
Car Buying Tools