1 View
Toyota NS4 Concept Hints at Plug-in Hybrid That's Not a Prius: 2012 Detroit Auto Show
January 10th, 2012 10:39 AM
Share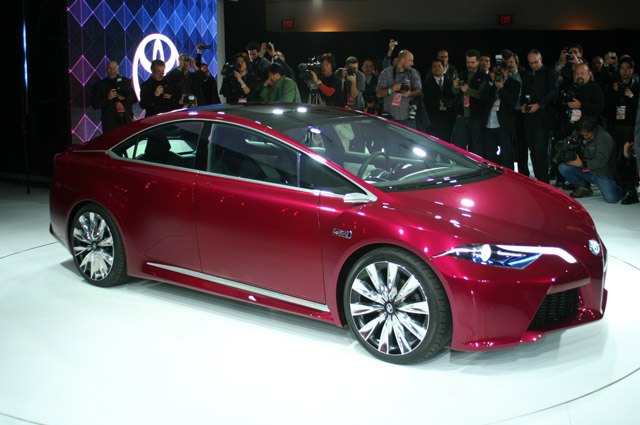 Every major auto manufacturer is always developing new and creative ways to improve their vehicles for the future. Today at the 2012 Detroit Auto Show, Toyota rolled out its NS4 concept complete with all of the new research and development advancements that the brand hopes to be including as standard production equipment in the near future.
The look of the NS4 seems to somewhat follow the lines of the Prius, but has been made longer with a bit more of a futuristic look with very rounded corners, soft flowing lines and a prominent rounded nose which sits over the Toyota trapezoidal grill.
In terms of technology, the NS4 is loaded with goodies. A pre-collision wave radar will not only alert the driver of imminent impact with either another vehicle or a guard rail etc., it will actually steer the vehicle away from danger and back into the center of a lane. Smart headlights which adjust and adapt to the conditions outside to avoid glaring into oncoming drivers eyes were shown on the NS4 concept as well. To further their safety features, Toyota has replaced the mirrors on the NS4 with a camera system which displays for the driver a full view around the vehicle. And to add to their hybrid and electric powertrain models, the NS4 was also seen with a solar panel roof.
The NS4 will be a dedicated plug in hybrid, separate from the Prius family. Toyota did not release official fuel economy numbers, but based on the Prius numbers we can expect at least 100MPG average.
GALLERY: Toyota NS4 Concept
GALLERY: Toyota NS4 Concept
Published January 10th, 2012 10:39 AM
Popular Articles
Latest Comparisons
Car Buying Tools