1 View
Toyota Sells 400,000th Hybrid In Europe
January 27th, 2012 10:15 AM
Share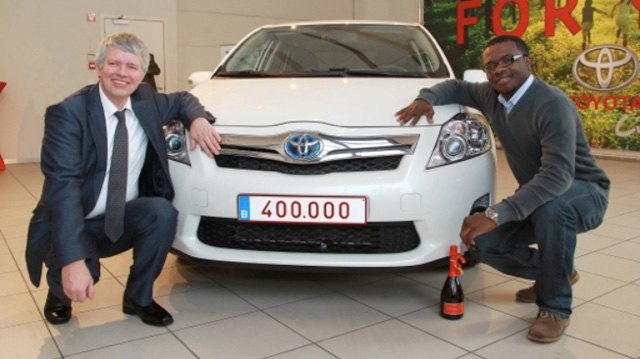 Toyota has delivered its 400,000th hybrid in Europe, marking a huge milestone for the Japanese automaker. Their entrance into the European hybrid market began back in 2000, and since then there has been three generations of their popular Prius and more recently, the Auris Hybrid in 2010.
The 400,000th hybrid delivered in Europe was an Auris Hybrid and was sold as a company car to CTG, an IT consulting agency. The company recently ordered a fleet of 20 Auris Hybrids.
"We are very proud to deliver our 400,000th hybrid in Europe to a customer in Belgium where we have a strong presence with our European headquarters, our R&D centre, our parts and vehicle logistics operations," said Michel Gardel, Vice President of Communication, External and Environmental Affairs at Toyota Motor Europe. "It shows that Belgian and European customers are not only ready to consider a hybrid vehicle purchase but for Toyota, they have been doing so in large numbers – in fact 10% of our sales in Europe were hybrid vehicles last year," he added.
And even though it's quite the achievement for Toyota, putting it into perspective shows just how much more accepting Americans are of hybrids than Europeans. Last year alone, Toyota sold 150,000 hybrids in the United States; so for the automaker to take 12 years to hit the 400,000th mark in Europe proves that Europeans still prefer diesels over hybrids.
Published January 27th, 2012 10:15 AM
Popular Articles
Latest Comparisons
Car Buying Tools