1 View
Volvo XC60 Plug-in Hybrid Provides "Range Generosity": 2012 Detroit Auto Show
January 9th, 2012 9:33 PM
Share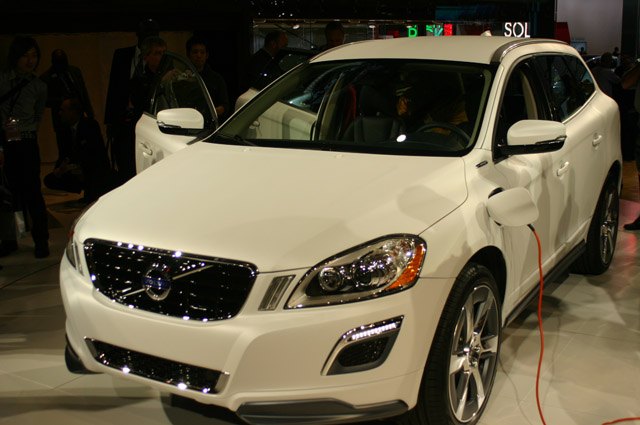 The Volvo XC60 is getting a makeover for 2012, but not in the looks department. Aesthetically it will remain the same, but the power plant in the Volvo is getting quite an upgrade.
There are many ways that Volvo is trying to improve fuel economy with this new hybrid system. The XC60 will be run by a four cylinder 280hp turbocharged gasoline engine as well as a 70hp all electric engine which combines to give the XC60 a total of 350hp. There are three power delivery options that you can choose from while driving the XC60; The all electric or 'pure' mode that operates the vehicle on just the electric motor and has range of 35 miles, the standard hybrid mode which is a mix of both the electric and gasoline engines and according to the U.S. certification standards gets 50MPG, and the 'power' mode which uses both engines to deliver the maximum amount of power and and torque for the vehicle.
The new AWD system on the XC60 will split the gasoline power to the front axle and the electric power to the rear for use in fast accelleration scenarios and getting started in thick road conditions such as snow or mud. The hybrid system will be mated with an eighth-speed automatic transmission which will also help to improve low end torque and fuel consumption.
Volvo claims that on a standard 110V power outlet the cars lithium-ion battery pack will fully charge in 7.5 hours.
In terms of technology, the Volvo is not being left behind. There is an app which has been created so that the driver can check the amount of charge in the car's batteries. The app will also make it possible to change the climate control settings and see what the status of an ongoing charge is.
The XC60 plug in hybrid has a lot of tricks up its sleeve to save consumers some money on fuel, but we will have to wait and see how this intricately designed system is priced.
Check out the styling on the XC60 in the video after the break.
GALLERY: Volvo XC60 Plug-In Hybrid
GALLERY: Volvo XC60 Plug-In Hybrid
{ "id": "12968935", "alt": "", "title": "", "video_link": "https://www.youtube.com/embed/Mf2gLTWS-vM", "youtube_video_id": "Mf2gLTWS-vM" }
{ "width": 634, "height": 357, "showRelated": true }
Published January 9th, 2012 6:24 PM
Popular Articles
Latest Comparisons
Car Buying Tools