1 View
11 Future Hybrids Heading to Dealers Soon
July 3rd, 2012 9:51 AM
Share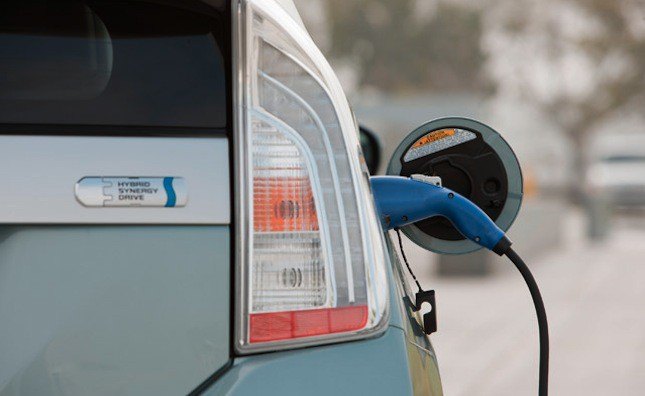 Even though they've been around for well over a decade now, hybrids still have that 'new technology' feel. Consumers continue to be apprehensive to hybrid technology and there's plenty of misinformation surrounding it.
To debunk some myths, most hybrids do not need to be plugged in, and it's also not true that they are more efficient around town, with models like the Prius actually getting better highway fuel economy than in the city.
Still, from quirky gearshifters on cars like the Prius, to the unusual feeling of regenerative brakes, hybrid cars remain on the cusp of mainstream, but not for long. In the near future as many as 11 new hybrid models will hit the market, ranging from the family sedans to high-tech futuristic supercars.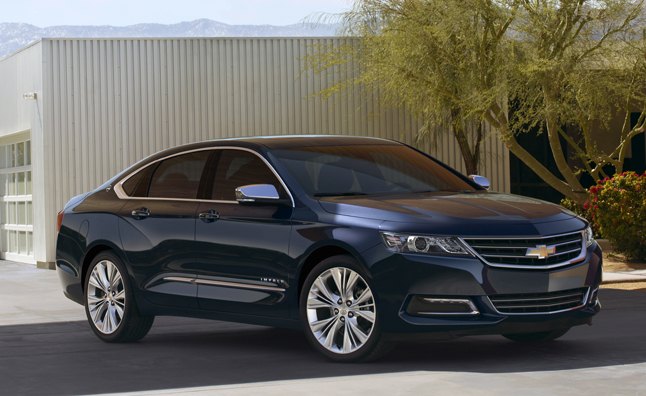 Upcoming Buick and Chevrolet vehicles offer a distinctly different type of hybrid technology than we're used to. The eAssist system is technically a mild-hybrid, which means that the car is never powered by electricity alone. The eAssist system uses its battery and electric motor to help with idle start-stop, on-demand electric power steering, and for a boost when accelerating.
To get a better idea of how important eAssist is to GM, we talked to Stephen Poulos, a chief engineer on eAssist.
"eAssist is purposefully not trying to go head-to-head with our full hybrid competitors," Poulos said. "We're trying to redefine a base powertrain, which will be available at a lower cost, and offer better fuel efficiency than some other base vehicles."
The eAssist system uses the exact same management software as the extended range electric vehicle, the Chevrolet Volt. Poulos made it clear that eAssist can scale better to different vehicles than a full hybrid system can, meaning that there is less compromise when converting a regular gas-powered vehicle into an eAssist model.
You can already see it in action on the Chevrolet Malibu Eco, Buick Regal and Lacrosse and you'll find it in the upcoming 2014 Chevrolet Impala. GM might say that eAssist is cheaper than traditional full hybrids, but we're seeing the 2013 Malibu Eco with eAssist, cost $25,235, which isn't that much cheaper than other full-hybrid family sedans on the market. It also doesn't help that the Malibu Eco gets just 25 mpg in the city, and 37 mpg on the highway, while full-hybrid offerings manage up to 40 mpg on the highway and 35 mpg in city driving.
Poulos did mention that eAssist is modular enough to be used in other vehicles, and that GM is investigating putting eAssist in vehicles other than mid and full-sized sedans.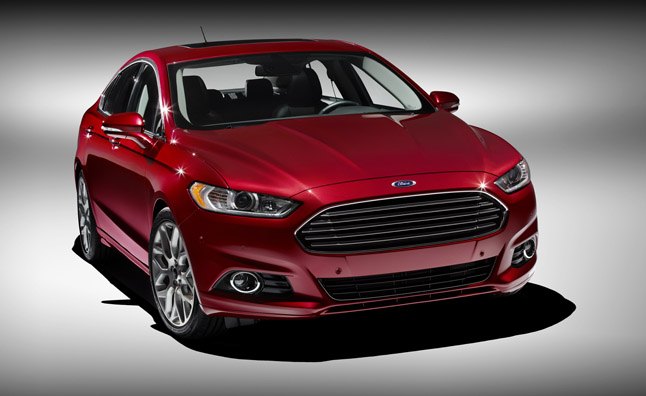 Ford's upcoming vehicles are all geared to offer some of the best fuel economy in the auto industry. The company is accomplishing this in a variety of methods, be it through the use of turbochargers, smaller displacement engines, electric vehicles, or the more traditional route: gas-electric hybrids.
The upcoming Ford Fusion Hybrid, and C-Max hybrid will be released later this year and show off the company's new emphasis on fuel saving tech.
According to Ford, the Fusion, with its 47-mpg city and 44 mpg highway ratings, will be America's most fuel efficient, non plug-in sedan.
"We've used our collective 20 years of researching and developing hybrid technology – including more than 500 hybrid patents – to deliver the new Fusion Hybrid," Said Wesley Sherwood, from Ford's Electrified Vehicles Communications team. "A lot of the work is focused on managing typical energy loss through the powertrain to use that power more efficiently to power the vehicle."
It accomplishes this with the help of a smaller 2.0-liter engine, in place of the old 2.5-liter engine. A main factor of the Fusion's economy performance is the light weight achieved by using a lithium ion battery, instead of a nickel-metal hydride battery.
This also allows the Fusion hybrid to reach speeds of 60 mph, using battery power alone.
An early online configurator prices the Fusion Hybrid at $27,995, which is slightly cheaper than the last generation Fusion Hybrid. However this price isn't final, and could likely change by the time the Fusion launches.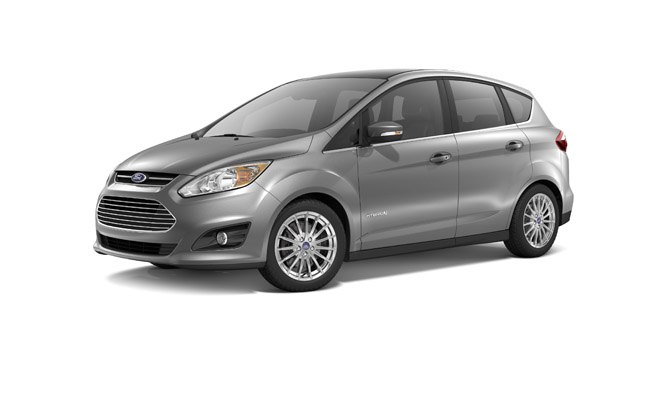 The Ford C-Max is another hybrid coming from Ford, and will only be available in the U.S. as a hybrid or plug-in hybrid. The hybrid model is aiming to compete with the roomy Toyota Prius v and with a price tag of $25,995, it's about $500 cheaper than the Prius. Even more impressive is that it has more interior room, and is expected to bring back 40 mpg. All of this is done with a power-train that is very close to the Ford Fusion.
The introduction of the C-Max hybrid will help Ford reduce average fuel economy across the lineup, and meet the company's goal of tripling electrified vehicle production capacity by 2013.
The first C-Max's will be delivered to customers this fall, finally giving another option to those looking for a versatile hybrid vehicle.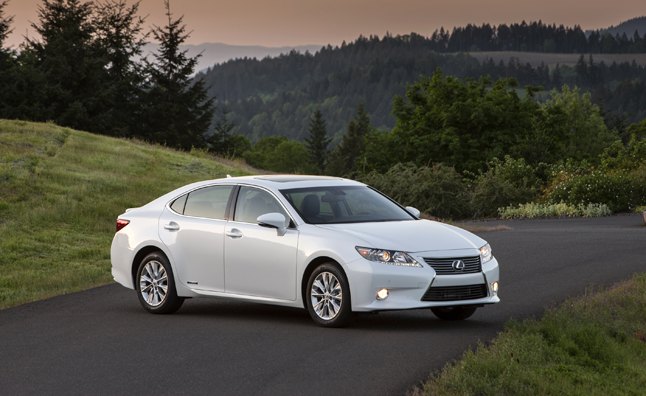 Lexus introduced some of the first luxury hybrid vehicles, and is committed to the idea. However, with the new Lexus ES300h, engineers have found a way to make the hybrid components smaller and more efficient.
"A double-sided cooling system is adopted, helping to achieve more compactness and greater power density" said Bill Kwong from Lexus Product Communications. "The DC-DC converter and PCU are also integrated, helping save space."
Lexus has also managed to make the battery more compact, which results in a lighter vehicle and better trunk space.
All this helps make the new ES300h one of the most fuel efficient luxury cars with a manufacturer's fuel economy rating at 40 mpg city and 39 mpg highway. The addition of the ES300h makes Lexus have one of the most robust hybrid lineups of any manufacturer. Only the IS entry-level sport sedan and GX and LX sport utility vehicles do not have a hybrid variant.
To learn more about the new ES300h, read out our review.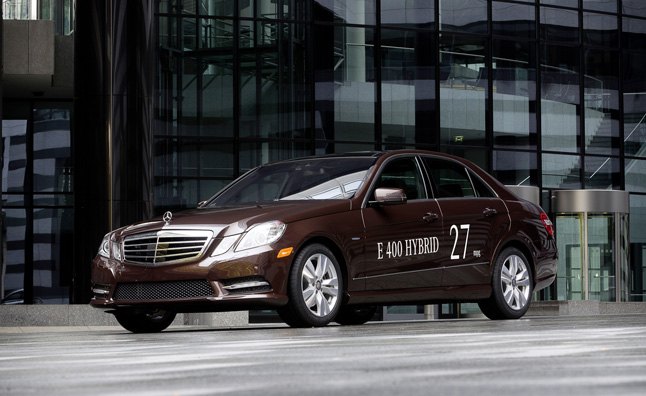 Mercedes is currently offering a unique hybrid in the European marketplace. Instead of a gas-electric hybrid vehicle, the E300 Hybrid features a diesel-electric powertrain, which will allow it to go 870 miles until a refill.
In the U.S., Mercedes has a different strategy. The E400 Hybrid has a gas-electric drivetrain, which uses a direct injection V6 and an electric motor. Mercedes expects the E400 Hybrid to get 24 mpg in the city and 31 mpg on the highway. That might not sound impressive in terms of fuel economy, but remember, this is a full-size luxury sedan here, outfitted with the latest high-tech gadgets.
Thanks to the hybrid technology, the car has enough power to make that heavy lifting easy again. In true luxury-segment attention to detail, the E400 Hybrid features no compromise to cargo space, or passenger comfort.
"Our ultimate goal is emissions-free driving and every model that we offer now takes us closer to that goal both in terms of customer acceptance and real-world experience," Said Nicole Wiess, from Mercedes PR team. "In other words, every vehicle we have on the market now is a step toward making that vision a reality by giving us real-world experience with harnessing electric power, on-board storage etc."
Mercedes' says its strategy is to make its hybrid technology as versatile and modular as possible.
"With these two E-Class models we are now continuing our comprehensive hybrid offensive," said Thomas Weber, Head of Research Development at Mercedes-Benz. "The modular technology opens up a quick way for us to complement other model series with hybrid models"
The two E-class models really express Mercedes' philosophy and feature the same hybrid power train, but with different internal combustion engines.
"We will continue to build on this portfolio rather than taking a one-size-fits-all approach for our environmentally oriented buyers," said Weiss.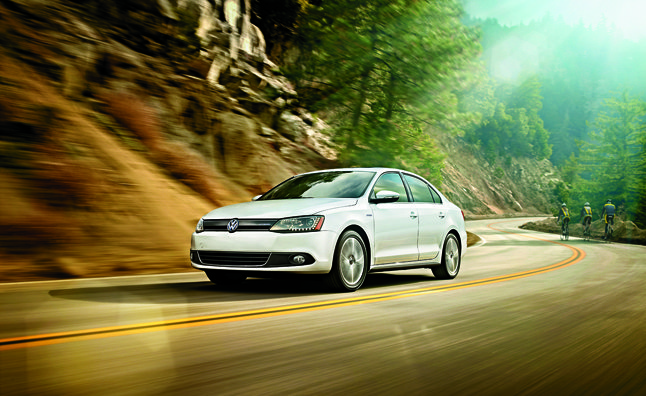 Alternative fuel technology at Volkswagen used to consist of only diesel powertrains. An upcoming Jetta Hybrid, alongside a Toureg Hybrid will hopefully vault the company into friendly territory with green-car fans.
"There are customers who equate environmentally friendly vehicles with hybrids, so that's one reason we are offering the Jetta Hybrid," said Mark Gillies Manager of Product Communications from VW.
Discussing the differences between the Jetta Hybrid and Jetta Diesel., Gilles said, "For people who drive in the city, the Hybrid's electric drive component offers fuel savings compared with a diesel. The Hybrid will be priced close to the diesel, but we feel they are complimentary in the range rather than competitors."
"[It's] the only turbocharged hybrid and the only one to use a seven-speed dual-clutch transmission," Gillies explained. Other hybrids in the Jetta's class use boring, but traditionally more economical CVTs.
Instead of relying on a CVT, the Jetta uses other innovations to help save fuel.
"It has a unique clutch/electric motor module that allows the car to coast along, with the engine switched off, at speed of up to 84 mph." he said.
Gillies also added that having two types of alternate fuel versions of the Jetta means that they will have the broadest range of powertrain option in the compact segment.
The Jetta hybrid is expected to get a 45 mpg combined thanks to its 1.4-liter, turbocharged engine. Total power in the Jetta comes to around 170 hp. The economy rating is worth noting because it's 20-30 percent better than the standard Jetta. However, all the extra hybrid equipment adds a few pounds to the weight of the car, with it coming in at 3,531-lbs.
Helping the Jetta Hybrid stands out from the other versions of the Jetta are some special 15-inch wheels, with low-rolling resistance tires and a fuel-friendly aerodynamics kit.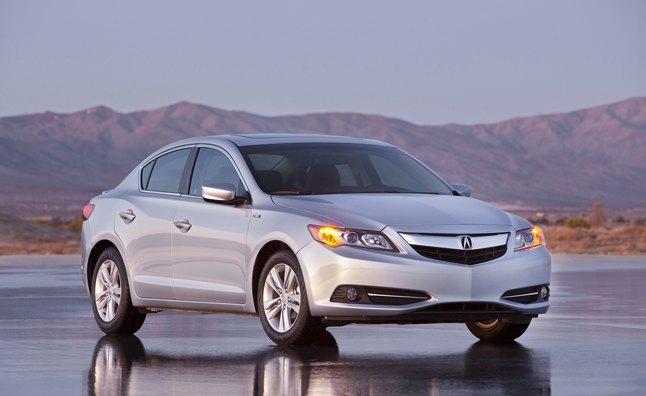 In the new Acura ILX Hybrid, the luxury arm of Honda finally introduced its first hybrid vehicle. Acura is aiming for a more effective hybrid solution that personifies the brands youthful, yet luxury oriented demographic. The ILX Hybrid hits that target by offering a SportShift manual mode with its CVT transmission. Acura says the transmission "lives up to Acura's reputation for delivering an engaging driving experience."
The ILX Hybrid also comes with an ECON driving mode that helps the driver achieve even greater fuel efficiency. ILX Hybrid has EPA-estimated combined fuel economy of 39 mpg, but in our test drive, we managed to get a bit higher than that. Making the ILX even more enticing is its $28,900 price tag, which puts it in direct competition with the eAssist equipped Buicks.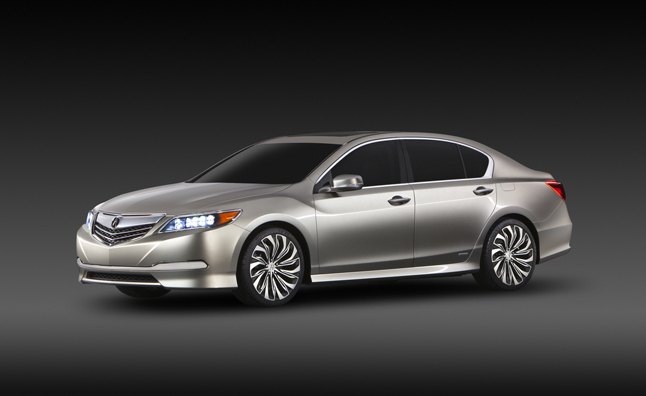 Acura might have just started its hybrid push with the ILX, but it's clear that there are more exciting hybrids in the pipeline. At the latest auto shows, Acura showed off its RLX sedan concept, and NSX super-car concept, which both featured new hybrid technology.
By using a new seven-speed dual-clutch transmission, the RLX is expected to get 30 mpg in both highway driving and in the city. That's a nice number for a car that's expected to have more than 300 hp. Specifically, the AWD model of the RLX will have 370-hp, which is managed by a new system that consists of two electric motors that power the rear wheels. This element works with a V6 and an additional electric motor which power the front wheels, and makes up the new Sport-Hybrid SH-AWD technology. Acura says this system allows the car's power to be distributed between the left and right rear wheels to help the car rotate. A system similar to this will be used in the new NSX, but will be flipped around to allow more power for the rear wheels.
This innovative way to introduce hybrid technology with high-performance handling is Acura's method into successfully introducing hybrid vehicles into their range. Expect the RLX to debut in early 2013.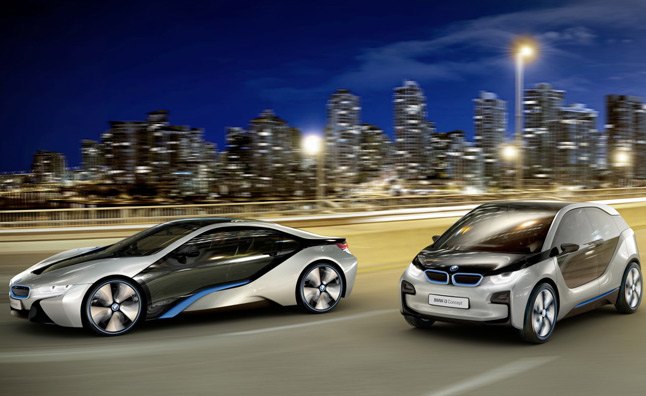 BMW has spent a lot of time showing off its i8 and i3 vehicles, which are the company's upcoming flagship fuel efficient models. The i8 will be the sporty vehicle, and it certainly has the credentials for it. According to BMW, the i8 will be able to hit 60 mph in about 5 seconds, which is pretty awesome considering the low-slung sports car is expected to get 70 mpg. All this is achieved thanks to the i8's hybrid powertrain, which uses an electric engine to power the front wheels, while a 3-cylinder engine powers the rear ones.
The i8 isn't the only hybrid vehicle in the stable. Traditional BMW vehicles like the 5 and 7 series are also available as hybrids. The 3-series hybrid is also going to arrive sometime this fall, and features a few new goodies that the fuel conscious driver might appreciate. When entering in a destination in the new 3-series hybrid's navigation, the computer will predict when will be the best time to use and recharge its battery. It does this by gauging traffic times, and any down-hill portions of your trip. This sort of guidance should be able to help you get more use out of your hybrid vehicle, and use it to its full advantage.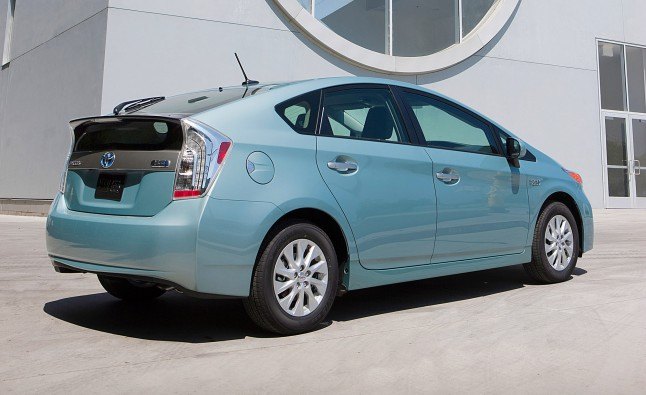 While most hybrids don't use plugs, increasingly, some do. Included in that list is the new Prius Plug-in hybrid which gets 87 MPGe (miles per gallon equivalent) in combined driving and 49 MPG in hybrid mode.
The new Prius Plug-in can drive up to 62 mph on electric power alone, and can maintain that speed for 15 miles, which is a key factor in its high fuel-economy numbers.
It achieves that performance with a brand new battery pack, that is more compact, and uses lithium ion, rather than nickel-metal hydride. This allows a two-to-three hour charge using an external AC or one and a half hours using a 240v outlet.
Currently, the Prius Plug-in costs $32,000 and is only available in select states. Full availability should come in 2013.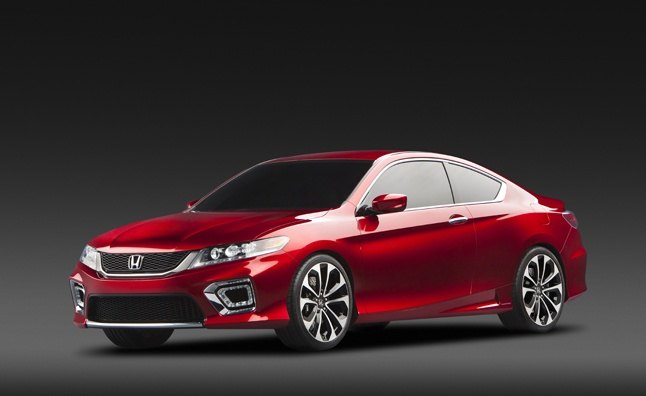 The upcoming 2013 Honda Accord, is expected to come with a plug-in hybrid version. While Honda is staying mum on any specific details of the new Accord we do know that it can go 10-15 miles on electric power alone, and could charge to full in just an hour and a half.
Additionally, you can choose to use that electric range whenever you want. Additionally, with a ECON button, drivers will be able to manage their fuel-economy and get the best fuel numbers possible.
While it does look like the current Accord, this new model makes several small changes that can help with fuel performance. It's smaller overall and also a lighter vehicle, although Honda isn't getting into specifics at this point.
Expect the new Honda Accord to debut sometime in late 2012.
Published June 19th, 2012 2:45 PM
Popular Articles
Latest Comparisons
Car Buying Tools