2 Views
Zoom-Zoom Meets Fuel-Efficiency: SkyActiv Explained
August 28th, 2012 1:44 PM
Share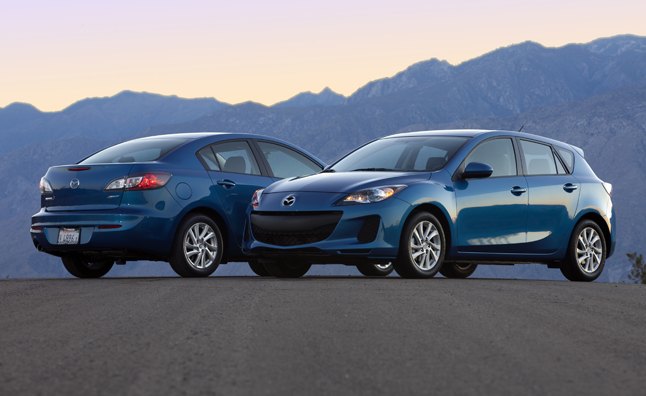 Known for making some genuinely engaging cars in the past, with its new SkyActiv technology Mazda is looking to hang its hat on combining fun-to-drive with fuel-efficiency.
Mazda says it's more than just a buzzword. SkyActiv is a whole new philosophy that's going to change the way the Japanese automaker builds cars. It also defines a whole new era for Mazda vehicles.
First of all, SkyActiv doesn't just mean an engine, or a transmission, or weight savings. It's all of those elements, and more.
Moving forward, automakers are aiming to make their cars more fuel-efficient in any way possible. Often, the single-minded view of using a smaller engine, or a more efficient transmission comes at the price of driving dynamics, and a less fun-to-drive vehicle. That just won't work at Mazda.
BATTLING COMPROMISES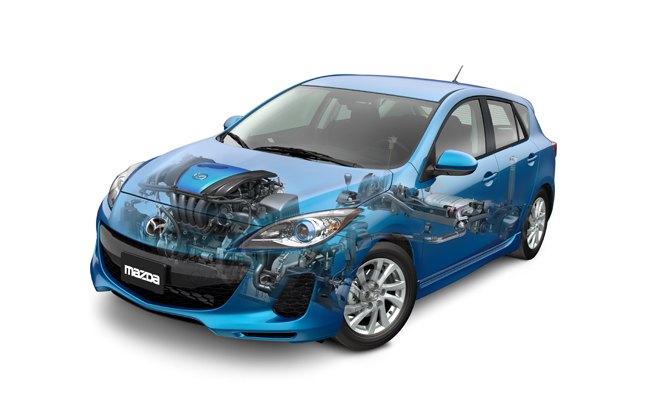 Weight savings is proving itself to be the ultimate no-compromise method to getting better fuel efficiency, that's why it's the philosophy at the heart of the SkyActiv campaign.
"We want people to think 'fuel-efficiency with no compromises' when they think of a car that has a SkyActiv badge," said Dave Coleman, Mazda's lead product engineer.
So when talking about how much work is going into shaving weight, Coleman gives off the vibe that Mazda has been liberated, freed of the humdrum of sloppy engineering.
"Weight savings is the absolute essence of fuel-efficiency," he said. "We're using a 3000-lb car just to move a 150-250 lb driver around. That's not efficient."
Coleman explains that if they can move less mass, they can use less energy, but how did their cars get so heavy in the first place?
"Frankly its just sloppiness," he said. "The bar keeps changing. Crash tests keep changing. Customers wants in their cars keep changing. But the fundamental parts and design of the cars aren't keeping up with those changes."
"To make a structure stronger, you just start adding mass to it, and if you keep piling things on, it gets pretty inefficient."
To make things even harder, past Mazda vehicles had a bit of a reliance on Ford. Since Ford had a controlling stake in Mazda, several parts and vehicles had to be shared between the two companies.

"We've been sharing a lot of our parts with Ford. That meant that we had to design around what they've already made."
However, Ford just gave up its controlling stake in Mazda, meaning that for the first time in about 30 years, Mazda doesn't have to worry about supplied parts or any other compromises.
"Designing a car around that supplied part compromises other parts of the car," said Coleman, "and every time there's a compromise it adds pounds."
CLEAN SLATE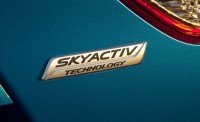 Cars designed with the SkyActiv philosophy boast incredible fuel ratings and are being recognized for being fun to drive, and very responsive. How is this possible?
"The biggest part of the SkyActiv program was wiping the slate clean, and designing every part of the car at the same time," said Coleman. "We have SkyActiv versions of all the parts of the car, so what you end up with is a whole vehicle that was engineered holistically, so that all the parts of the vehicle work in a very efficient manner."
Coleman makes sure to point out that it's incredibly important to design the car with other component in mind.
"There's a lot of ways where the car is related in ways you wouldn't expect. For example, the transmission design affects how strong the front frame-rail is in a crash."
Other companies are using a similar idea. Volkswagen/ Audi and Nissan are planning on using a modular platform strategy. In Volkswagen's case, the cars made with its new MQB platform will all be front wheel drive, and share the same engine and front axle, but will have different wheelbases, and external dimensions.
In Mazda's application it seems a bit more involved, with the parts working together to save weight and become more fuel-friendly.
"Ever new car from here-on out will be SkyActiv." Coleman insists.
Thanks to some redesigns at Mazda plants, all its cars have no excuse to start shedding pounds.
CASE STUDY: MAZDA CX-5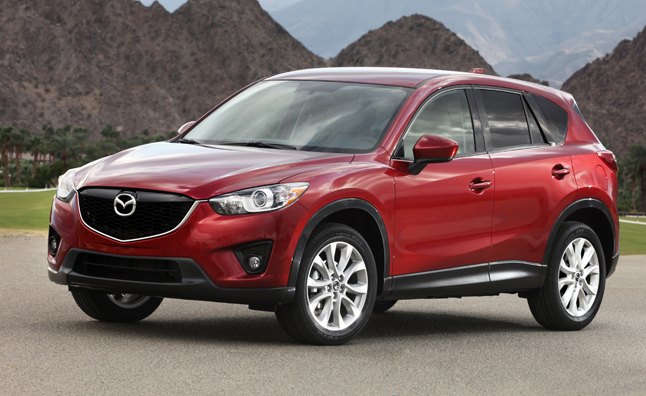 The new Mazda CX-5 is just one example of what Mazda is planning to do with the SkyActiv philosophy. Mazda obsessed over each pound like it was on a weight-loss reality TV-show.
Where the CX-7 weighs in between 3,500 lbs and 4,000 lbs, the new CX-5 comes in at 3,200 lbs to 3,400 lbs. The heaviest CX-5 is 600 lbs lighter than the heaviest CX-7, despite the fact that both vehicles are equipped with AWD, and seat up to five.
The new CX-5 cuts weight everywhere. Bolts are 8 grams lighter in the CX-5 than they were in the CX-7. The AWD system was completely redone, reducing the weight of that system by 44% (86lbs.) Energy loss was also reduced 52% making the AWD system more efficient.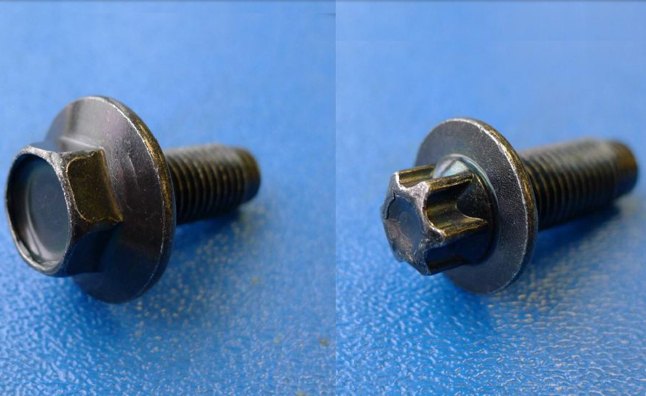 Mazda says to expect this attention to detail in upcoming models like the upcoming Mazda6.
"We're looking to cut about 100 kilograms (220 lbs) for every new model." Said Coleman.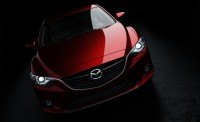 That means that the new 2014 Mazda6 will weigh somewhere between 3,000 lbs and 3,400 lbs, less than the Dodge Dart or Chevrolet Cruze – which are compact sedans. While the Mazda6 is no compact, the fact that it'll weigh as much as one indicates that it has the potential to get compact-like fuel-economy, in a mid-sized package.
Low weight also helps make Mazda vehicles fun to drive. The MX-5 Miata is one perfect example of how much fun a light-weight car can be. If the next generation MX-5 undergoes the SkyActiv treatment, it would weigh in at around just 2,200 lbs – making it one of the lightest cars available on the market..
MAZDA3: HALF WAY THERE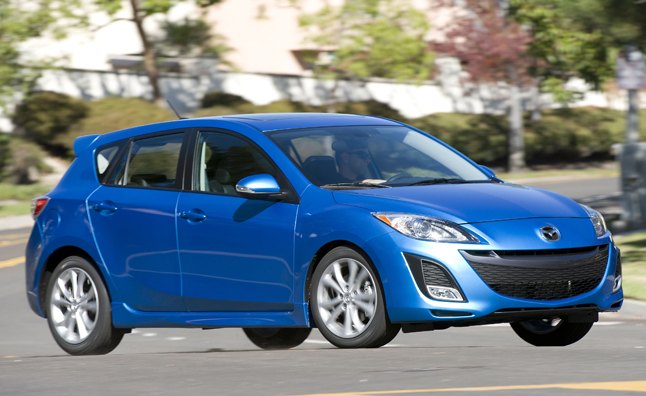 Even though Mazda talked a lot about making a car in a harmonious fashion, it skipped that idea when releasing the SkyActiv model of the Mazda3. Isn't that cheating a bit?
"Just by changing the engine and transmission, the Mazda3 went from pretty much the bottom of the segment in terms of fuel economy to the top. All while improving the performance," said Coleman.
The EPA rates the auto-equipped, non-SkyActiv Mazda3 at 24/33 mpg city/highway, and a combined rating of 27. The SkyActiv equipped models gets 28/40 mpg city/highway and a much improved combined rating of 33 mpg.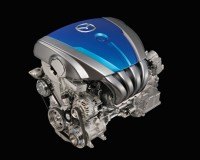 "We couldn't wait to share the technology, so we put in the SkyActiv engine and transmission in the Mazda3," said Beverley Braga from Mazda communications. "Even if we didn't have the all the Skyactiv parts ready, why not put what we do have in our best selling model."
The boost that the Mazda3 gets from just changing the engine and transmission bodes well for what Mazda is doing. While always hyped by enthusiasts, the brand's cars have rarely met with mainstream consumer appeal, due in part to less than competitive fuel economy. Combining those two features, and wrapping them in an attractive package using the brand's new Kodo design language, is just what Mazda hopes will send shoppers flocking to its dealers. Mazda has certainly proved it with its latest vehicles, like the CX-5 (Read and watch our review here) and Mazda3 (read about it here.)
Published August 14th, 2012 2:45 PM
Popular Articles
Latest Comparisons
Car Buying Tools