1 View
Alfa Romeo 4C Expected at 2013 Geneva Show
March 27th, 2013 1:32 PM
Share
We're committed to finding, researching, and recommending the best products. We earn commissions from purchases you make using links in our articles. Learn more here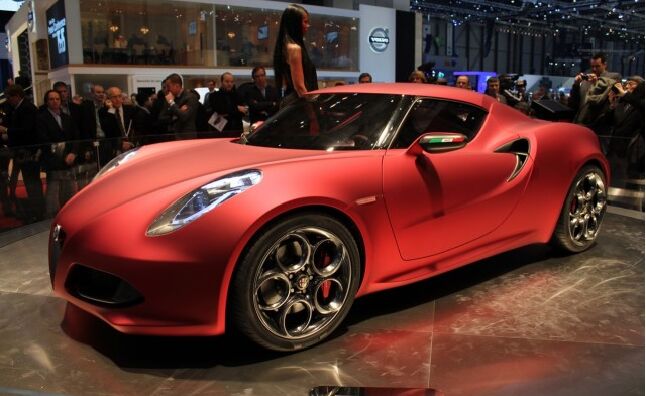 The Alfa Romeo 4C will re-launch the Italian brand here in America, and a report from Autocar suggests that we will see the production version at the upcoming Geneva Auto Show.
Speaking with a Fiat spokesman, AutoGuide learned that the 4C is very likely to bow at either of the two big European shows in 2013, Frankfurt or Geneva, though the company could not confirm which one. Given its history of sports car debuts, and the fact that the concept version bowed here, the Geneva show makes the most sense.
The 4C will run with a 1.8-liter turbocharged engine, and weigh around 1,980 lbs, giving it a 0-60 mph sprint time of just 4.5 seconds. The power will be translated using a six-speed dual-clutch gearbox.
The debut of the car in America has now become uncertain, but will likely come in late 2013, or sometime in 2014.
GALLERY: Alfa Romeo 4C
Stephen Elmer
Stephen covers all of the day-to-day events of the industry as the News Editor at AutoGuide, along with being the AG truck expert. His truck knowledge comes from working long days on the woodlot with pickups and driving straight trucks professionally. When not at his desk, Steve can be found playing his bass or riding his snowmobile or Sea-Doo. Find Stephen on <A title="@Selmer07 on Twitter" href="http://www.twitter.com/selmer07">Twitter</A> and <A title="Stephen on Google+" href="http://plus.google.com/117833131531784822251?rel=author">Google+</A>
More by Stephen Elmer
Published October 26th, 2012 5:45 PM
Popular Articles
Latest Comparisons
Car Buying Tools