1 View
Chevrolet Volt Sales Still Beating Nissan Leaf
October 3rd, 2012 5:45 PM
Share
We're committed to finding, researching, and recommending the best products. We earn commissions from purchases you make using links in our articles. Learn more here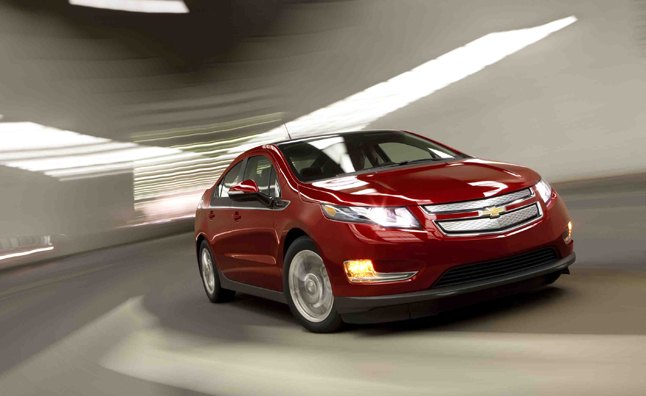 It's a battle of less than epic proportions, yes, but the Chevrolet Volt outsold Nissan's Leaf by a big margin for the second month in a row last month.
Last month the bow tie-branded plug-in hybrid managed to break its sales record by selling 2,831 units to embarrass the Leaf. While that could have been a fluke, September's numbers suggest otherwise. Not only did the Volt maintain its increased sales pace, but it actually beat the August numbers with 2,851 sales.
Meanwhile, the Leaf sold 984 units which was an improvement over August but still far short of Chevy. Consumers aren't seeming as warm to the idea of buying a pure EV anymore, something Nissan execs are aware of.
Worse still, Toyota is essentially pulling the plug on its Scion iQ EV before the little car hits the market, by limiting production to a scant 100 units.
Things are looking rough for the Leaf with a handful of outraged customers saying their car's battery packs wore out much sooner than expected.
Bad press already plagued the Volt and with its Nissan competitor being pelted, Chevrolet is well positioned to pounce on what little market share there might be. Ultimately, it seems the company's strategy to offer a gasoline "security blanket" is paying off despite early concerns about spontaneously combusting cars.

Luke Vandezande
Luke is an energetic automotive journalist who spends his time covering industry news and crawling the internet for the latest breaking story. When he isn't in the office, Luke can be found obsessively browsing used car listings, drinking scotch at his favorite bar and dreaming of what to drive next, though the list grows a lot faster than his bank account. He's always on <A title="@lukevandezande on Twitter" href="http://twitter.com/lukevandezande">Twitter</A> looking for a good car conversation. Find Luke on <A title="@lukevandezande on Twitter" href="http://twitter.com/lukevandezande">Twitter</A> and <A title="Luke on Google+" href="http://plus.google.com/112531385961538774338?rel=author">Google+</A>.
More by Luke Vandezande
Published October 3rd, 2012 5:45 PM
Popular Articles
Latest Comparisons
Car Buying Tools