1 View
Jaguar F-Type to Fill White Space Where Others Have Failed
October 1st, 2012 7:54 AM
Share
We're committed to finding, researching, and recommending the best products. We earn commissions from purchases you make using links in our articles. Learn more here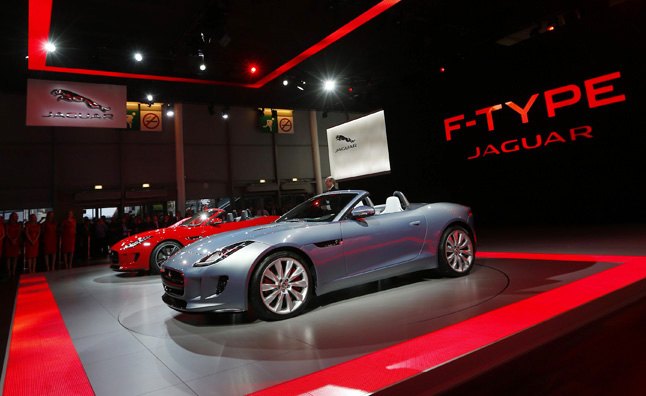 Leadership through product is a formula for success in the auto industry. One method is to become the very best in a particular segment, the other is to be the very first. A car that creates a new segment immediately becomes its benchmark.
Jaguar did so in the past and is looking to repeat that success indicates Ian Hoban, vehicle line director for all models built by the British luxury automaker, including the new F-Type. During a sit down interview at the Paris Motor Show a day after the car's world premiere, Hoban is repeating comments from the rest of the Jaguar team, trying not to draw a parallel too close to the brand's iconic sports car, the E-Type.
And yet there is one trait both cars share says Hoban, describing both models as "white space cars," filling a void where no other car existed.
"If you look at the sports car segment there are generally two categories," he says. "There are full size sports cars like the 911 and R8 and then there are compact sports car like the SLK, Boxster and Z4."
The F-Type, on the other hand "delivers the performance of a full size sports car but in a package that's smaller."
Price is also an important factor, with the F-Type starting at $69,000. Amongst other qualities, "That's what made the E-Type successful," says Hoban. "It offered the performance of the Ferrari at a very compelling price."
911 NOT THE ONLY BENCHMARK
The obvious benchmark for any sports car is the Porsche 911, a car Hoban admits to loving. An engineer by trade, his senior position at Jaguar means he also has to wear the hats of an accountant and a member of the marketing team at times. First and foremost, however, "I am a petrol head," he clarifies.
Still, when charting a new path and hoping to create a new segment, Hoban says the 911 wasn't the exclusive benchmark.
"It's important not to copy any one car but understand what areas we can look to others and understand what we're good at," he says, referencing the larger XK as an example of certain strengths Jaguar's existing models bring to the table.
Bringing many aspects together Hoban says the question his team had to focus on is, "what do we think a Jaguar sports car can be."
"When you're in an F-Type it should be an extension of you," he says. "It's an animal," delivering an "immediacy of response." And yet he says there is still refinement in the car. "It shouldn't be intimidating."
All of the newest Jag's press material, not to mention the many speeches given by executives during the car's debut in Paris, are littered with the concept that the F-Type is a car that's easy to drive fast, letting you push its limits and your own. Hoban reiterates these statements again and concludes that it's "about performance and control."
TO SUCCEED WHERE OTHERS HAVE FAILED
A second look at the segment and it's obvious that Jaguar isn't the first in this supposedly new car category. In fact, rival Porsche has been here for years, with its Cayman. A car crippled by a corporate unwillingness to encroach upon the 911, it's never been much of a success. In fact, it's often forgotten about.
With Jaguar's grand-touring XK a notably different type of machine from the F-Type, Jag has room to stretch its new car, even offering performance at the level of a 488-hp supercharged 5.0L V8.
With the Cayman a niche product for a few die-hard purists, Jaguar's first two seater sports car in decades is looking to capitalize on a rare lack of success by its German rival with a wide range of engines and pricing, exotic style and true sports car driving dynamics.
GALLERY: 2014 Jaguar F-Type
Colum Wood
With AutoGuide from its launch, Colum previously acted as Editor-in-Chief of Modified Luxury & Exotics magazine where he became a certifiable car snob driving supercars like the Koenigsegg CCX and racing down the autobahn in anything over 500 hp. Find Colum on <a href="http://www.google.com">Twitter.</a>
More by Colum Wood
Published October 1st, 2012 7:43 AM
Popular Articles
Latest Comparisons
Car Buying Tools