1 View
2014 Acura RLX Prototype Test Drive
July 15th, 2013 7:23 PM
Share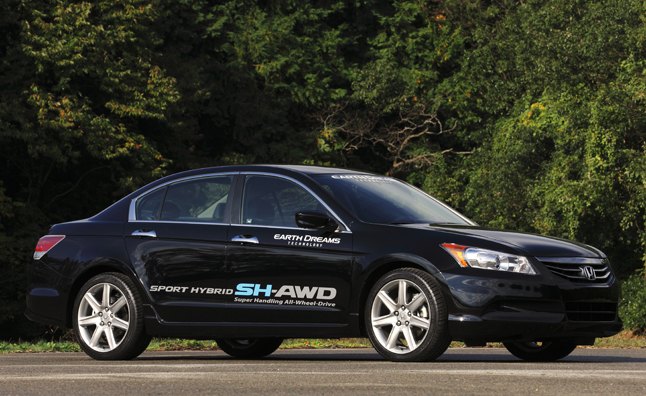 Looking nearly identical to a Honda Accord, the 19-inch wheels and Michelin high performance rubber are a strong indication that something more impressive lurks underneath.
In fact, this prototype's underpinnings are none other than the new flagship luxury sedan of the Acura brand, the RLX.
Set to debut in just a few weeks at the LA Auto Show, we've been given the unique opportunity to test out some of the technological innovations of this new package during a trip to Honda's R&D facility in Utsunomiya, Japan.
With plans to offer both a front-drive and all-wheel drive model, neither are conventional setups.
REAR-WHEEL STEERING TESTED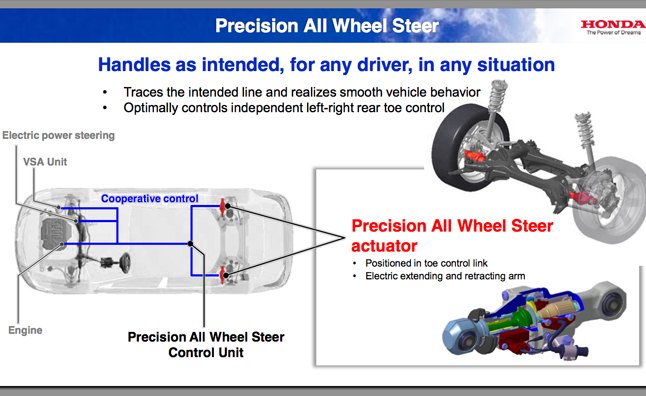 Fitted to the front-drive RLX is a new Precision All-Wheel Steer (which works out to the clever acronym of PAWS) system capable of turning the rear wheels for improved cornering performance and safety. A modified rear suspension setup features electronically controlled suspension arms that can adjust the wheel's toe angle (essentially the direction of the wheels). What makes the system unique is that along with turning both wheels left or right, it can also "toe-in" both wheels to help improve vehicle stability under braking.
On track, the system's benefits were immediately obvious with a low level of understeer for a front-driver of this size, especially at turn in and mid-corner. At corner-exit, however, it was possible to feel the rear-end align with the front wheels, helping straighten the vehicle out.
That sensation was only evident under hard cornering and while not quite unsettling, was certainly noticable.
Unfortunately the tight and windy test-track didn't allow for any straight-line high-speed braking to test the toe-in feature, though slowing for corners the RLX certainly felt stable.
NEXT-GEN SH-AWD DOES THE TRICK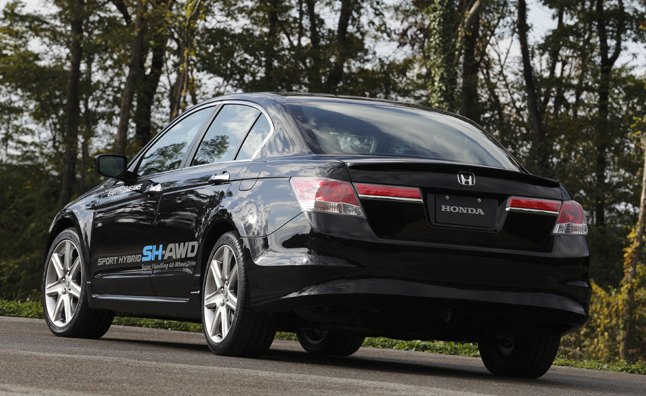 An available all-wheel drive system for the RLX will not use Precision All-Wheel Steer because, frankly, it doesn't need it. Equipped with the new Sport Hybrid Super Handling All Wheel Drive (SH-AWD) it relies on torque delivery to the rear wheels, rather than suspension tricks, to deliver a superior result.
With a new direct-injection version of Honda's 3.5-liter V6 making roughly 310 hp and delivering it through a conventional 6-speed automatic in the PAWS-equipped car, the SH SH-AWD model has three electric motors as well as a V6 to make no less than 370 hp. With a V6 hybrid engine mounted under the hood, housed in the rear are two electric motors, one for each axle, distributing power individually to each wheel. Replicating the SH-AWD system used on current Acura products but without the mechanical differentials, this new system feels exceptional.
From the very first corner the level of grip is plentiful and the speeds capable much higher as well. Pushed hard and there's understeer but it can be mitigated with more throttle – though not to the extent that you're drifting around corners like in an Evo. Still, the RLX allows for a high level of intentional sliding around with plenty of grip to pull you through a corner.
Along with being significantly more powerful than the current setup, with solid blasts of power, delivery is aided by a seven-speed dual clutch transmission. With the sort of quick shifts you'd expect from a DCT, it geared down automatically under braking though on corner exit wasn't always in the ideal lowest gear. We don't know if Honda will produce any different transmission gear setting programs for the car, but an aggressive sport program that holds the lowest gear setting would be ideal.
Look for Acura to reveal more details on the RLX when the production version debuts at the LA Auto Show, with a proper test drive to follow and sales starting in the Spring of 2013.
Published November 12th, 2012 4:54 PM
Popular Articles
Latest Comparisons
Car Buying Tools