4 Views
Which Winter Tires Are the Best?
December 10th, 2012 4:02 PM
Share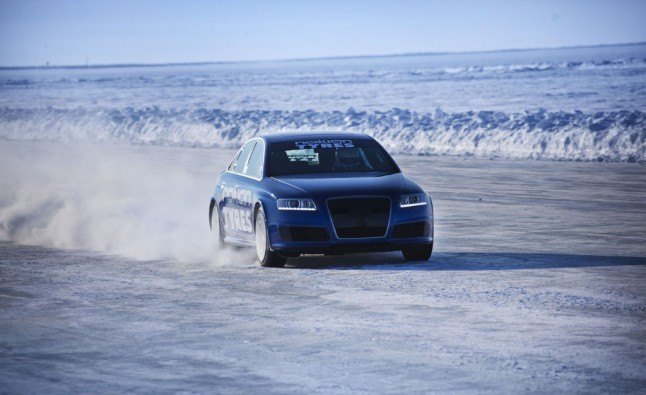 The winter season is underway, and many drivers still aren't sure which tires are right for them. Fortunately, Consumer Reports has gone and tested just about every winter-tire available, and have ranked them from best to worst.
There are three main categories of winter tires. Regular winter-tires are considered better in cold temperatures than all-season tires, especially when it comes to braking and emergency maneuvers. While all-season or summer performance tires get hard and stiff when temperatures drop, winter tires stay flexible, ensuring they can still grip the road. A disadvantage of winter tires is that they tend to wear faster on cleared roads, and in warmer temperatures. If a tire has a mountain and snowflake symbol on them, then it's a winter tire.
The three best winter tires according to Consumer Reports are:
Michelin X-Ice Xi3
Michelin X-Ice Xi2
Hankook i*cept evo
The two Michelin X-Ice tires had excellent traction in the snow, and great braking performance on ice. However, their braking performance on dry and wet pavement was below average. Between the Xi2 and Xi3 models, drivers will notice better rolling resistance on the Xi3's and better overall handling on the Xi2. Both Michelin's are quite expensive in comparison to the third place tire on the list, which seems to be great bang-for-the-buck. The Hankook i*cept evo tires boasted excellent snow traction and good braking performance in the ice, dry and wet pavement, and were even better at dealing with hydroplaning than the top ranked Michelin tires.
SEE ALSO: How to Drive on Snow and Ice: Winter Driving Safety Tips
Consumer Reports also tested a selection of "Performance Winter Tires" which come in different sizes and higher speed ratings for cars that use performance tires in warmer months. These tires are meant to be cold weather replacements for performance tires and are supposed to have great grip on snow and ice and still maintain the handling capabilities of performance tires. They aren't as good as all-season tires in the dry and wet pavement, and will wear out faster in warmer weather. These tires are usually more expensive than the Winter Tires discussed above.
The three best performance winter tires according to Consumer Reports are:
1. Nokian WR G2
2. Hankook Winter i*cept evo
3. Michelin Pilot Alpin PA3
All tires in Consumer Reports Performance Winter Tires rankings were rated higher than the those in the normal Winter Tires list. All of the top three tires had the same overall score, but as a result of different results in the varying tests. The Nokian and Michelin tires both had better snow traction than the Hankook tires, but the i*cept evo tires featured better performance in wet conditions.
SEE ALSO: Why You Need Winter Tires
Finally for drivers of trucks, Consumer reports tested several winter tires made specifically for light trucks.
The three best winter truck tires according to Consumer Reports are:
1. Continental ExtremeWinterContact
2. Nokian Hakkapeliitta R Sport Utility
3. General Altimax Arctic
These tires all featured excellent snow traction and good hydroplaning performance. The Continental tires were found to be better on ice than the Nokian tires. The Nokian tires however were better at stopping on dry pavement than the tires from General and Continental.
Drivers in snowy or cold climates should ensure they're equipped properly. With these rankings, you should be able to quickly find a set of tires for your needs and price-range.
Published December 10th, 2012 4:02 PM
Popular Articles
Latest Comparisons
Car Buying Tools