4 Views
The Average American Can't Afford a New Car
February 27th, 2013 1:02 PM
Share
We're committed to finding, researching, and recommending the best products. We earn commissions from purchases you make using links in our articles. Learn more here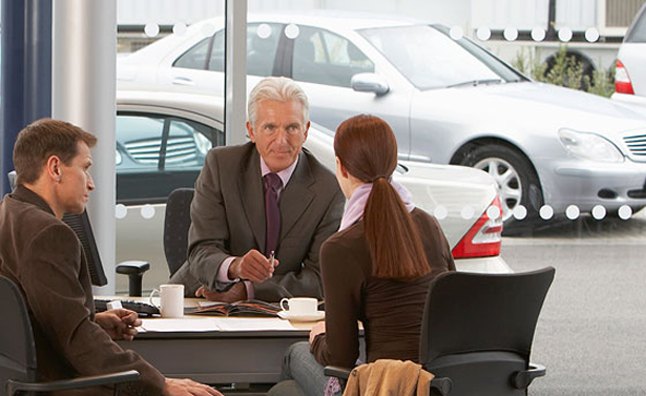 The average American household can't afford to purchase an average-priced new car according to research from Interest.com.
Out of 25 cities studied, only median-income citizens in Washington D.C. can afford an average new car at $31,940.
"What this research indicates, more than anything, is that a lot of Americans are spending too much money on their cars," Mike Sante, managing editor of Interest.com said.
To come up with this information, Interest.com found the average household gross income of 25 major metropolitan areas in the U.S.
Then, based on a formula of a 20 percent down payment, financing lasting no longer than four years, and principal, interest and insurance not exceeding ten percent of a household's overall income, discovered how many average Americans can afford to buy a new car,the average price of which was $30,550 in 2012, according to True Car. At that price, the monthly payment would be approximately $601.
On the bottom of the list sits Tampa, Fla., where the average citizen can only afford a $282 monthly payment and a $14, 516 car, quite a ways off from the $601 required. That is just enough to cover a base model subcompact, and not much more. Coming up in the middle is Chicago, where the average household can afford to buy a $20,616 car, with a maximum monthly payment of $417. That's enough to buy a Honda Civic, and not much more.
See below for a full breakdown of how much each city can afford to spend on a new car:
Washington, D.C.
Affordable Purchase Price: $31,940
Maximum Monthly Payment: $628
San Francisco
Affordable Purchase Price: $26,786
Maximum Monthly Payment: $537
Boston
Affordable Purchase Price: $26,025
Maximum Monthly Payment: $507
Baltimore
Affordable Purchase Price: $24,079
Maximum Monthly Payment: $468
Minneapolis
Affordable Purchase Price: $24,042
Maximum Monthly Payment: $470
Seattle
Affordable Purchase Price: $22,963
Maximum Monthly Payment: $466
Portland
Affordable Purchase Price: $21,985
Maximum Monthly Payment: $397
Denver
Affordable Purchase Price: $21,835
Maximum Monthly Payment: $432
San Diego
Affordable Purchase Price: $21,781
Maximum Monthly Payment: $433
New York City
Affordable Purchase Price: $21,464
Maximum Monthly Payment: $431
Philadelphia
Affordable Purchase Price: $21,069
Maximum Monthly Payment: $419
Chicago
Affordable Purchase Price: $20,616
Maximum Monthly Payment: $417
Los Angeles
Affordable Purchase Price: $20,385
Maximum Monthly Payment: $410
Sacramento
Affordable Purchase Price: $19,965
Maximum Monthly Payment: $397
Dallas
Affordable Purchase Price: $19,959
Maximum Monthly Payment: $389
Houston
Affordable Purchase Price: $19,811
Maximum Monthly Payment: $386
Milwaukee
Affordable Purchase Price: $19,297
Maximum Monthly Payment: $373
Atlanta
Affordable Purchase Price: $19,122
Maximum Monthly Payment: $376
St. Louis
Affordable Purchase Price: $18,550
Maximum Monthly Payment: $371
Pittsburgh
Affordable Purchase Price: $17,298
Maximum Monthly Payment: $340
Phoenix
Affordable Purchase Price: $17,243
Maximum Monthly Payment: $348
San Antonio
Affordable Purchase Price: $17,137
Maximum Monthly Payment: $334
Detroit
Affordable Purchase Price: $17,093
Maximum Monthly Payment: $332
Miami
Affordable Purchase Price: $15,188
Maximum Monthly Payment: $295
Tampa
Affordable Purchase Price: $14,516
Maximum Monthly Payment: $282
Stephen Elmer
Stephen covers all of the day-to-day events of the industry as the News Editor at AutoGuide, along with being the AG truck expert. His truck knowledge comes from working long days on the woodlot with pickups and driving straight trucks professionally. When not at his desk, Steve can be found playing his bass or riding his snowmobile or Sea-Doo. Find Stephen on <A title="@Selmer07 on Twitter" href="http://www.twitter.com/selmer07">Twitter</A> and <A title="Stephen on Google+" href="http://plus.google.com/117833131531784822251?rel=author">Google+</A>
More by Stephen Elmer
Published February 27th, 2013 1:02 PM
Popular Articles
Latest Comparisons
Car Buying Tools