9 Views
Rally North America 2014 Rally US 50
July 9th, 2014 5:40 AM
Share
We're committed to finding, researching, and recommending the best products. We earn commissions from purchases you make using links in our articles. Learn more here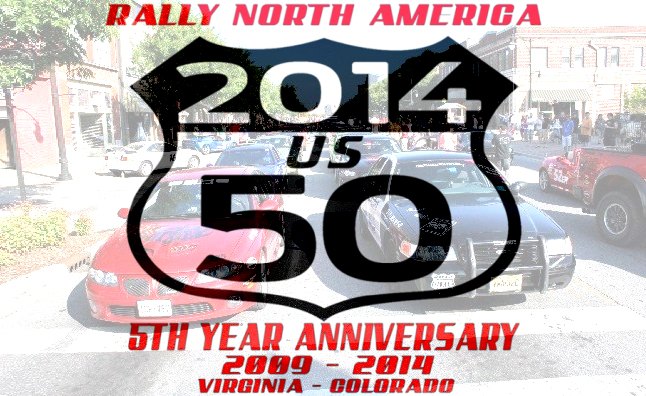 Rally North America (RNA) is quickly becoming one of the premiere charity road rally organizations in the country. Now in the organization's fifth year of existence, the 2014 Rally US 50 is set to begin today as 80 cars line up at the starting line in Martinsburg, W.Va. For the next five days, 160 people will be driving roughly 2,000 miles crisscrossing the back roads of America, arriving in Pueblo, Colo. on July 11.

For those unfamiliar with Rally North America, each year a rally is organized through scenic roadways and towns found off the beaten path. Every event carries a common idea: driving for a cause. RNA believes that by combining the love of the automotive lifestyle and a worthy charity organization, it is possible to do something "good" through the automotive hobby. Rally North America events have raised more than $200,000 in direct donations to the charities chosen as beneficiaries during the first four years and this year's event has already raised $70,000 and counting.
For a Good Cause, For the Average Person
Unlike a lot of high priced road rallies full of high priced vehicles, Rally North America is designed for the average Joe. Entry fees are usually in the neighborhood of $200-$400 plus a mandatory charity donation. Participants are required to provide a professional and respectful representation of the automotive community to everyone. An emphasis is put on having a good time, enjoying the sights along the way and letting loose at night. All entrants must follow the rules of the road and are expected to be courteous to the drivers with whom they are sharing the road at all times.
But this doesn't mean it's a slow boring ride. Four racetracks will be visited along the way including Summit Point Motorsports Park in WV, Edgewater Sports Park in Ohio, Gateway Motorsports Park in Missouri and Pueblo Motorsport Park in Colorado. Here participants will be allowed to take their vehicles on three road courses and a drag strip to test their cars and compete for bragging rights.
SEE ALSO: 2013 Rally New England Kicks-Off Today
Along with the tracks, 47 other "checkpoint" stops will be made at historical or scenic locations along the route. Sounds simple enough, right? Well, not exactly. Participants have no idea what or where these checkpoints are. Each day a route card is given to every team with minimal clues as to where the checkpoints are located. First team to successfully find each checkpoint, snap a picture with their car there and arrive at the finish line wins. If anyone gets a ticket from law enforcement, arrives faster to the finish line than a predetermined "breakout time" or gets filmed behaving recklessly on the road and that team is disqualified for the entire rally – simple as that.
AutoGuide.com Participating Once Again
Once again AutoGuide.com will be attending the event with the #52 car driven by Road Test Editor Mike Schlee and co-driven by his father Rob Schlee. This year the team will be approaching the rally slightly differently. They spent the first few rallies in Mike's modified Subaru WRX and then followed that up by driving 3,500 miles in 2012 with a Mazda MX-5 and 3,000 miles in 2013 with a Chevrolet Camaro ZL1 Convertible.
Mike has decided to give his dad's ears and back a break this year and go with something a little more luxurious. Impressed after our recent 2015 Hyundai Genesis vs 2014 Cadillac CTS comparison test, it was decided that a Hyundai Genesis Sedan would be chosen. A top-of-the-line 2015 Genesis with the Ultimate package just like the one featured in our comparison is being gratuitously loaned to AutoGuide by Hyundai Canada for the event. The only change made was to select the lower powered V6 engine as this is a long distance rally and fuel economy is more important than horsepower.
SEE ALSO: 2013 Chevrolet Camaro ZL1 Convertible Rally Review
As mentioned earlier, every rally is run to benefit charity. This year's charity of choice is the Accelerated Cure Project for Multiple Syroscis (ACP). ACP is a nonprofit organization seeking to speed research efforts to improve diagnosis, to optimize treatment and to cure MS. ACP believes that research is the only way to greatly improve the outlook for people with MS. The organization promotes scientific collaboration and accelerates research by rapidly and cost-effectively providing researchers with data and biospecimens they need to explore novel research ideas that can lead to better diagnoses, to new treatments and to cures for people with MS.
Along with Martinsburg, West Virginia and Pueblo, Colorado, the rally will be making overnight stops in Athens, Ohio, Bedford, Indiana, Jefferson City, Missouri, and Dodge City, Kansas. Those interested in checking out the rally, below is a list of scheduled stops during the week.
Monday, July 7
7:30 AM – 9:00 AM Starting line: Downtown Martinsburg W.V.
5:00 PM – 7:30 PM – Finish Line: Kiser's Barbeque at Eclipse in Athens, Ohio
Tuesday, July 8
7:30 AM – 9:00 AM – Starting Line: historic Athens, Ohio
10:00 AM – 11:45 AM – Drag Racing at Edgewater Sports Park in Cleaves, Ohio
4:30 PM – 5:30 PM – Finish Line: Spring Mill State Park, Indiana
Wednesday, July 9
7:30 AM – 8:45 AM – Starting line: City Square – Bedford Indiana
4:45 PM – 6:00 PM – Finish Line: Jefferson City – Missouri
Thursday, July 10
7:30 AM – 8:45 AM – Starting line: In Front of the Capital Building – Jefferson City Missouri
6:00 PM – 7:00 PM – Finish Line: Firesides Bar & Grill in the Boot Hill Casino Dodge City Kansas
Friday, July 11 2014
7:30 AM – 8:45 AM – Starting line: Boot Hill Museum Dodge City Kansas
12:00 PM – 2:00 PM – Finish Line: Pueblo Colorado Convention Center
For more information about Rally US 50 -2014, visit www.RallyNorthAmerica.com
GALLERY: US RALLY 50 Published July 7th, 2014 6:00 AM
Popular Articles
Latest Comparisons
Car Buying Tools