1 View
Jaguar Eyes Small Crossovers for Big Growth
October 16th, 2014 2:09 PM
Share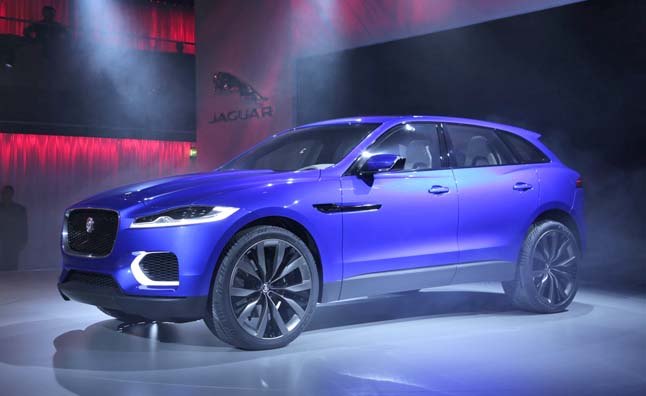 Jaguar needs a series of slam-dunks to meet demanding growth goals outlined by its top management.
"[A] smaller crossover is an opportunity for the biggest growth. That's the area that's really exploding. Between that and the compact sedan segment, those are two big areas of white space for [Jaguar] that will provide the volume that's so important as we look ahead," Jaguar Land Rover North America marketing vice president Kim McCullough said, emphasizing that Jaguar hasn't officially confirmed when it will offer a utility vehilce.
Last year during the Frankfurt Motor Show, Jaguar debuted the C-X17 crossover concept based on its new lightweight modular platform with a body length that aligned it to BMW's X5 SUV. In other words, the concept shown last year would probably qualify as a mid-size crossover were it sent directly to market. And it certainly seemed close to being production ready last year with touches like appropriately-sized side-mirrors and a gas door on the rear quarter panel.
But the first new product to emerge from that platform is the XE sports sedan. Designed to attract potential Mercedes C-Class and BMW 3 Series owners it made its auto show debut in Paris earlier this month. U.S. dealer delivery is pegged for 2016 when the W205 C-Class will be entering its sophomore year and the 3 Series will be wading through its fifth year on the market in its current form.
The British luxury brand is planning a year-long marketing campaign in the U.S. that will spread across TV and social media channels as the company tries marketing to millennial customers for the first time.
Jaguar Land Rover is aiming to grow its global business to sell 750,000 vehicles annually by 2020. Last year, the Tata-owned company reported selling 425,006 units, which is a 19 percent increase over 2012 and a new one-year record. JLR expects the XE to have a heavy hand in helping it achieve the roughly 76 percent boost top management is calling for by 2020, but a compact crossover that shares many of its key components with the XE makes sense.
"We need to make sure that a business plan is in place that will allow for profitable, sustainable growth for the brand and that's why filling some core white space opportunities will be critical," McCullough said.
North America is Jaguar's largest single market, so finding products that mesh with customers there is crucial if JLR hopes to succeed. Through September, the small luxury SUV and crossover segment grew by almost 20 percent, vastly outpacing already a robust 12.3 percent increase for compact luxury cars let alone the eight percent increase year-to-date in passenger cars, SUVs and crossovers in general.
GALLERY: Jaguar C-X17 Concept live photos
GALLERY: Jaguar C-X17 Concept
Published October 16th, 2014 2:09 PM
Popular Articles
Latest Comparisons
Car Buying Tools