1 View
Apple's Market Cap Eclipses Automakers
February 26th, 2015 1:06 PM
Share
We're committed to finding, researching, and recommending the best products. We earn commissions from purchases you make using links in our articles. Learn more here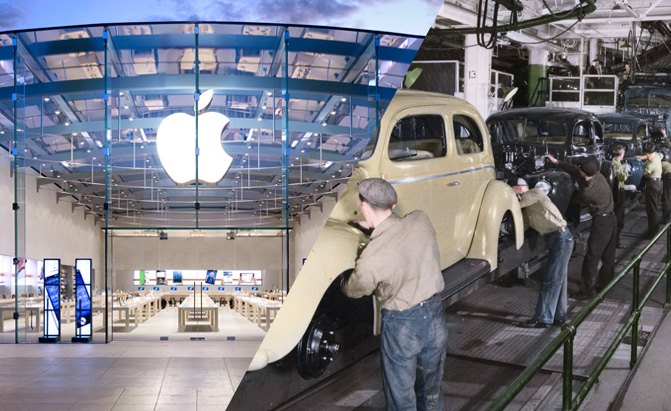 Apple is a giant among monsters. This California-based tech firm sells millions upon millions of iDevices and Macintosh computers every year, products that have made them prosperous beyond belief. But could the company have its eye on the automotive industry?

Reports from multiple sources indicate that Apple is indeed hard at work on a car, possibly one to rival the Tesla Model S. It's rumored the company has assigned hundreds of employees to this super-secret project, which could hit the road by 2020.
Depending on your perspective this news is either riveting or terrifying. For executives in places like Detroit, Stuttgart and Tokyo the revelation that Apple is considering a push into automotive has got to be chilling. The company has an almost-unfathomable pool of resources at its disposal and a reputation for doing things properly.

For a little perspective iPhone sales in Apple's fiscal first quarter of 2015, which due to accounting practices ended on December 27, clocked in at nearly 75 million units. That's the equivalent of every single person in Canada purchasing an iPhone … TWICE.
SEE ALSO: What Really Goes on at Dealerships, Part II
Given its perpetually strong sales the company's revenue for this quarter hit nearly $75 billion, enough for it to earn a net profit of $18 billion. And even more impressive than these jaw-dropping figures is the fact that Apple has nearly $180 billion in the bank. That's probably enough cash to buy Denmark and still have a few billion left to blow on daiquiri machines for every American.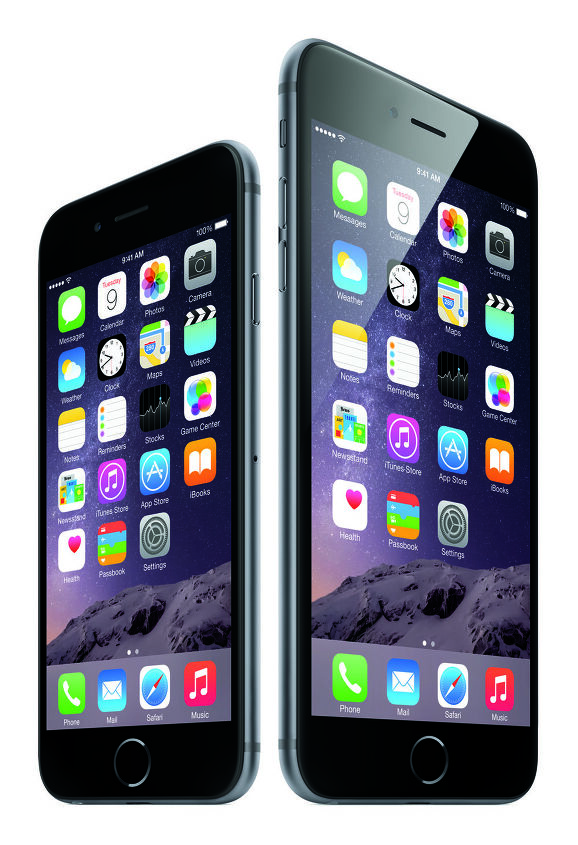 But even more impressive than its quarterly profits and corporate war-chest is the company's market capitalization. At the time this article was written Apple's stock price was hovering right around $132 on the NASDAQ, a healthy sum to be sure but a good bit less than the numbers posted by some other fortune 500 companies. At the same time Costco was trading at approximately $148 per share and Google was north of $533.
But Apple's market cap absolutely annihilates these firms and even crushes the automotive business. According to the website Investopedia.com this term measures the total value of a company's outstanding shares. It's another way of determining how big a firm is without looking at its sales or assets. Basically market cap is a sum that's calculated by multiplying the number of shares in circulation by the current stock price.
Thrashing corporations like ExxonMobil, Microsoft and even Warren Buffet's profit-generating engine Berkshire Hathaway, Apple's market cap currently tops $754 billion. Yes, that's billion with a capital, emboldened, underlined B.
Compared to the automotive industry this fruit-themed tech company is positively gigantic. In fact if you take the five largest car companies (based total sales last year) and add their market caps together Apple still trounces them. Combining GM, Ford, Toyota, Fiat-Chrysler and Honda totals just $420.14 billion, a little more than 50 percent of Apple's total value. That's nuts … no, it's absolutely insane.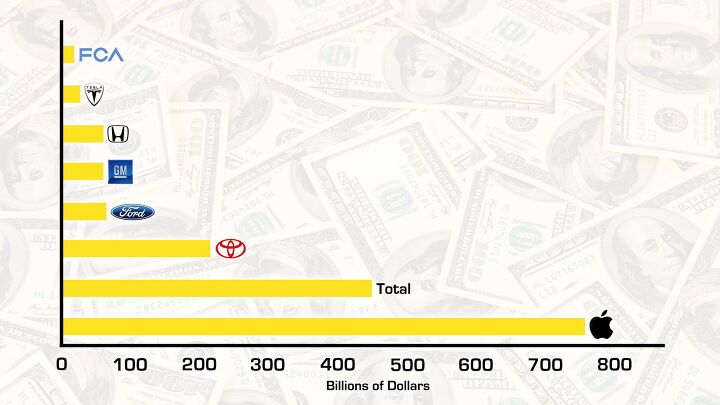 Tesla is an establishment-challenging upstart that's trying to blur the lines between cars and computers. Elon Musk's brainchild builds electric vehicles with a slew high-tech features, but that's still not enough to challenge Apple. Throwing this Silicon Valley outfit into the equation doesn't do much to improve things for the automotive industry. The firm's $27.22 billion market cap is peanuts compared to the Cupertino juggernaut. Curiously Tesla sold fewer than 27,000 vehicles last year yet they exceed Fiat Chrysler's $18.93 billion market cap despite the fact that this Italian-American firm delivered more than 2.1 million cars and trucks in 2014. Figure that one out.
SEE ALSO: Literally See Around Corners with Dynamic eHorizon
Of course comparing market caps is like relating asparagus production in Eritrea to the average lifespan of purebred Dalmatians. It's an interesting thing to ponder, if not entirely earth-shattering. But perhaps what's more intriguing is how stagnant things in the automotive business seem to be, especially when you consider the power and influence it historically commanded.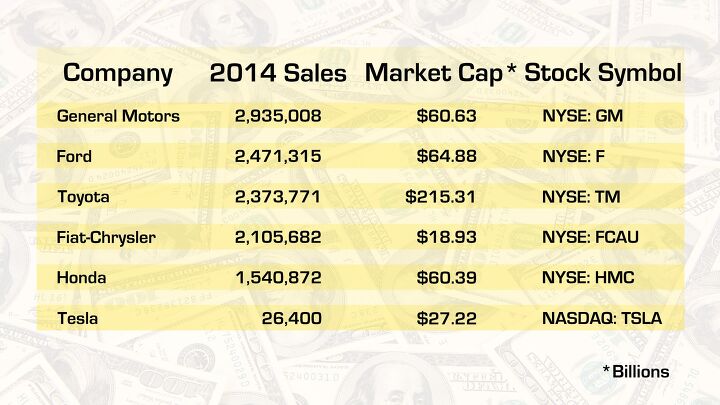 If Apple were around in the 1940s would they have been able to produce enough weapons and munitions to help the Allies win World War II? Most likely not since Japan conquered large portions of China in the '30s and we all know where iDevices are built. Oh how times have changed.
Despite its rust-belt image automotive is still a remarkable industry, a business that literally moves people and things all across the world. As reported by Automotive News, total car and light-truck deliveries exceeded 16.5 million units in North America last year, a figure that proves the Great Recession is finally behind us, even if various companies' market capitalization figures don't necessarily look as rosy. And if Apple decides to join the fray with an iCar it's a good bet that figure will grow.

Craig Cole
Born and raised in metro Detroit, Craig was steeped in mechanics from childhood. He feels as much at home with a wrench or welding gun in his hand as he does behind the wheel or in front of a camera. Putting his Bachelor's Degree in Journalism to good use, he's always pumping out videos, reviews, and features for AutoGuide.com. When the workday is over, he can be found out driving his fully restored 1936 Ford V8 sedan. Craig has covered the automotive industry full time for more than 10 years and is a member of the Automotive Press Association (APA) and Midwest Automotive Media Association (MAMA).
More by Craig Cole
Published February 26th, 2015 1:06 PM
Popular Articles
Latest Comparisons
Car Buying Tools