1 View
AutoGuide.com is Heading to the 2015 Mazda Adventure Rally
September 21st, 2015 10:34 AM
Share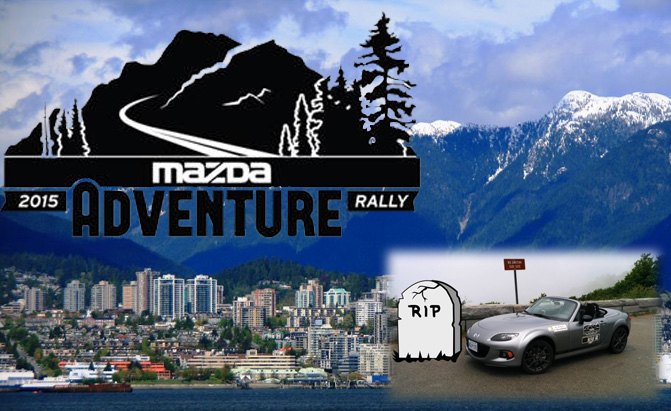 Every once in a while, I spring up out of bed, my face wet with chilled perspiration. It's a dream that always knocks me into consciousness and interrupts my sleep. I usually sigh and lay back down, troubled, waiting for the morning to arrive.
Only one other person really knows of my reoccurring nightmare. It's my fellow colleague and AutoGuide.com Road Test Editor Mike Schlee. Let me explain.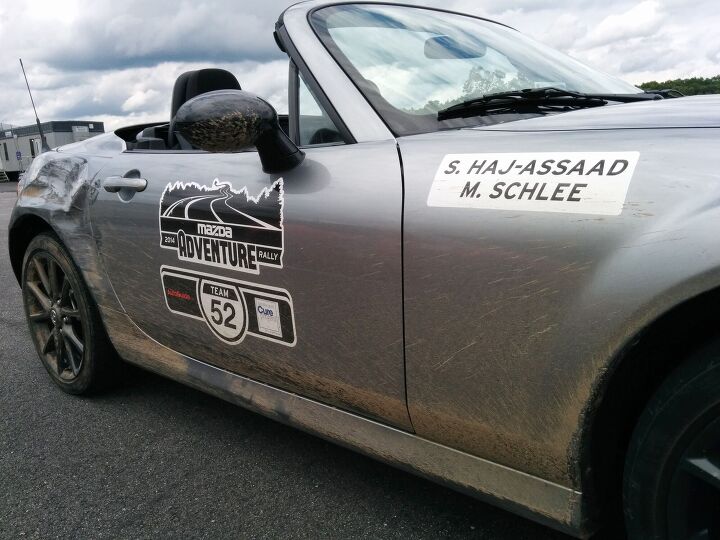 Last year, as part of the 2014 Mazda Adventure Rally, we had an incident. With me at the helm of a 2015 Mazda MX-5 and Mr. Schlee in the passenger seat, I crashed our little roadster into a tire wall at Atlanta Motorsport Park. Fortunately, the damage to the plucky Japanese roadster wasn't enough to disqualify us from the event. In fact, we took our tough MX-5 all the way to the No. 1 spot on the podium, bringing home a shiny first place trophy and a $10,000 donation from Mazda to our charity of choice. Ace driver Mike Schlee made up for my mishap on the track and drove like a man possessed. We were happy that we came in first place despite such an embarrassment.
But my psyche was scarred. The steely faced Mike Schlee, who I'm pretty sure didn't bat an eyelash as our car careened into the tire wall, wasn't phased by the event. In fact, he came back from the 2014 Mazda Adventure Rally more potent than ever and introduced his first son into the world roughly nine months later.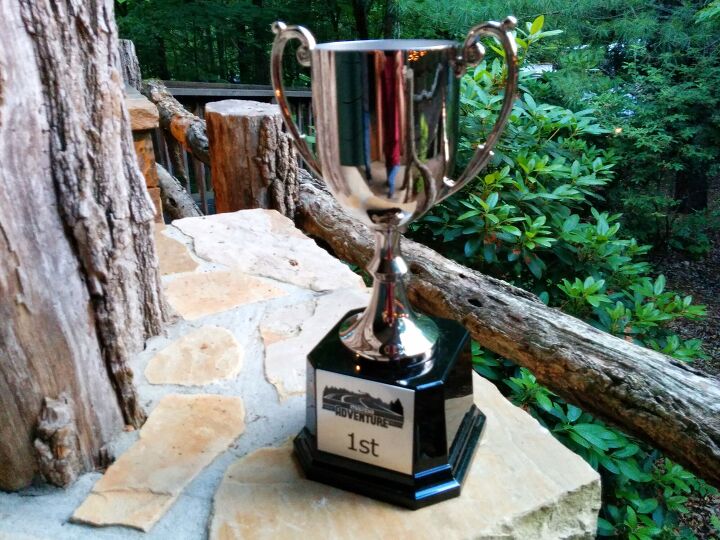 Now the time has come again to take our place as the returning champions of the Mazda Adventure Rally, and for me, it's a time to face my fears and set my mind straight. I don't want there to be an asterisk next to our first place win that denotes a damaged car, like getting an awesome lap time in
Gran Turismo
or
Forza Motorsport
, but being told that at some point you broke the rules and didn't play nice.
Mike and I are ready to compete again. Unlike some of the other publications invited to this event, we've been here two years in a row and have an advantage, so we know what kind of week is ahead of us. We know there's going to be trivia, tricky roads, inclement weather, skill testing navigation skills and landmarks to photograph.
We found out this morning we are being flown to Vancouver on the west coast of Canada. That's where the adventure will begin, and we have little to no information of what comes after that. We don't know what cars we will be piloting or what kind of roads are ahead. We do know that this is going to be an epic adventure. The first year had us driving through Moab in CX-5s, while the second year had us in MX-5s on the Tail of the Dragon. Whatever Vancouver and Mazda has planned for us, AutoGuide.com is game for it.
Join us on our adventure, as we'll be live-blogging the whole event. You'll see things when we do, as we tweet out every factoid and location we're at. Like always, we're competing for charity, and this time Camp Sunshine is our charity of choice. Only the top three teams will win money for their charity and we're looking to get on top of the podium again. We know that we have a target on our back since we won last year and that competing teams may be extra cunning in an attempt to slow us down.
Fortunately, as Mike and I proved in the past few years, we're as hardcore and single-minded as the brand new MX-5. We know what it takes to win, and are looking to do it again, this time without any accidents, mishaps or shenanigans. Is such a thing possible? Let's find out. Video processing...
Published September 21st, 2015 9:58 AM
Popular Articles
Latest Comparisons
Car Buying Tools