2 Views
Mercedes-Benz Concept IAA Transforms for Better Aerodynamics
September 16th, 2015 4:03 AM
Share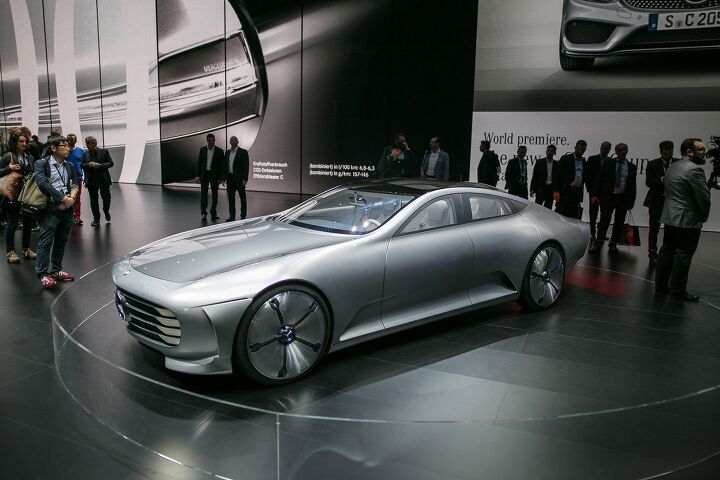 Mercedes-Benz is previewing the future of automotive with its Concept IAA at the 2015 Frankfurt Motor Show.
Previewing the next-generation Mercedes-Benz CLS-Class, the Concept IAA actually showcases the German automaker's focus on building the world's most aerodynamic cars, with the Concept IAA having a drag coefficient of 0.19. Currently, the CLA-Class is the world's most slippery production car with a drag coefficient of 0.23 and Mercedes wants to continue pushing the envelope in the name of fuel efficiency.
But what makes the Concept IAA truly stand out from the crowd is the fact that it transforms once it passes 50 mph. The four-door coupe actually grows another 15.35 inches with the front bumper featuring panels that extend nearly an inch forward into the airflow, while the rear valence sticks out an extra 0.79 inches in the back. In addition, the front bumper retreats 2.36 inches underneath the car and even the wheels seal up to cut drag.
Overall, the length of the Concept IAA is 198.43 inches in design mode while it measures 213.78 inches in aerodynamic mode. That makes it 3.94 inches longer than the current CLS in design mode and 7.28 inches longer than the long-wheelbase S-Class when stretched. It is 78.54 inches wide and 51.48 inches tall.
SEE ALSO: 2015 Frankfurt Motor Show Coverage
Currently, production vehicles feature technology such as active grilles to help direct airflow more efficiently, but this is the first time an automaker has created a vehicle that grows under speed.
Although the interior looks high-tech with bright blue and purple LED lighting, the design is actually reminiscent of the current S-Class and looks production ready.
Even the powertrain in the Concept IAA is borrowed from an existing model, the C350e Plug-in Hybrid. That means there's a 2.0-liter turbocharged four-cylinder engine paired to an electric motor for 275 horsepower and 442 pound-feet of torque.
Discuss this story on our Mercedes-Benz Forum
Published September 14th, 2015 2:58 PM
Popular Articles
Latest Comparisons
Car Buying Tools