1 View
2016 North American Car and Truck of the Year Finalists Announced
December 8th, 2015 2:11 PM
Share
We're committed to finding, researching, and recommending the best products. We earn commissions from purchases you make using links in our articles. Learn more here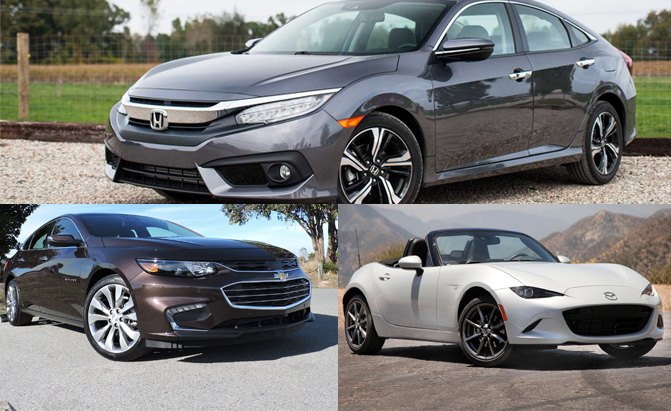 Finalists for the North American Car and Truck of the Year award were announced this afternoon at an Automotive Press Association luncheon in Detroit.
Of the roughly 50 new vehicles that were introduced this year, jurors on this illustrious panel narrowed the herd down to just six finalists, three excellent cars and three stand-out trucks/utility vehicles.
The short list for automobiles includes the new Chevrolet Malibu, Honda's knock-out Civic and the ever-entertaining Mazda MX-5. The short list these models were selected from also included the BMW 7 Series, Chevy Camaro and Volt, the Kia Optima and Toyota Prius.
Finalists on the truck side are the Honda Pilot, Nissan Titan and Volvo XC90. The short list these models were selected from was broad and variegated, with many disparate vehicles. The Ford Edge, Honda HR-V, Hyundai Tucson, Jeep Renegade, Lexus RX, Toyota Tacoma, Kia Sorento and, last but not least, the Mazda CX-3 were all semifinalists.
SEE ALSO: 2016 North American Car and Truck of the Year Short List Announced
In the 23 years NACTOY has been handing out its renowned awards the jurors have tended to select vehicles that play well in middle America, models that have broad appeal. Lindsay Brooke, a member of the jury for more than 10 years said voting "tends to be more of a mainstream [competition]," which is why the nomination of the MX-5 "is a surprise" to him.
As much fun as they are, small, two-seat sports cars have limited market appeal; they simply never sell in great numbers.
However, not all members of the NACTOY jury agree. Veteran automotive scribe Tony Swan, a freelance writer with various publications including Car and Driver as well as Kelly Blue Book has been with the organization since the very beginning. He said the Mazda's nomination is not all that shocking, calling it "an outstanding sports car" and "better in every respect" than its predecessor.
Further reinforcing his position, Swan said "a sports car is not out of the question [to win]." NACTOY chose the Chevy Corvette several years ago.
When asked to predict which models might go all the way Swan replied, "I couldn't have forecast what was going to come out today." Still, he does have his opinions.
"Personally I like the Hondas in both categories," noted Swan. But he also said there really aren't and bad vehicles on the market so really any one of the finalists could drive away with gold.
The North American Car and Truck of the Year panel is comprised of 53 automotive journalists from across the United States and Canada. This is the 23rd year they've been handing this award out.
The North American Car and Truck of the Year will be announced at the Detroit Auto Show in January, so stay tuned.

Craig Cole
Born and raised in metro Detroit, Craig was steeped in mechanics from childhood. He feels as much at home with a wrench or welding gun in his hand as he does behind the wheel or in front of a camera. Putting his Bachelor's Degree in Journalism to good use, he's always pumping out videos, reviews, and features for AutoGuide.com. When the workday is over, he can be found out driving his fully restored 1936 Ford V8 sedan. Craig has covered the automotive industry full time for more than 10 years and is a member of the Automotive Press Association (APA) and Midwest Automotive Media Association (MAMA).
More by Craig Cole
Published December 8th, 2015 2:09 PM
Popular Articles
Latest Comparisons
Car Buying Tools