1 View
Ford Raptor Gets the Most Twitter Love During Detroit Auto Show Press Days
January 21st, 2016 10:38 AM
Share
We're committed to finding, researching, and recommending the best products. We earn commissions from purchases you make using links in our articles. Learn more here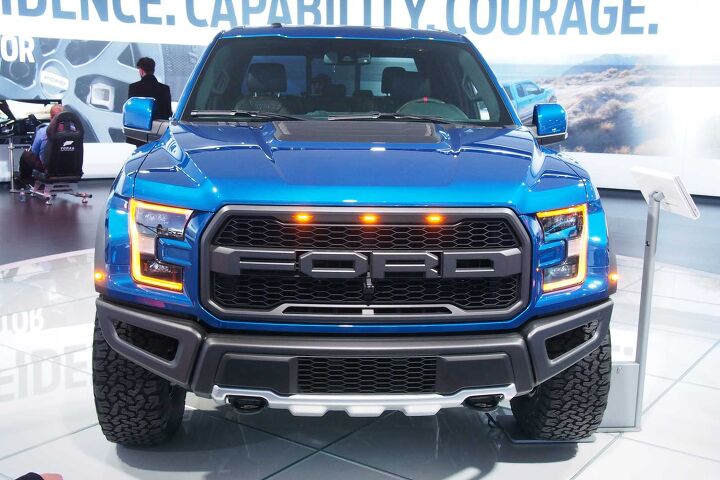 The new 2017 Ford F-150 Raptor SuperCrew got more attention on Twitter than any other vehicle during the 2016 Detroit Auto Show media days.
An average of 25 tweets per minute about the 2016 Detroit Auto Show were recorded while 87,000 tweets were sent in total over the two press days, January 11 and 12.
After the Raptor, the new Chrysler Pacifica Minivan garnered the most twitter love, followed by the new Mercedes-Benz E-Class and the Lexus LC500. Finally, the new Audi h-tron Quattro Concept finishes out the top five.
SEE ALSO: The Ford Raptor Returns, But Without a V8
Though Ford had already debuted the Raptor at last year's Detroit Auto Show, the off-road special truck was revealed again, this time as a longer SuperCrew model.
Twitter also noted that Nissan and Volvo both created a fair amount of buzz for tweets showing off the GT-R and the interior of the new S90 respectively.
[Source: Twitter Blog]
Discuss this story on our Ford Raptor Forum
Stephen Elmer
Stephen covers all of the day-to-day events of the industry as the News Editor at AutoGuide, along with being the AG truck expert. His truck knowledge comes from working long days on the woodlot with pickups and driving straight trucks professionally. When not at his desk, Steve can be found playing his bass or riding his snowmobile or Sea-Doo. Find Stephen on <A title="@Selmer07 on Twitter" href="http://www.twitter.com/selmer07">Twitter</A> and <A title="Stephen on Google+" href="http://plus.google.com/117833131531784822251?rel=author">Google+</A>
More by Stephen Elmer
Published January 21st, 2016 10:38 AM
Popular Articles
Latest Comparisons
Car Buying Tools