18 Views
Here's How Video Games Revolutionized the Way We Interact With Cars
December 6th, 2016 8:23 AM
Share
We're committed to finding, researching, and recommending the best products. We earn commissions from purchases you make using links in our articles. Learn more here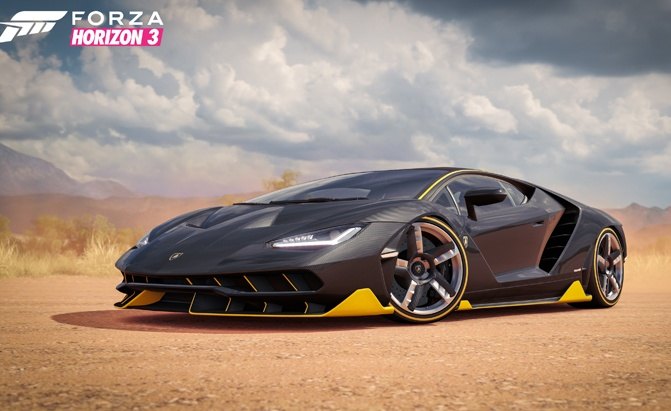 Video games have revolutionized the way a whole generation interacts with cars.
The Forza racing series of games published by Microsoft, for example, have been particularly successful and are a great example of how automakers are working with video game developers to reach their next generation of consumers — Millennials. The popularity of video games has given automakers a new and exciting way to market and introduce their cars to a range of new audiences in a way they couldn't previously with traditional advertising formats such as magazine and TV.
It's easy to see why racing games like Forza are so popular. Prior to video games, the average person was unlikely to see cars like the Lamborghini Centenario, Bugatti Veyron or Ford GT in real life, and getting to drive one was even more impossible. But thanks to the growing relationship between automotive companies and video game developers, now anyone can rip around the Nurburgring, Le Mans, or the Australian Outback in an array of multi-million dollar supercars they once had plastered on their wall as a child. It's obviously not the same as driving the real thing, but with the advances in video game technology, the experience is getting closer and closer to the real deal.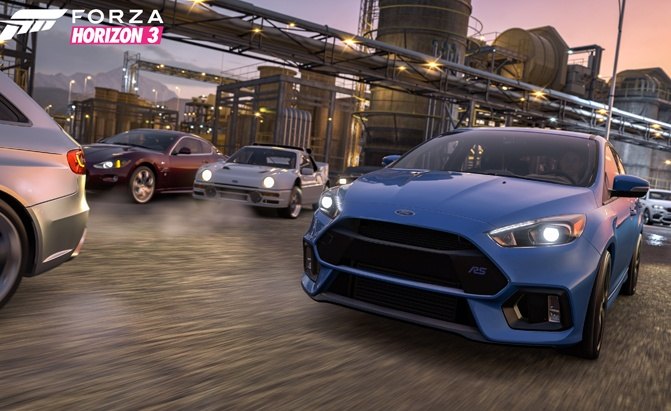 Making Cars Accessible to Everyone
"The video game is extremely important," said Henry Ford III, current marketing manager for Ford Performance, and great grandson of the legendary Henry Ford. "We want to make our cars, even our supercars, accessible to everyone, and a great way to do that is through the gaming world. We love the guys at Turn 10 and Microsoft because they create games that really simulate real-world driving experiences."
Realism is key for racing game developers, which means they have to work very closely with automakers to ensure the cars are as depicted as realistically as possible, said Turn 10 Studios creative director, Dan Greenawalt.
"All of the cars in Forza games are real cars and, as a result, we work with manufacturers from all over the world. That includes the largest automakers in the world like BMW and Audi, to smaller, more specialized manufacturers," he said. "We are in constant contact with our manufacturing partners to ensure we get the latest and greatest cars first in Forza, and also to help us explore their back catalogs for classic cars that our fans love."
Ford echoed the same sentiment. "We love the fact that everyone can have these experiences and it's a really important way for us to reach out to a large group of customers, especially younger customers. It's a demographic we're all searching for and we hope to create lifelong Ford enthusiasts through these games."
Video games are an invaluable asset to other automakers such as BMW, which has been in constant exchange with racing game developers. "BMW has a long tradition of being an integral part in almost all major racing game franchises," said BMW's Tobias Weber, head of entertainment marketing and international product placement. He said video games have always been an important part in BMW's digital marketing approach, and that the field has certainly grown in popularity throughout the years.
"It has always been important for the brand to transport its core values of sheer driving pleasure to a young, digital and car-loving audience. In video games, everyone can drive his or her dream car," said Weber. "Also [to drive] models which they probably cannot afford to buy yet, but could later in their life. This excitement for BMW carries on into the real world and video gamers then become BMW fans." Weber said BMW's latest collaboration was in Forza Horizon 3, where the new BMW M4 GTS was just released in the game.
The great thing about Forza, explained Ford, is that consumers are offered a nice range of simulated driving experiences. There are dozens of Ford vehicles to choose from in the game, including anything from the new GT supercar to some of the historical classics. Instead of having to spend massive amounts of money to drive supercars or rare classics, consumers can spend $60 on a racing video game and get an idea of the look and feel of these cars.
Realism is the Key
Tearing around the Australian Outback at 100 miles per hour in Forza Horizon 3, the Lamborghini Centenario handles challenging terrain surprisingly well. Its V12 engine screams as it sends mud and sand flying behind it. Its spoiler kicks up when braking to catch extra downforce, narrowly avoiding crashing into a Ford GT and an Audi R8 on a tight corner. Other than the fact the Centenario is hitting 100-foot jumps with ease, the whole experience feels hyper-realistic. One could almost forget they were playing a video game. The multi-million dollar Centenario is one of the most inaccessible cars in the world, which is compounded by the fact the supercar sold out before it even debuted. So the closest most people will get to driving one will be within the Forza universe.
Turn 10 takes realism very seriously in the Forza games, so seriously in fact that the team actually went out to famous racetracks such as Laguna Seca or the Nürburgring and laser scanned the entire surface of the track, including surrounding structures, and took thousands of pictures, resulting in what Greenawalt calls "sub-centimeter accuracy."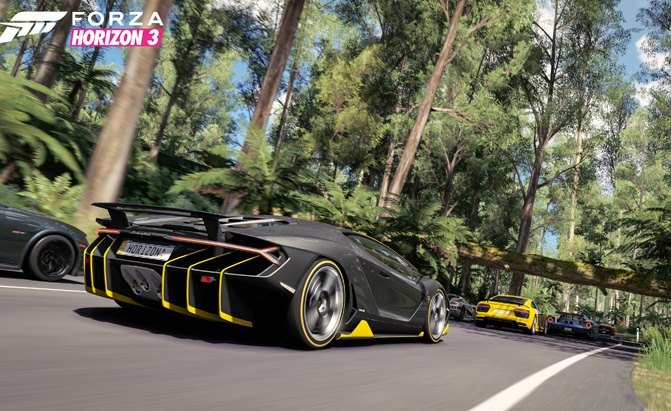 "We featured the Lamborghini Huracán LP 610-4 on the cover of Forza Horizon 2 and, for Forza Horizon 3, we were thrilled to be able to feature the Lamborghini Centenario, not just on the cover of the game, but at our booth at E3, where the car made its North American debut," said Greenawalt.
The Centenario is featured on the game's box cover, along with the Ford F-150 Raptor off-road truck. Both cars are also featured heavily in many of the television advertisements for the game to help show off the vehicles.
Last year's Forza Motorsport 6 featured the brand-new Ford GT on the cover. The game's release coincided with the car's release. The digital GT looked hyper-realistic because Ford worked hand in hand with Forza from the car's early concept phase.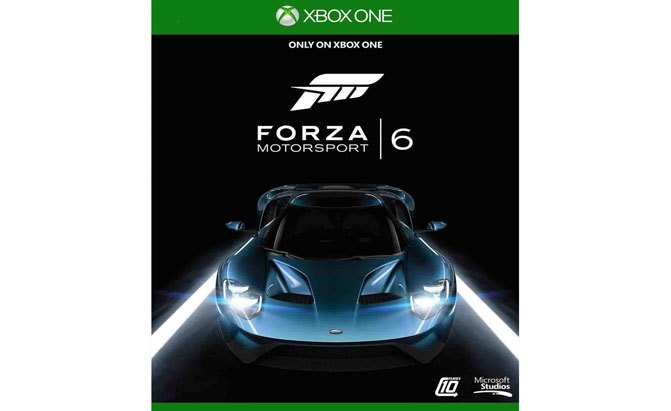 There's a lot of trust between the company and the video game developers, Ford revealed. "I think we brought each other into our circles of trust really early on in the process. We knew Turn 10 had a new title coming out and we had a new car coming out, and it all just worked out really well."
Turn 10 and the Forza team takes great pride in the close relationships they've built with their manufacturing partners, added Greenawalt.
"Forza and Ford is a great example of that kind of relationship. We were briefed on the new Ford GT very early in its conceptual phase, and had the chance to work with the Ford Performance team practically every step of the way, watching the car evolve over time into its current design," said Greenawalt. "As a result, we had unprecedented access to the new Ford GT, including CAD data, and actual physical access to the car itself. This allowed us to capture the Ford GT with the same level of interior and exterior detail and accuracy that is the Forza standard."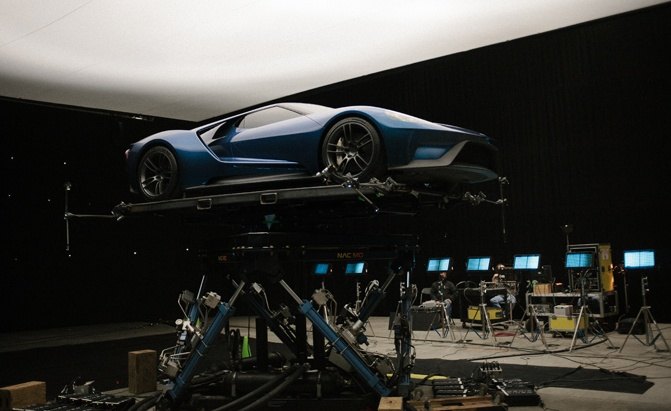 Interacting With Fans
In 2011, a young man named Jann Mardenborough won the Nissan GT (Gran Turismo) academy, a gaming competition broadcast on television and run by Playstation and Nissan that provided fans an alternative route into mainstream motorsports. Winning this video game competition has allowed the very best Gran Turismo players the chance to drive real race cars and help launch their racing careers with Nissan. Mardenborough won a drive for Nissan at the Dubai 24 Hour race, and is now a professional racing driver competing for the Nissan NISMO team in the FIA World Endurance Championship.
Forza also has its own official eSports racing series — eSports is essentially competitive video gaming — in which the champion won a real-life 2017 Ford Focus RS. This is just another example of how car companies are using video games to interact with consumers and get their brand out there.
"Another cool thing we did with Forza this year, along with our partners at Michelin and the Peterson Museum in L.A., is that we did an online eSports Le Mans race while the real-life Le Mans race was happening," said Ford. He said the company even entered its own team into the event.
"Two of the engineers that worked on the actual GT were also gamers, so they were racing alongside with pro rally driver Andreas Bakkerud. The three of them formed the Ford team, and they raced online against racers from all over the world and they were racing the GT at Le Mans in Forza. It was awesome," Ford said.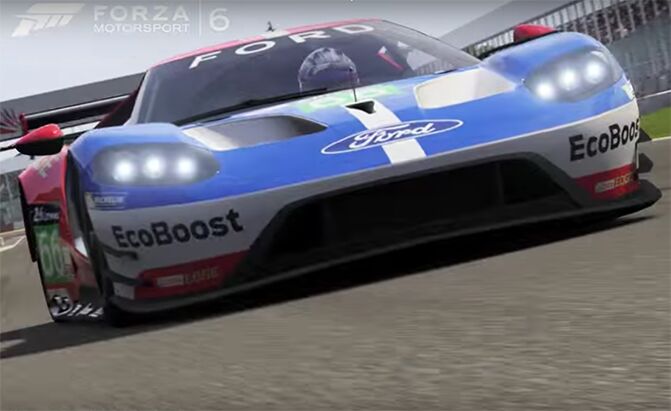 Not Just for Car Enthusiasts
Greenawalt said the games aren't just for car enthusiasts, either. He said Forza is not just about hopping in a car and turning laps, but that they create games to reflect lots of different aspects of car culture. Craig Daitch, senior manager of social media and brand communications at Chevrolet, also echoed this fact.
"I think in general the average gamer certainly embraces a lot of the qualities and spirit we look to incorporate into our vehicles," said Daitch. "The beauty of gaming today is that it spreads across multiple demographics. It ranges from casual experiences to experts to people of all types." Daitch said automakers work very closely with video game developers to make their cars as accurate and realistic as possible so that gamers know what to expect from the real thing. This creates a halo effect with consumers, he explained. If they drive the newest Corvette in a game, they might be more inclined to consider a Chevrolet when they go out to buy their next vehicle.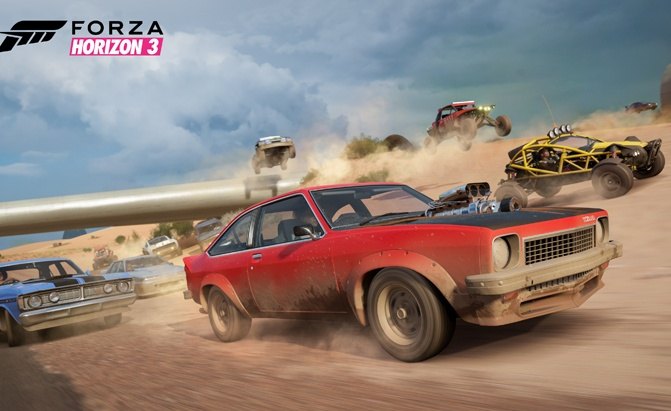 Bringing Concepts to Life
Daitch also noted the enormous potential video games have to bring prototypes and concept cars to life in a game, giving players an opportunity to experience them virtually first, even if a physical version isn't drivable. "Look at what we did in Gran Turismo 6, for example, when we brought to life the Chevrolet Chaparral 2x Vision Gran Turismo."
BMW's Weber also highlighted the usefulness video games can have in bringing cars to life. "BMW design had designed a special Vision model for Sony's video game that exists exclusively in the game. We also had the new BMW M2 Coupe in Need For Speed 2015, even before you could actually buy it at your local BMW dealer, which was a huge thing for our fans."
According to 2013 statistics from Consultancy PriceWaterhouseCoopers, in-game advertising was a $2.8-billion industry worldwide. The relationship between car manufacturers and video game developers is only expected to grow, as video game franchises like Forza, Gran Turismo and Need For Speed continue to sell. It will be interesting to watch how this partnership between automakers and video game companies leads to further innovations, designed to entertain gamers and car fans alike. Published December 2nd, 2016 11:43 AM
Popular Articles
Latest Comparisons
Car Buying Tools