1 View
Lamborghini Aventador S Arrives Just In Time to Make Our Wishlists
December 22nd, 2016 9:34 AM
Share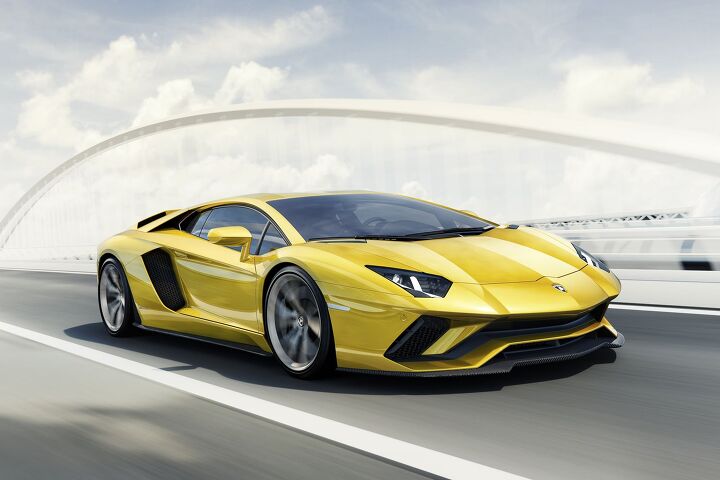 In a big holiday twist (not to be outdone by Ferrari's surprise debut last week) the Lamborghini Aventador S has just debuted.
Many were expecting this version of Lamborghini's V12 supercar to debut in March at the Geneva Motor Show, but the Italian exotic automaker was likely in the holiday spirit and wanted to end this year on a really, really high note.
The Lamborghini Aventador S is the next-generation model of the V12 supercar, with a new design focused on aerodynamics. The Lamborghini Aventador S gets a more aggressive front end and longer front splitter, and two new air ducts in the side of the front bumper. A black diffuser dominates the new rear design, while the active rear wing has three positions. In all, front downforce has been improved by 130 percent over the previous Aventador coupe.
ALSO SEE: This Really Expensive Lamborghini Speaker is All Kinds of Ridiculous
Performance upgrades start in the naturally aspirated 6.5-liter V12, which has been tuned to output an increased 40 horsepower, bringing the figure to a staggering 740 hp and 509 pound-feet of torque. Lamborghini also says the variable valve timing and variable intake systems have been refined for a better torque curve, and the engine can now rev to 8,500 rpm, up from 8,350 rpm. Stop/start and cylinder deactivation are still available so that half the cylinders can be deactivated when the car is under a light load.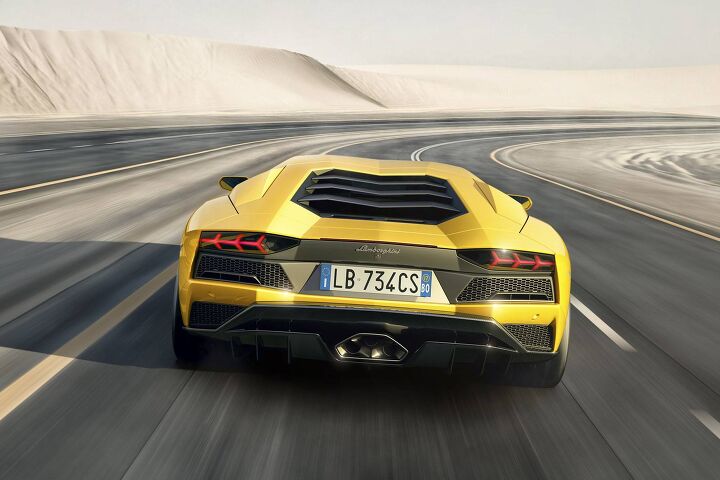 Connected to a seven-speed transmission that can shift in up to 50 milliseconds and with a dry weight of 3,472 pounds (1,575 kg), the Aventador S can accelerate from zero to 62 mph (0-100 km/h) in just 2.9 seconds on to a top speed of 219 mph (350 km). Carbon ceramic brakes are standard.
The supercar also benefits from the addition of a new four-wheel steering system, which is the first time it has been used in a production Lamborghini. The system provides better stability at high speeds and increased maneuverability in low speeds. The suspension has been optimized to work seamlessly with the new four-wheel steering system, and the coupe also gets new rear springs for better balance.
The Lamborghini Aventador S gets a new exhaust system with three single pipe outlets that is 20 percent lighter than the one it replaces. The Italian automaker promises that the results are "an enhanced Lamborghini sound and resonance."
All driving modes have been recalibrated, and a new driving mode has also been introduced: Called Ego mode, it allows drivers to customize a profile with their favorite traits from the other Strada, Sport and Corsa modes.
Deliveries of the Lamborghini Aventador S begin in spring of 2017 with pricing starting at $421,350 in the U.S.
Published December 19th, 2016 9:00 AM
Popular Articles
Latest Comparisons
Car Buying Tools