5 Views
Top 10 Craziest and Weirdest Debuts of 2016
December 22nd, 2016 10:18 AM
Share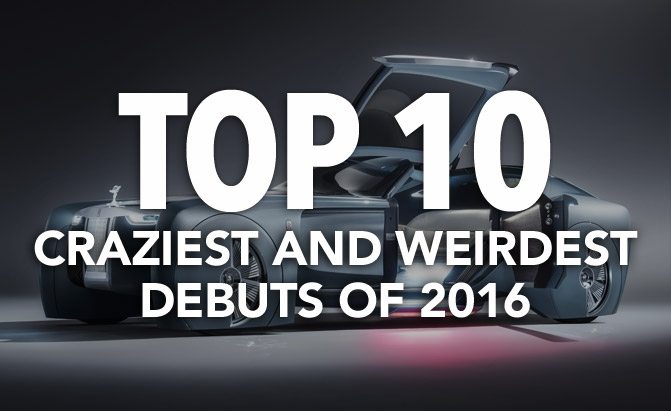 Each year, automakers manage to surprise us with crazy and weird debuts.
Whether they're production cars that don't make a whole lot of sense, or wild previews of a company's future, these crazy and weird debuts shape the automotive industry even if they seem like pipe dreams.
SEE ALSO: AutoGuide.com's Auto Show Coverage
This year, automakers didn't disappoint. Some focused on wild, high-horsepower beasts, while others showed that electrification is the way of the future.
Aston Martin / Red Bull AM-RB 001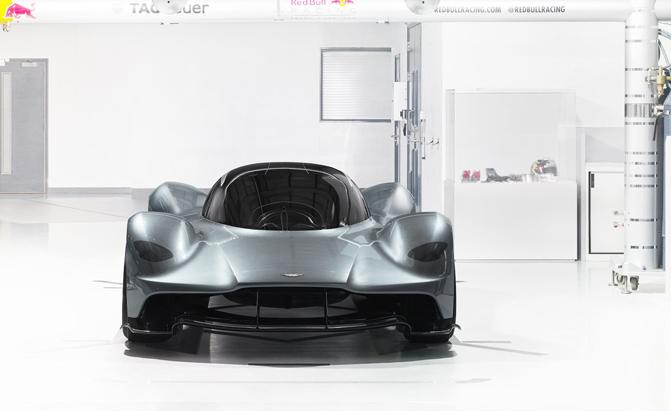 Arguably the craziest machine to debut in a long time is the AM-RB 001, a hypercar that's the result of a collaboration between Aston Martin and Red Bull Racing. With an expected price tag between $2.6-million and $3.9-million, all 150 of the AM-RB 001's roadgoing units are already sold out. The automaker plans on building 25 track-only specials and some of those are still available. There's an all-new V12 engine powering it that is capable of revving up to 11,000 rpm and the car is expected to weigh around 2,200 pounds. The engine will produce around 1,000 hp, allowing it to accelerate from zero-to-200 mph in around 10 seconds. Yes, 200 mph, not 60 mph.
Learn more: Aston Martin's Stunning New Hypercar Comes With an Outrageous Price Tag
---
BMW Vision Next 100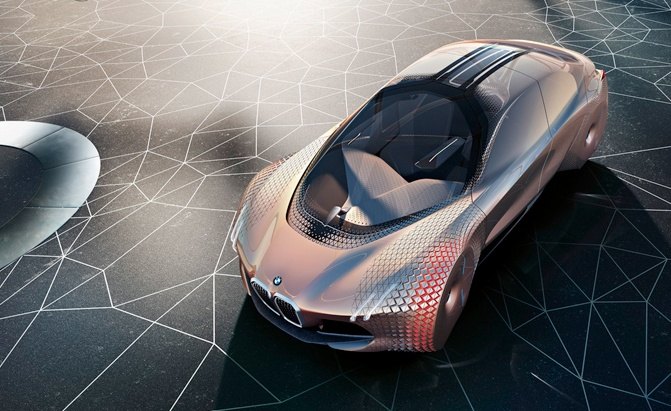 The BMW Group is celebrating its 100th birthday this year and rolled out four really weird concepts to show off its future. One of those concepts is the BMW Vision Next 100, previewing what the German automaker believes is the future of motoring. The concept offers two main drive modes, Ease Mode and Boost Mode. In Ease Mode, the car drives itself, while Boost Mode allows the driver to take over. There is a digitally intelligent companion on hand to learn all of the driver's habits while in the car, tailoring the car to suit his or her needs. But what makes this concept really wild is what BMW calls "Alive Geometry," that consists of 800 moving triangles set into the instrument panel and certain spots on the side panels. Basically, the triangles are capable of moving as one and giving signals to the driver with BMW describing it as "a form of preconscious communication, where an intuitive signal predicts an imminent real-time event."
Learn more: BMW Vision Next 100 Concept Predicts the Future
---
Dubuc Motors Tomahawk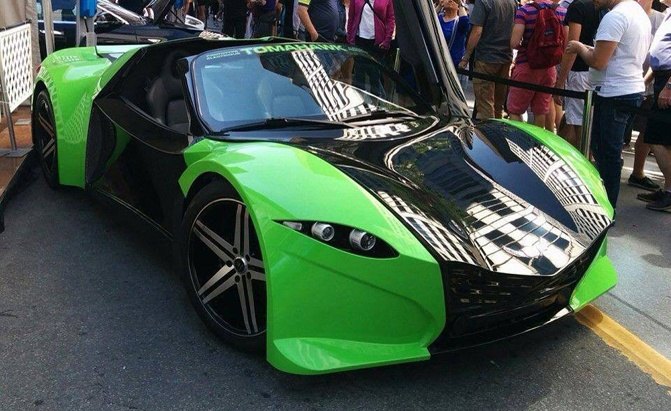 This year saw numerous electric supercars debut, several from China as well as the Dubuc Motors Tomahawk. The Tomahawk features unique styling and the 2+2 electric supercar claims to have a zero-to-60-mph time of three seconds and a top speed of 160 mph. Sporting scissor doors and a panoramic roof, the company says it features an "American look" while the interior is packed with all the modern creature comforts you would expect like a touchscreen control panel, navigation, wireless connectivity and hands-free voice-activated commands. The car is built on an aluminum tube and monocoque chassis with an all-aluminum construction to keep it lightweight. A total of four electric motors power the front and rear, making it all-wheel drive.
Learn more: Yet Another Crazy Electric Supercar is in the Works
---
Faraday Future FFZERO1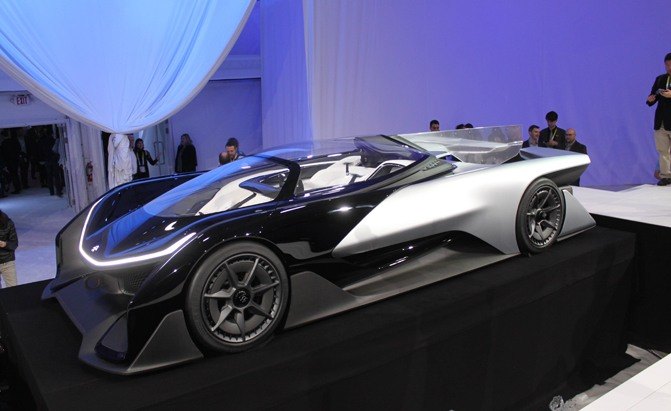 Faraday Future seemingly came out of nowhere, kicking off the year at the 2016 Consumer Electronics Show (CES) with a ridiculous, futuristic concept that grabbed everyone's attention. The automaker is no longer a mystery now, backed by a Chinese billionaire and has already broken ground on a manufacturing facility in Las Vegas. Although the FFZERO1 concept isn't heading to production — Faraday's first production car appears to be a crossover — it does show off what the company is capable of. The company claims it has an output of 1,000 hp and can go zero to 60 mph in less than three seconds. As for its high-tech features, it has a smartphone-powered steering wheel and a propeller-shaped instrument cluster that runs with a unique Halo Safety System, which integrates head and neck support while supplying oxygen and water to the driver through a prototype helmet.
Learn more: Mysterious Car Company Out-Teslas Tesla with 1,000 Horsepower Electric Vehicle
---
Koenigsegg Regera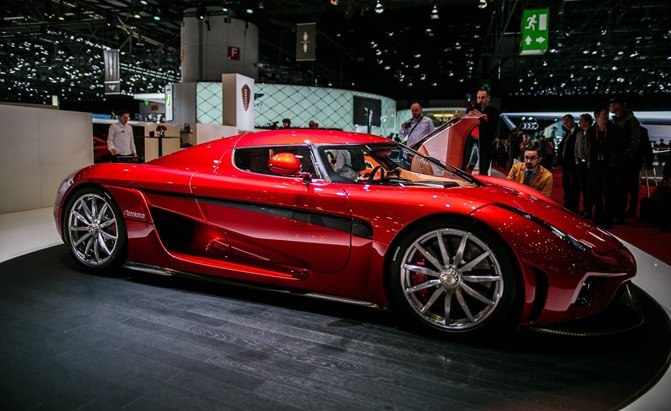 Each year at the Geneva Motor Show, you can expect Koenigsegg to roll out something wicked. This year, the Swedish automaker didn't disappoint by bringing the Koenigsegg Regera, a hybrid boasting more than 1,500 hp. To go along with that ridiculous horsepower figure is 1,475 lb-ft of torque and a 3,505-pound weight, making it one of the craziest hypercars ever. The Regera actually debuted as a concept a year prior, but the company claims it made more than 3,000 changes to the car before settling on the production model. All those specifications add up to a zero-to-60-mph time of 2.8 seconds, while it can hit 249 mph from a standstill in 20 seconds.
Learn more: The Koenigsegg Regera is a Crazy 1,500-Plus HP Hybrid Megacar
---
Mercedes Vision Van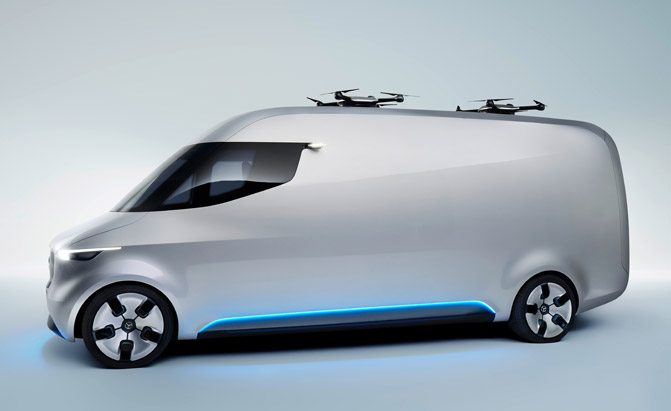 This year, Mercedes previewed the future of its cargo vans, a self-driving vehicle with the ability to dock drones on its roof. Teaming up with Matternet, the German automaker created a concept that's powered by a 75-kWh electric drive unit that can provide a range of 50 to 168 miles depending on application. What's wild about the concept, as you can see from the photo, is that there's no driver's door, meaning people enter on the right side of the vehicle or the giant hatch at the rear. Inside there are shelving units that slide out the back for easy loading. As for the drones? The idea is that the van can get closer to the destination before deploying the drone, dropping the human interaction needed between delivery driver and customer.
Learn more: Mercedes Plans All-Electric, Self-Driving Vans that Can Dock and Deploy Drones
---
MINI Vision Next 100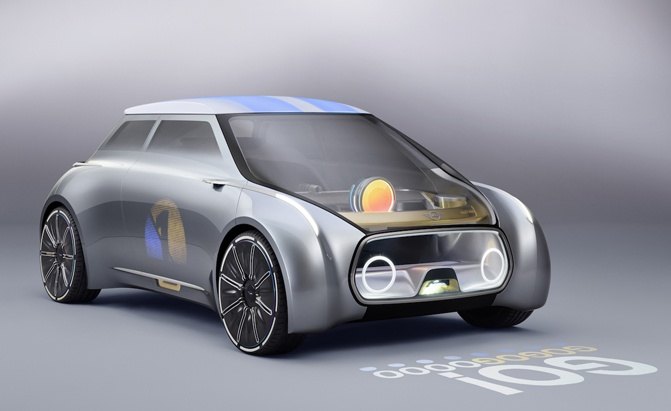 Like the BMW Vision Next 100 concept, the MINI Vision Next 100 is a crazy interpretation of a future compact car from the British automaker. The autonomous electric car is capable of picking up passengers all on its own, while users in the car can change its color to suit their preferences. Both MINI and parent company BMW AG are investing into urban mobility as they expect the market to grow in the coming years.
Learn more: This is MINI's Wild View of the Future
---
Rinspeed Oasis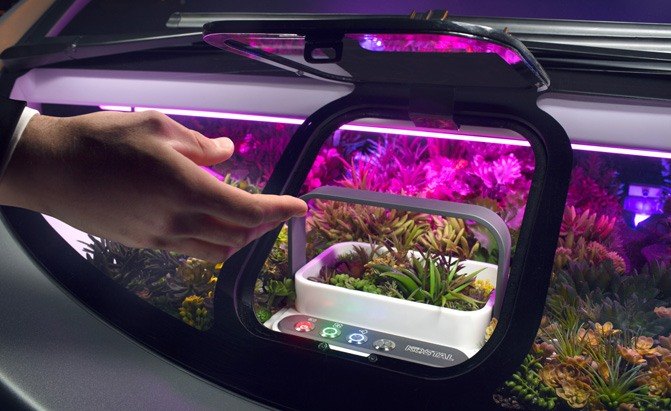 Just like how Koenigsegg is almost guaranteed to debut something outrageous each year at the Geneva Motor Show, Rinspeed also likes to make a statement with something strange and unique. Constantly thinking outside the box, this year's project is called the Rinspeed Oasis and it's capable of turning on its own axis with almost a zero turning radius. Yes, it's a bit like a certain popular droid in a famous movie franchise that takes place in space. The basis of the car is an interior featuring a living space with the ambiance of a modern living room, but what is really killer is what's going on up front. The Oasis gets its name from an integrated small green space for growing flowers or radishes below the windshield.
Learn more: Rinspeed Oasis is the R2-D2 of Cars
---
Rolls-Royce Vision Next 100
If you thought the BMW and MINI Vision Next 100 concepts were outrageous, the Rolls-Royce version is even more so. It's possibly one of the strangest-looking concept cars ever created and might be a reminder as to why the British automaker never created one in its 112-year history until now. The concept is all-electric and built on a lightweight platform, with the company saying that composite materials and advances in production will allow new "creative possibilities" for the brand. Inside the concept is Macassar wood, hand-twisted silk carpet and soft silk upholstery, all elements you would expect in a Rolls-Royce concept.
Learn more: The Rolls-Royce of the Future Looks Outrageous
---
Toyota uBox Concept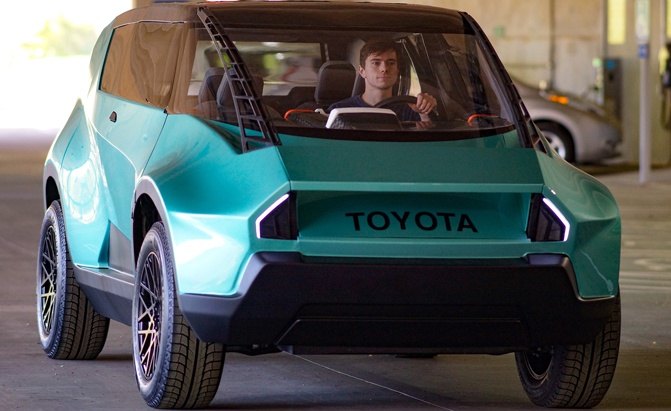 Outside of Japan, Toyota isn't typically known for weird concepts, but that changed with the uBox making its debut. The Japanese automaker teamed up with Clemson University's International Center for Automotive Research for the unique concept that's intended to appeal to the next generation of car buyers. Powering the concept is a dual-purpose all-electric powertrain, while the interior can be rearranged to accommodate various activities like working or operating a business to hauling large cargo. To help appeal to the next generation of buyers, numerous interior elements like the vents, dashboard display bezels, and door trims can be personalized and made with 3D-printing technology.
Learn more: Toyota uBox Concept is One of the Strangest Things You Will See Today
Published December 22nd, 2016 10:16 AM
Popular Articles
Latest Comparisons
Car Buying Tools