1 View
Bentley Betting Big on Electrification
January 17th, 2017 1:29 PM
Share
We're committed to finding, researching, and recommending the best products. We earn commissions from purchases you make using links in our articles. Learn more here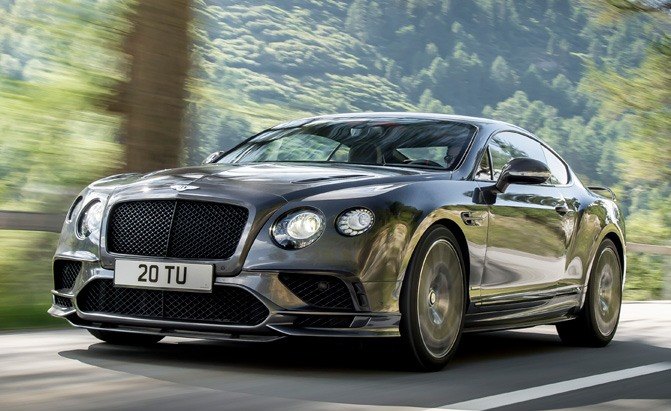 Bentley says plug-in hybrid drivetrains make the most sense for its elite customer base – enough to offer them as an option for all its ultra-luxury vehicles.
Speaking last week at Automotive News World Congress, held in Detroit in conjunction with the auto show, Bentley CEO Wolfgang Durheimer said that all Bentley models will have a PHEV variant. That will be added as an option beginning in 2018, he said.
The high-end luxury automaker doesn't see all-electric vehicles making any sense as an alternative powertrain offering because so many owners get chauffeured in Bentleys. Corporate executives will want their drivers to get them out of the city to their mansion in the countryside without having to stop for a charge, for example. It's much more viable to do that with a long-range plug-in hybrid running off of battery power and an internal combustion engine, Durheimer said, versus a limited-range battery electric vehicle.
For Durheimer, PHEVs are not merely a "transitional technology" needed on a temporary basis until all-electric systems improve. It really presents a win-win scenario, he said.
"PHEV sometimes is mentioned as a transitional technology — it will be out of our way pretty soon," Durheimer told the crowd. "From my point of view, plug-in hybrid technology provides the best of two worlds."
SEE ALSO: 2017 Continental Supersports is the Most Powerful Bentley Ever
That "best of two worlds" approach will be met first by easily complying with the restrictions several cities around the world are placing on vehicle emissions. Operating in electric-only mode in a PHEV Bentley could clear the hurdle being placed on vehicles.
The second advantage of adopting PHEVs is taking away range anxiety for chauffeurs and their important clients riding in the back seat. That option isn't there yet for all-electric vehicles.
First in line for Bentley PHEVs will be the recently launched Bentayga crossover receiving a PHEV drivetrain sometime in 2018. Buyers will have the option of the PHEV variant or a Bentayga powered by a twin-turbo W-12 engine, and a V8 turbo diesel model not available in the U.S.
The chief executive revealed to Automotive News after his speech that the next Bentley after the Bentayga to come out with the PHEV option will be the next-generation Continental GT. That will take place after the initial "supersports" car Continental GT is launched with a W12 internal combustion engine, and before the GT version debuts with a V8 engine.
The plug-in hybrid version of the GT will have a V6 engine provided by Volkswagen, and electric motors, battery systems, plug-in hybrid controllers, and wiring systems available to VW divisions, Durheimer said.
Bentley is one of parent company VW's luxury divisions, in league with Audi, Bugatti, Lamborghini, and Porsche.
The Bentley GT engine's power output is expected to match that of the V8; the current Continental GT has a V8 engine with 500 horsepower.
Future versions of the Flying Spur sedan and the Mulsanne sedan will also get PHEV versions, Durheimer said.
A version of this story originally appeared on Hybrid Cars
Discuss this story on our Alternative Fuel Forum Published January 17th, 2017 1:02 PM
Popular Articles
Latest Comparisons
Car Buying Tools